Destined to score: Putin's hockey nights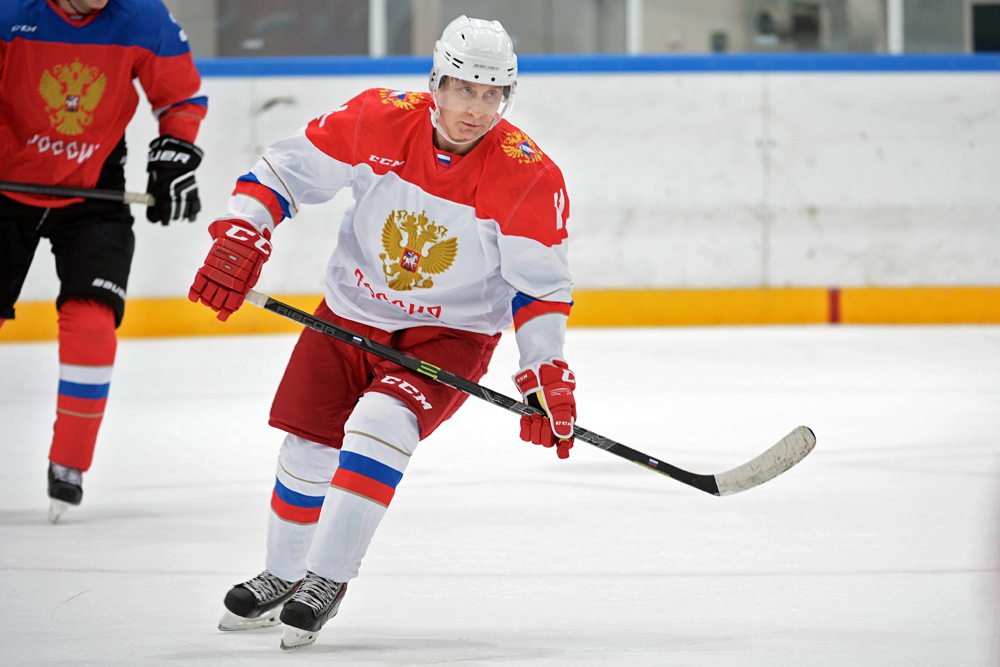 Russian President Vladimir Putin participates in a training of the Night Hockey League at the Galaktika center in Krasnaya Polyana on January 6, 2016.
Aleksey Nikolskiy/RIA Novosti
How the president-backed amateur Night Hockey League became just another facet of Putin's fitness regimen.
Russian President Vladimir Putin is keen on acquiring new hobbies. Despite his busy work schedule he seems to use every moment to live the life to its fullest. Many of us are never tired of learning about his favorite pastimes – be it martial arts, hunting, underwater diving or birdwatching. Each showcase of Putin's new skills is like manna from heaven for journalists. Who could be against another catchy headline with a pic, destined to turn into a global meme?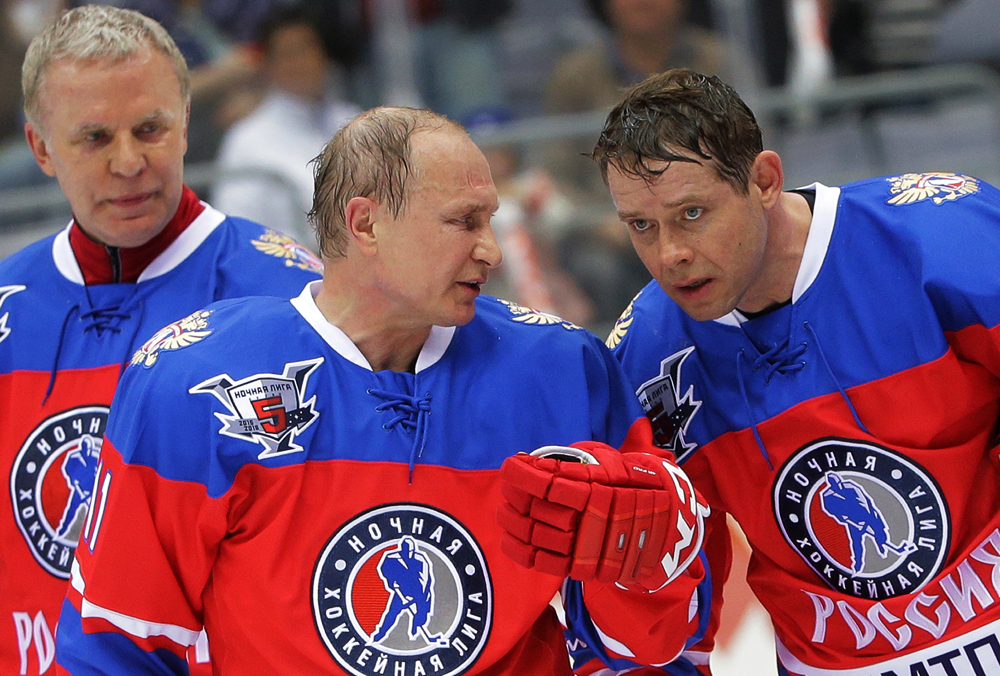 Vyacheslav Fetisov (L), Vladimir Putin, Pavel Bure (R) in a Night Hockey League gala match at the Bolshoy Ice Dome. Source: Aleksey Nikolskiy/RIA Novosti
In Russia, however, things go way beyond a mere buzz on the web. In February 2011 Putin promised that one day he would learn to play ice hockey. Needless to say the mission was successfully accomplished in just 10 months. Did anyone really think that the judo and alpine skiing virtuoso would crumble in the face of this challenge?
Dozens of sleepless nights spent mastering the game were surely sacrificed in order to achieve his aim. In December the president was able to take to the ice with the likes of hockey legends Fetisov, Kasatonov, Kamensky and Bure. Sharing the ice with these former NHL legends was probably too seductive to be a one-off experience. The die was cast and the Night Hockey League was born. Proudly abbreviated as NHL, the new amateur league unites veteran professionals with enthusiastic officials and Forbes billionaires.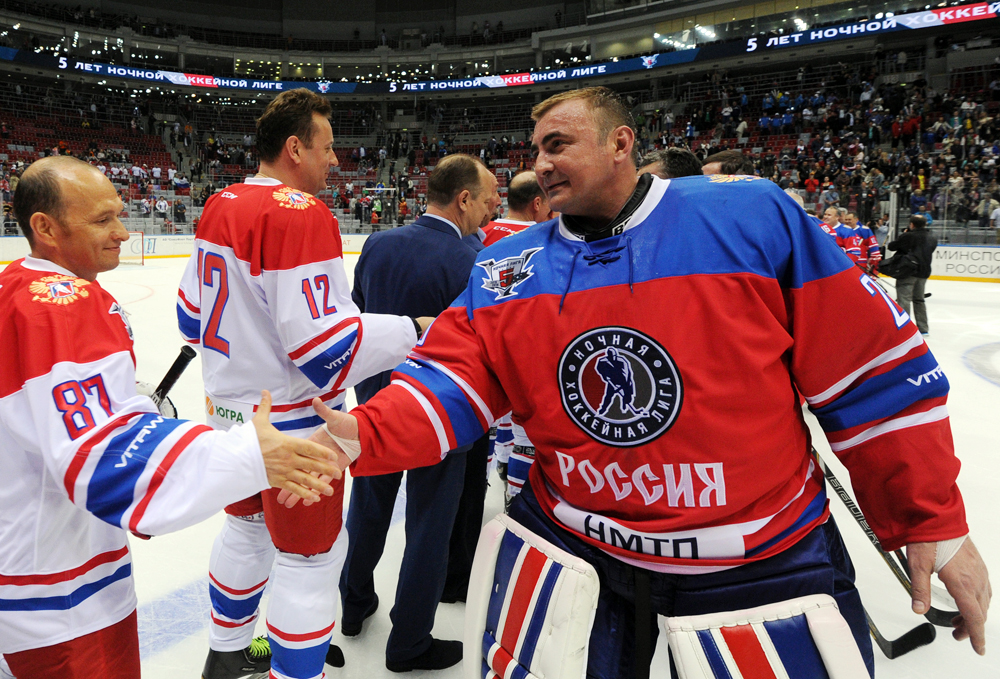 Acting Governor Alexei Dyumin (R) in a Night Hockey League gala match at the Bolshoy Ice Dome. Source: Mikhail Klimentyev/Russian Presidential Press and Information Office/TASS
As the fifth season came to a triumphant end at the beginning of May observers once again pointed out that the political heavyweight clearly couldn't help being a star in the rink. Opposing defensemen have not always found the courage to block the president properly as he rushes towards the goal.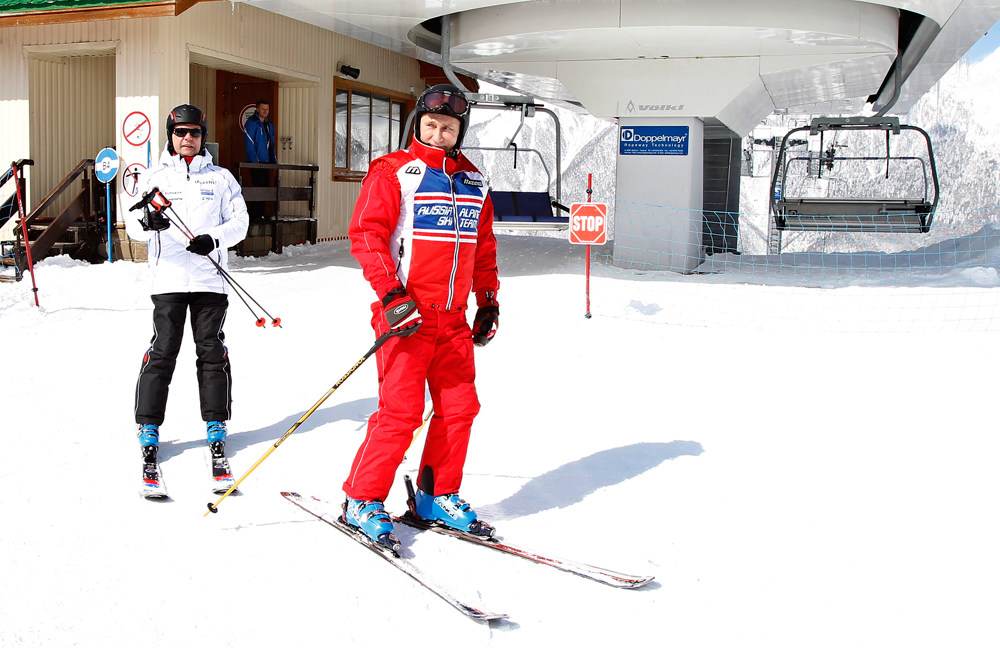 Vladimir Putin and Dmitry Medvedev enjoy alpine skiing in Sochi. Source: Dmitry Astakhov/Tass
Perhaps less contentious than the original NHL, the league still boasts breathtaking rookie success stories. Take goalie Alexey Dyumin, who progressed from Putin's security team to the deputy minister of defense and an acting governor. Quite impressive.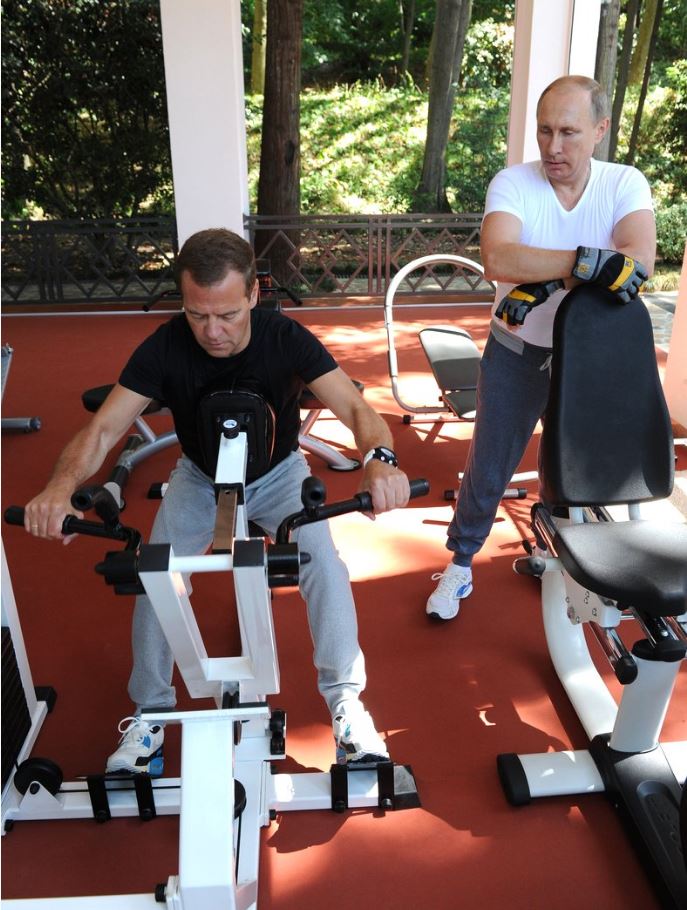 Working out at the Bocharov ruchei Presidential residence. Source: Kremlin.ruWorking out with the president is useful not just for your health, but for your career as well. In 2015 on a sunny August morning Putin welcomed his long-time colleague, Prime Minister Dmitry Medvedev for a cup of tea at his residence in the Black Sea resort of Sochi. The fitness session was of great importance. While Medvedev is less popular than Putin, he certainly got some extra karma points from Putin's charisma.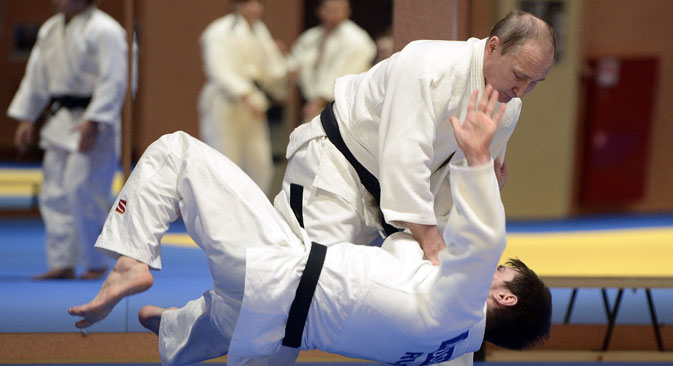 Karate president-style. Source: Alexey Nikolsky/RIA Novosti
If Medvedev does, why shouldn't we, the lesser mortals? Putin's fitness regimen is no longer a mystery. Back in October 2015 Russian crossfit trainer Alexey Nemtsov uncovered the secrets of how Putin stays in shape and keeps his muscles tight despite being older than 60 by releasing the training course aptly titled, "Vladimir Putin." Just 15 minutes per day and you can feel the power of one of the most influential leaders on the planet. Isn't that a great deal?
All rights reserved by Rossiyskaya Gazeta.