1. Work
Anna, Polina, Maria
Taking part in the U.S. Work & Travel program was my friend Anna's dream for at least five years. The program's name speaks for itself: For the first three months you work in the U.S.; after, you travel on the money you've earned. To exclude the possibility of permanent migration and ensure successful integration, participants must:
Be currently enrolled full-time students;
Find a seasonal job (waiter, lifeguard, housekeeper, etc.) in a small town;
Be able to say "my English is very bad";
Pay $3,000 for the organization's fees, tickets and a visa to the States.
We were three sophomores, eager to live in a foreign country, who had barely saved $3,000. Long curious as to why the U.S. attracts so many people, we took our finals in advance and, in the beginning of June, I took the second flight of my life, bound for the New World in pursuit of Anna's dream.
Staff, Marriott Courtyard
We got job offers for housekeeping positions at a Marriott Courtyard hotel in Virginia Beach, VA. We were sold when the hotel offered us a room for a ridiculously low price. We tried to translate the duties listed in the job offer, but, having failed miserably, agreed that it would be easier to just figure it all out upon arrival.
We were shocked when our wages did a disappearing act: A headline rate of $9/hour metamorphosed into $7.50 after taxes. This was the first in a stream of constant reminders that U.S. and Russian taxes are different: in Russia, you know only the after-tax wage, and advertised prices include taxes.
Maria Rodionova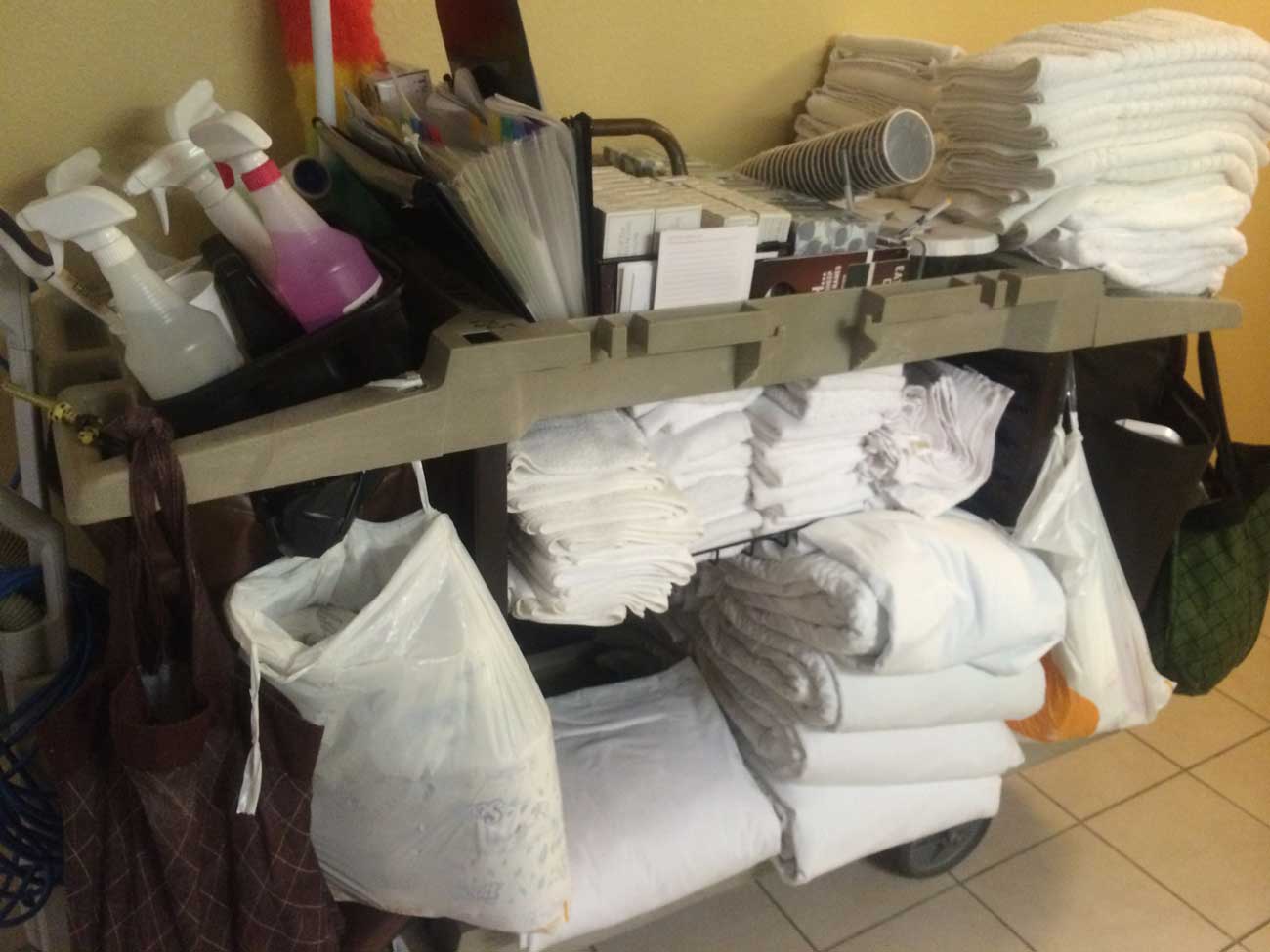 Maria Rodionova
1/2
Integration went reasonably well: Upon entering the hotel, I put my dozen years of English to use. "Where are you from?" asked a Thai guy at the reception desk. "I am fine, thank you," I answered. "They're from Russia," explained Jennifer, who would become our favorite boss.
The staff was as international as the U.S. is. We worked with people from all over the world: Romanian, Russians, Thais, Filipinos, Spaniards, and, of course, Americans. The team was shockingly helpful: ready to explain, to support and to say "thanks for doing it for us."
For example, our housekeeping coach, Veronika, a Filipina, offered in demonstrations supplemented by pidgin English: "Do this in this way and that in that way. This is here and that is there. Make sure it's all ok." We, in turn, showed our appreciation by helping people to finish their tasks for the day and feeding the whole team truckloads of the quintessential Russian food: borscht (We cooked bowls of borscht all night in a 5-liter rice cooker).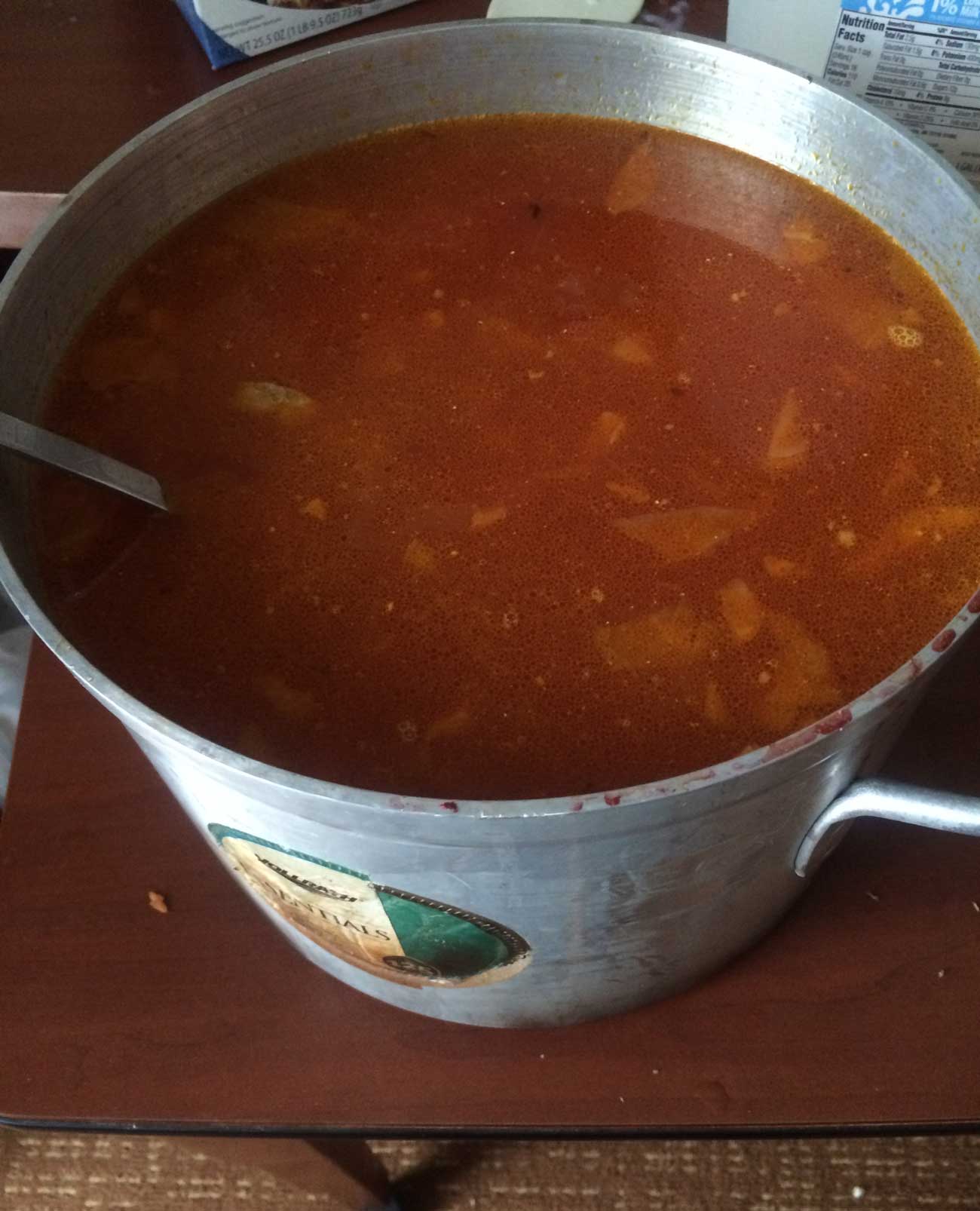 Source: Maria Rodionova
Fred, Virginia Beach
Despite our excellent integration, we had trouble finding food in the U.S. We had heard scare stories of gaining weight when coming to visit, and were so afraid of putting on the "Freshman 15" that we thought even the American air might be high calorie. We brought five huge packs of Russian buckwheat, an extremely healthy grain. To supplement this, we bought the cheapest rice, fish and vegetables we could find and avoided doughnuts and the gargantuan ice cream cones offered oceanfront as if they were the plague. The unfortunate result was that we failed to try traditional American cuisine. Although Polina claims that we were eating unhealthy food all the time, I can remember only one hamburger and a couple of pizzas eaten during the four-month trip.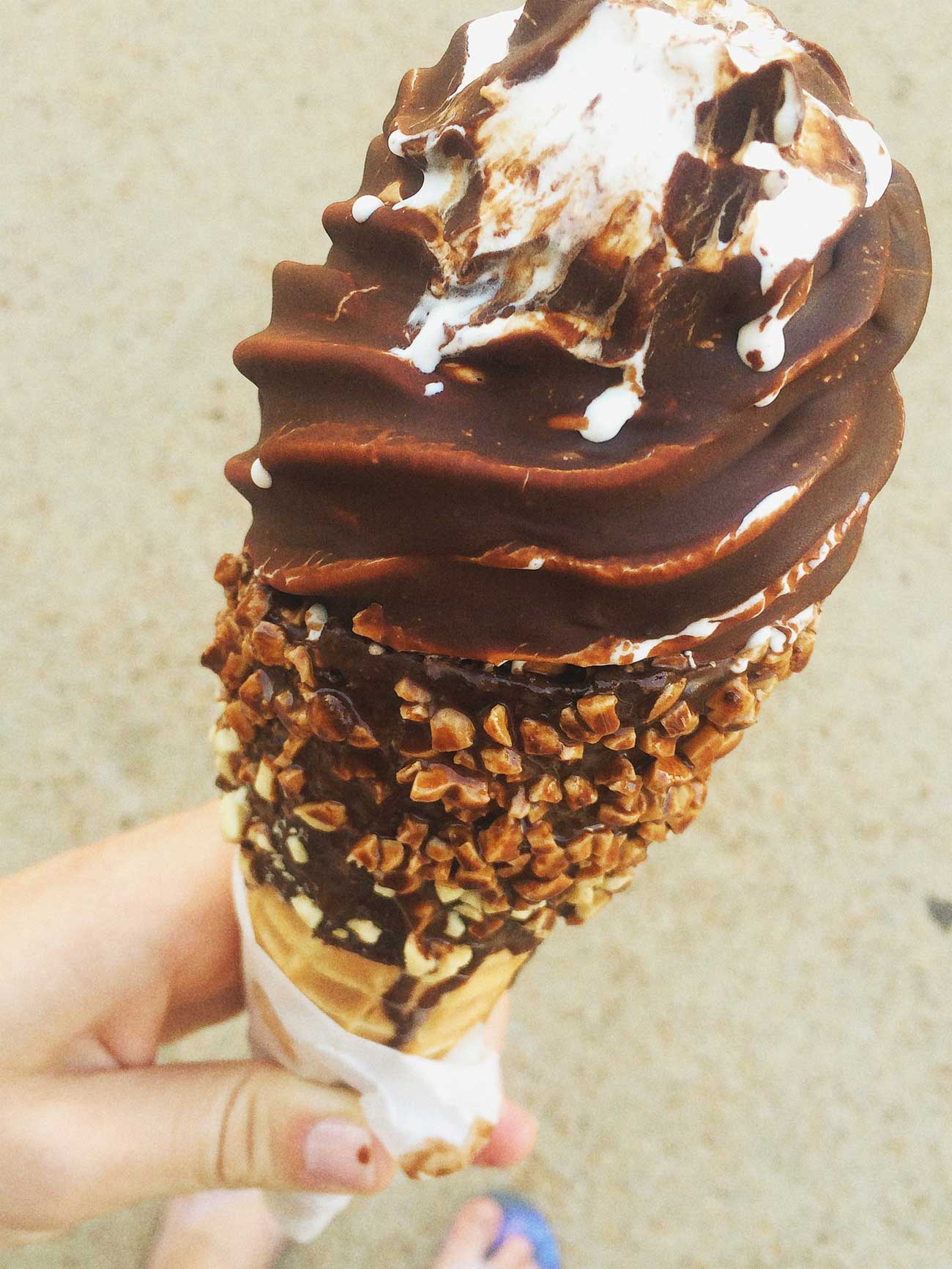 Source: Maria Rodionova
The second reason why food was so difficult to find was our lack of transportation. Apparently, we weren't the only ones who had trouble with Virginia Beach public transportation – several people who we asked were puzzled to learn that the city had buses at all. And yet, against all odds, we eventually found a bus. However, even this wasn't an unsullied success: It turns out bus drivers aren't excited when you try to pay a 50-cent fare with a hundred-dollar bill. Having exchanged our currency in Russia, we only had $100 bills. Disembarking from the bus, we couldn't find anyone other than the elderly cleaning guy. To our surprise, he whipped out a billfold full of different bills, changed our money and walked us back to the bus station.
However, after 40 minutes of waiting, instead of the bus we saw a huge pick-up truck. It was Fred, the same cleaning guy who had changed our money. "If you don't have a car in America, you are in trouble," he told us. Fred took us to Walmart and Goodwill, helped with buying food and finding the above mentioned rice cooker. Then he drove us back to the hotel. Fred left his phone number and laughed good-naturedly, telling us "If you ever want to talk, call my wife. She will talk you to death." Unfortunately, we lost it during one of our arduous housekeeping sessions.
Fred was one of the first Americans who helped us, something that we remain grateful for. Although in Russia we use public transport, which runs often and on time, we decided to buy bicycles next time we needed to make a pilgrimage to Walmart.
The U.S. slowly became our second home. We found new friends, who volunteered to serve as our English teachers and whom we taught basic Russian phrases (like "blue squirrel," "babushka" and "you shut up too!"). We discovered a shortcut to Walmart. We found a stunning beach, which could be reached in just 35 minutes by bicycle rather than 1.5 hours by bus. We got better at housekeeping and finally got ourselves sorted out. And right as we were starting to feel at home, our working time came to an end: It was September, time to leave our job and start traveling.
2. Travel
Taxi driver, Las Vegas
After working for three months, making a dozen new good friends, and a tearful parting, we set off on the second chapter of our program: travel. Las Vegas marked a natural starting point. Initially, the plan was to stay in a hostel, but financial constraints led us to Couchsurfing, an international free hospitality exchange website, through which travelers stay with like-minded locals in an attempt to really understand the culture of a place.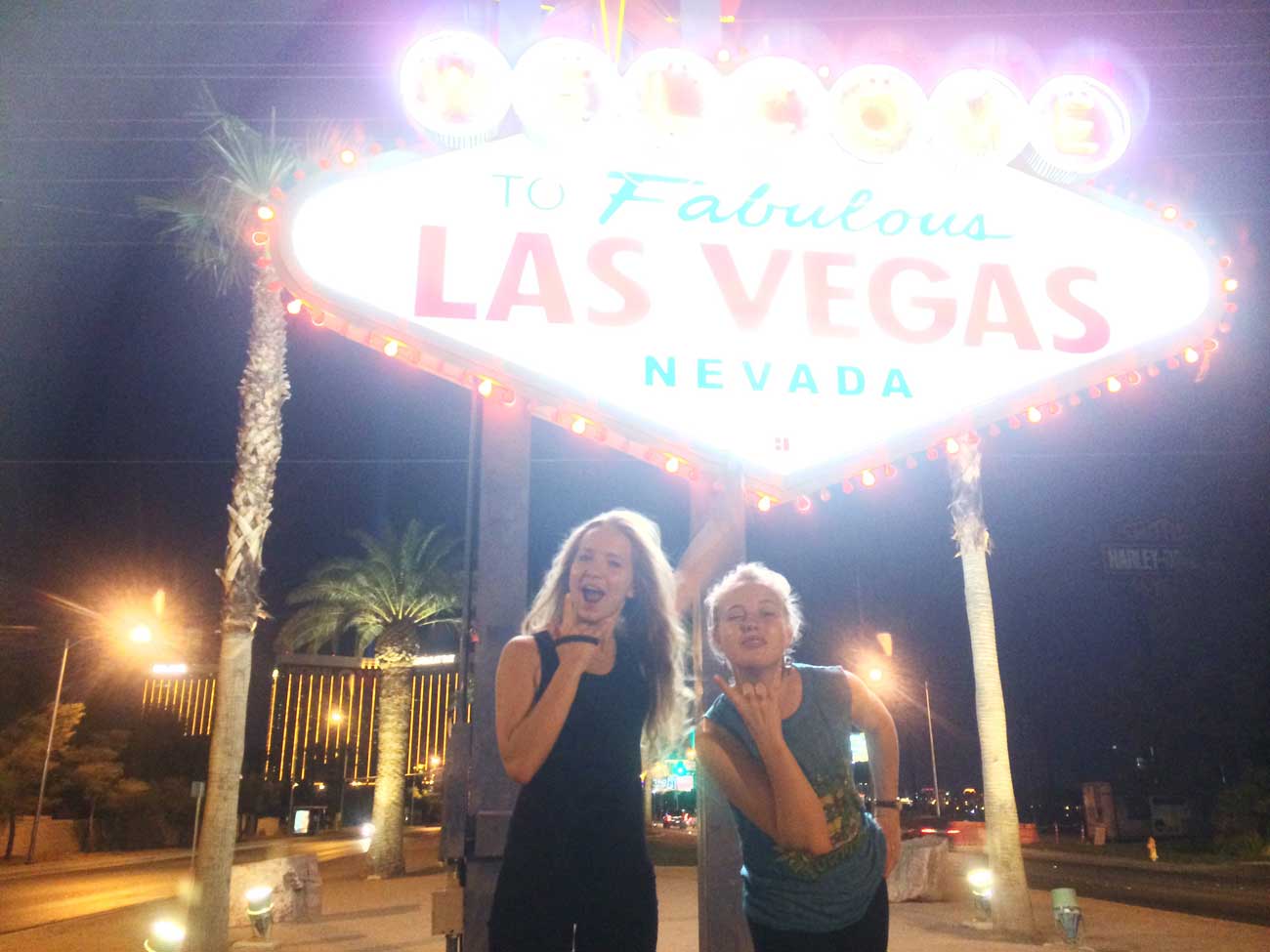 Source: Maria Rodionova
Our prospective hosts mentioned that their place was far from the airport, so we took a cab. Around midnight, on the poorly lit street, our taxi driver asked him to give us the address of the house. "89014" we replied. "That's a zip-code," he stated with irritation, "not an address." We called our hosts several times. No answer. The taxi driver, a short and skinny guy from Eritrea, was stunned by how irresponsible we were: "You will be murdered! You know what I'm sayin'!?" We shamefacedly nodded "yes," assuming it was a question. "I will drop you off at the gas station." Filled with dread, we shook our heads, "no." Vivid images of horror movies with serial killers chasing their victims near abandoned gas stations flashed through our minds. Seeing us paralyzed by fear, he generously invited us to stay at his place. After a few seconds of hesitation, we agreed – the choice between a gas station and taxi driver's house was no choice at all.
The driver dropped us off at his house and returned to his 8 p.m.-7 a.m. shift. Being alone in the room, we had some time to research his collection of books, assuming that a man is what he reads. His books boasted titles like "Dead or Alive" and "Murder in the Kitchen" or were collections of horror stories. He also had an impressive collection of knives in the kitchen. Nevertheless, the driver turned out to be a very good guy, offering us vodka (in honor of our Russian heritage) and driving us all around Las Vegas next day.
Although he didn't trust life, he trusted us. He helped us when we were in need. We promised to keep his name a secret, and I will never break the promise.
Stephen, Route 66
The Grand Canyon was our next destination. We found a guy who agreed to drive us halfway there. We agreed that even halfway to the Grand Canyon was worth a visit. We were ready for our next adventure, when our newly befriended taxi driver interrupted our excitement: "The unknown guy is gonna drive you there? He will rape you, you know what I'm sayin'?" We nodded "yes." Shortly after we showed the driver a picture of a very innocent-looking 20 year old, skinny guy with a huge bush of curly hair. After thinking for a moment, taxi driver reluctantly agreed: "Okay, you can go with him. Be careful though. You know what I mean?"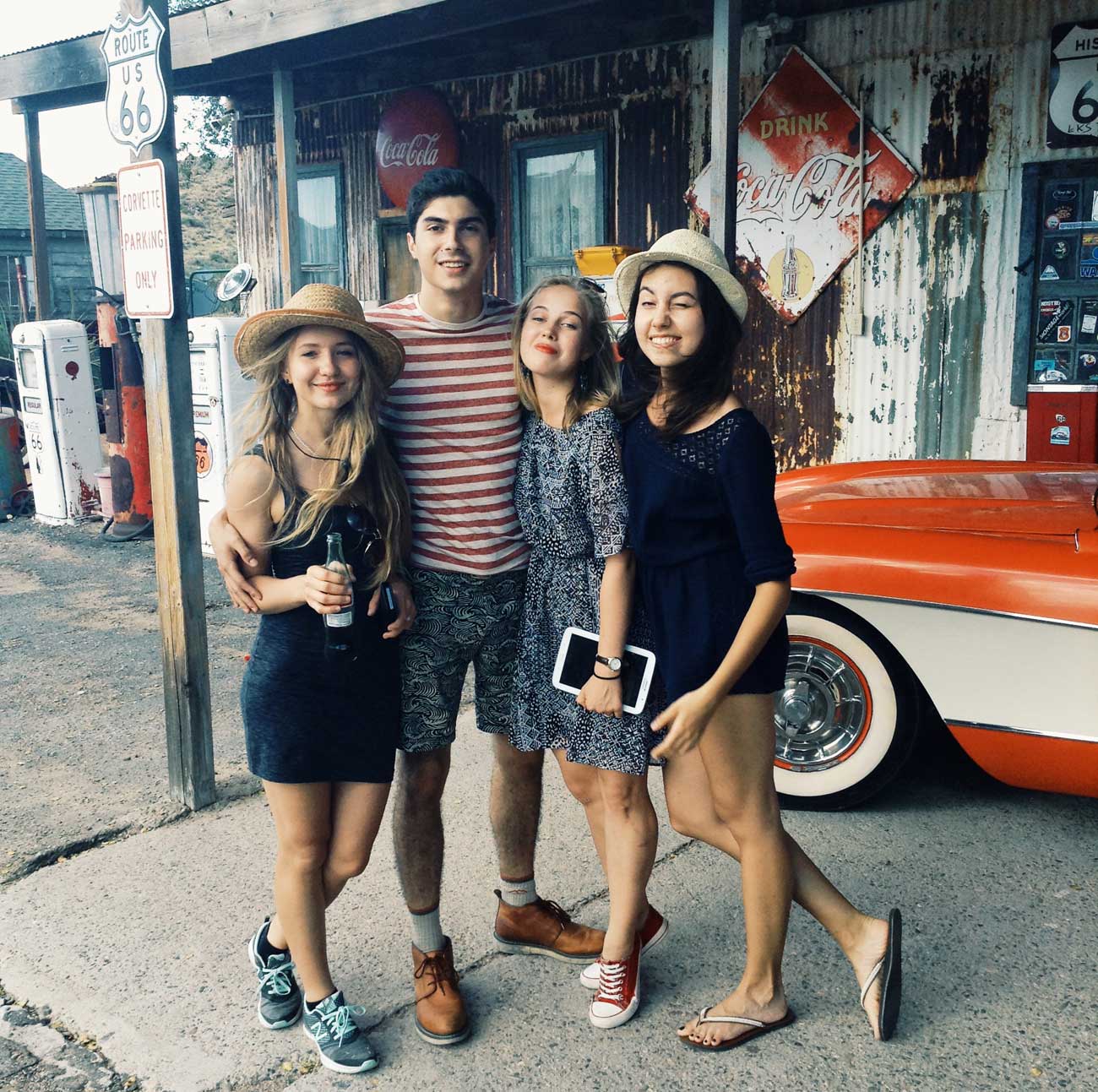 Source: Maria Rodionova
Stephen was a character: In his 20 years he had visited 40 countries and was planning to "finish them all" by age 25. His plans, however, were stymied by visa troubles to Russia. We knowingly laughed and wished him good luck. He loved Las Vegas and enjoyed showing us around. We found an old-timey, Route 66 gas station, which had been decorated for tourists and took pictures of ourselves, looking straight out of a spaghetti Western. We drove across Indian reservations and, six hours later, returned to the city, safe, with a new good friend and feeling inspired for our upcoming travels.
Galen, Los Angeles
Our path took us from Sin City to the City of Angels, LA. The U.S. transport system clearly had it in for us, with Greyhound (one of the main transcontinental bus companies) possessing a particular animus. But Greyhound wasn't alone: Back in Virginia we had taken a couple days off and a couple of buses to visit Washington, D.C. On the way home, the first bus was late, resulting in a cascade of missed buses. Seeing as how we had promised our boss that we would be back on time, we shelled out $300 – a week's wages – for a cab.
In LA neither a taxi driver nor a taxi could save us. Anna lost her luggage on the Greyhound bus – which we realized only upon arrival in LA. Our first hour in LA we were anxious: We tried, with deeply imperfect English, to convey the gravity of the situation to staff not prone to lending assistance. The neighborhood, LA's infamous Skid Row, was not for the faint of heart. Our next host, Galen, was a hero with messy hair in a plain gray T-shirt. Smiling as he cheerfully greeted us, he saved us from imminent disaster. He came to pick us up from the hellish bus stationand take us to his penthouse loft. "You sit here, and you sit on top of her, and you sit on top of us" – Galen fit the four of us into his tiny, two-seat convertible like a jigsaw puzzle. Police officers casually ignored the two extra people in the car, focused on the bigger problems the neighborhood presented. We successfully arrived at the place, which, thankfully, was just a couple of blocks away.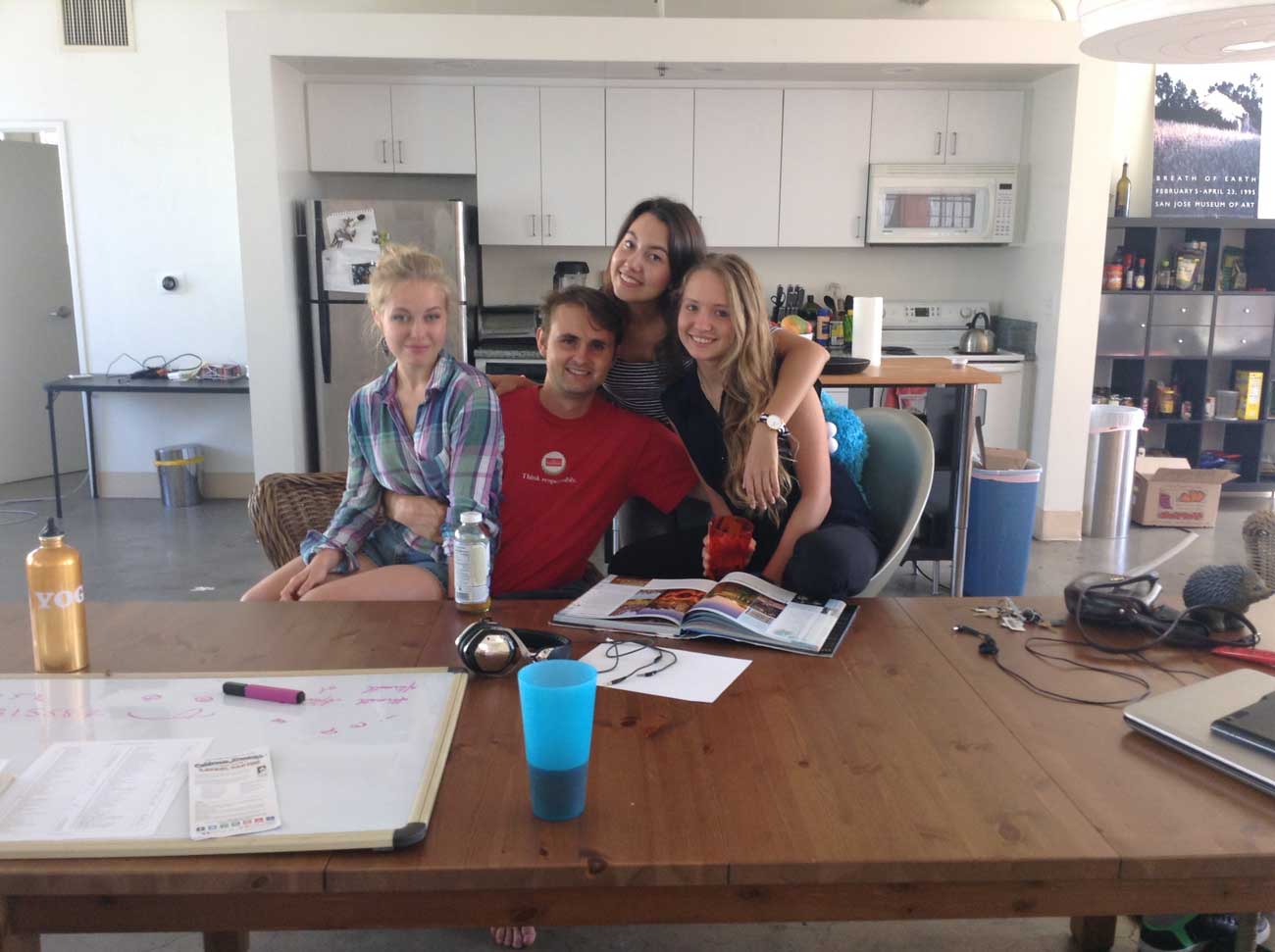 We and Galen. Source: Maria Rodionova
We delayed our departure by three days, hoping to find Anna's bag. Those three days blurred together as a mixture of perfect weather, the ocean, celebrity sightings, endless conversations and impromptu dance parties with our hosts.
Unbelievable events followed us everywhere. Once, while walking around Hollywood we ran into two familiar faces – two Dutch guys we had met on our second day in the U.S. Three months before, in New York, after checking out of the Pennsylvania Hotel we spent the night before our bus to Virgina wandering the streets of Manhattan. Just after midnight, we befriended two guys from the Netherlands, who joined us for a walk. Now, here they were – in LA, finishing up the trip and fortuitously meeting old friends on the Walk of Fame.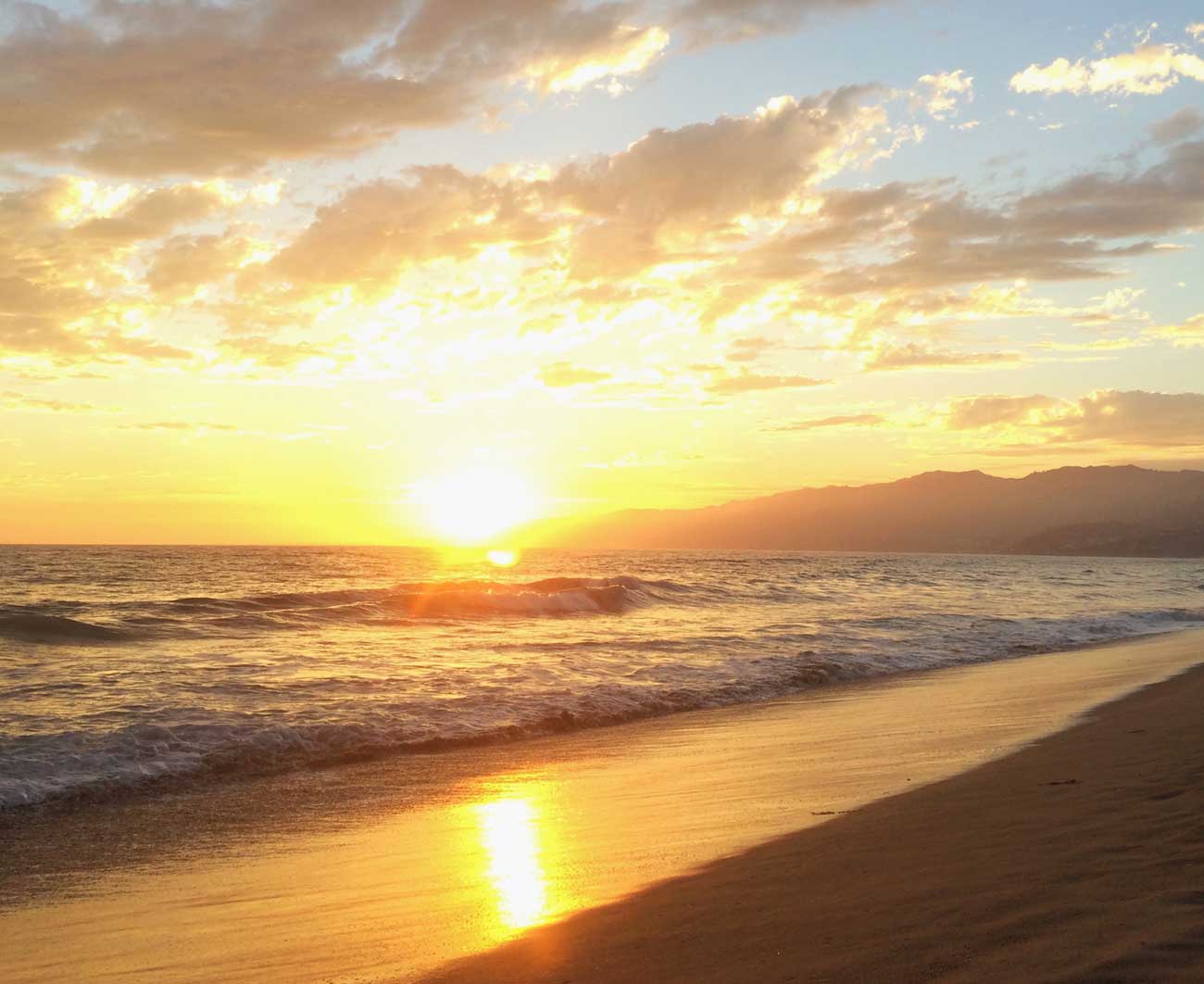 Source: Maria Rodionova
Galen managed to conquer the Greyhound bureaucracy, conjuring Anna's bag, returning with her and the bag in tow. Do miracles happen? The truth, however, is that someone just knows how to solve problems better than we did.
Joe, Santa Cruz
Santa Cruz, a beautiful beach community about 60 miles south of San Francisco, was our next stop. Continuing our Couchsurfing adventures, we met Joe, an energetic man in his late sixties with a very unusual look and a long grey beard. After our adventures in LA, my friends claimed they trusted me, and thus we ended up in a 60-square-foot room piled full of fancy furniture: an old, creaky bed and a small shelf. The walls were plastered with pictures. The rest of the room was wall-to-wall bicycles.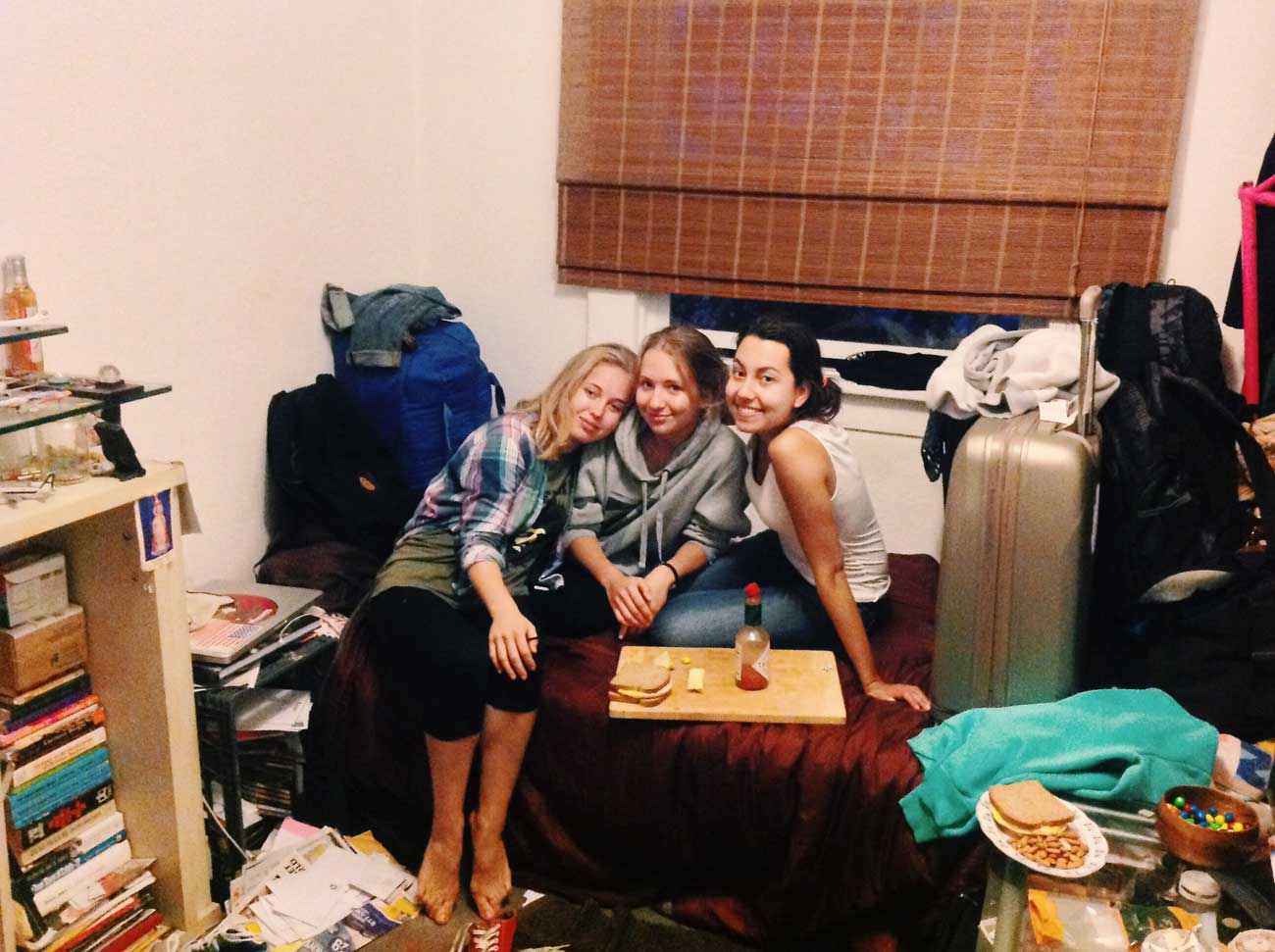 Joe's room. Source: Maria Rodionova
We only had enough time to toss our heavy bags on the floor before Joe gave us three bicycles and exclaimed: "Let's go around the coast!" As we learnt later, Joe had constructed those bicycles himself, gathering different parts from all over the world. He's been on several months-long trips recently, including ones to Australia and Brazil.
The Santa Cruz coastline was breathtaking: We saw fur seals, deer, a beach just for dogs and a popular surfing place. The three-hour tour around the coast was hard, but exciting. When Joe looked back at the end, he was pretty surprised that we were still alive, cycling right behind him.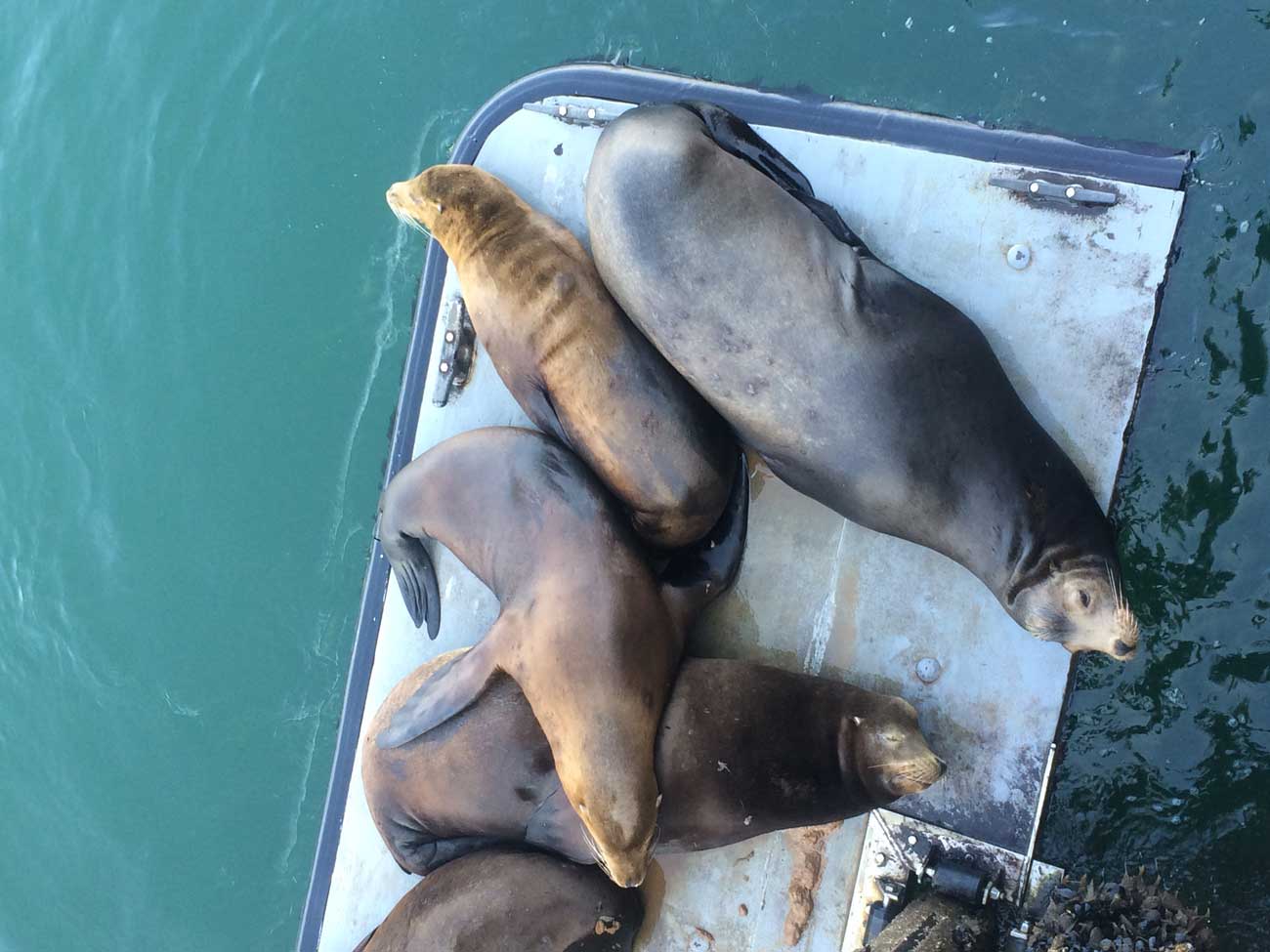 Seals, Santa Cruz. Source: Maria Rodionova
Back home he cooked us an amazing sandwich. Our dinner was followed by a hundred stories about the "super-friendly, awesome, and crazy" guests he'd hosted. Later on, we signed his guestbook. I was his 157th.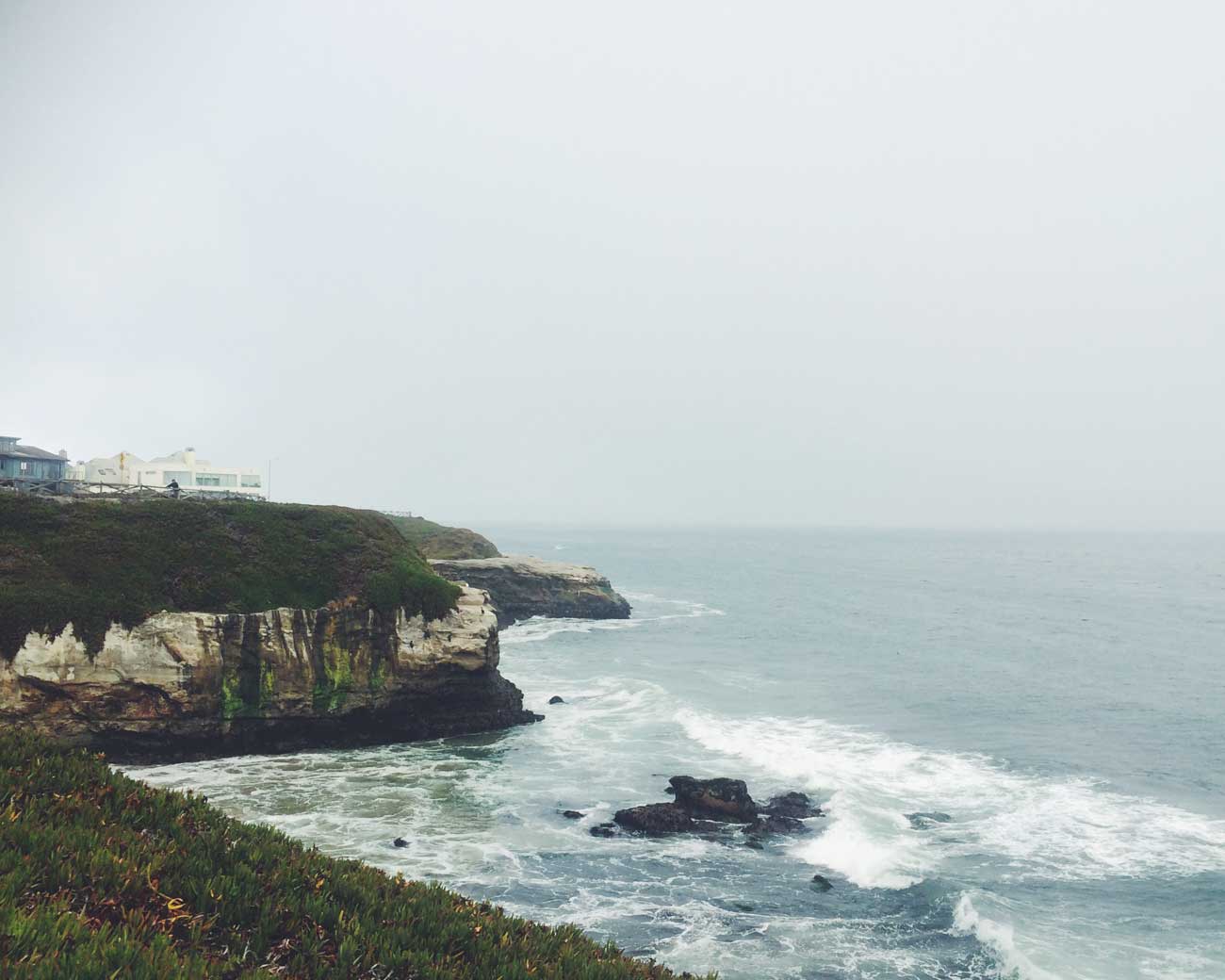 Santa Cruz coastline. Source: Maria Rodionova
American people
We met many more people on our way, and visited several more cities. One might say that we were not careful enough, but we found America to be a very hospitable and generous country, full of smiling and helpful people.
P.S. Next time you meet a Russian student – don't hesitate to help!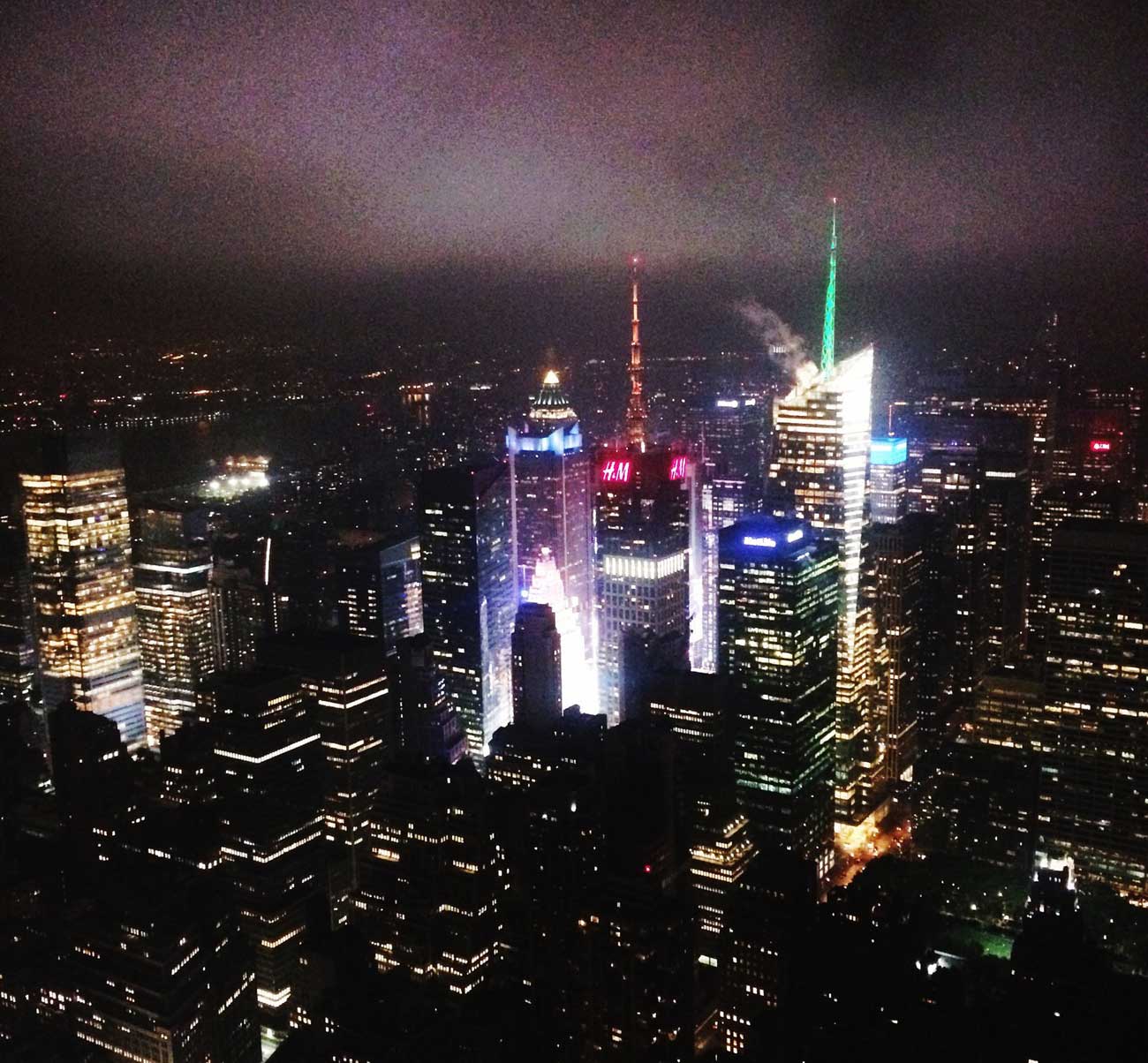 New York. Source: Maria Rodionova
Subscribe to get the hand picked best stories every week