'This was a very Russian coup'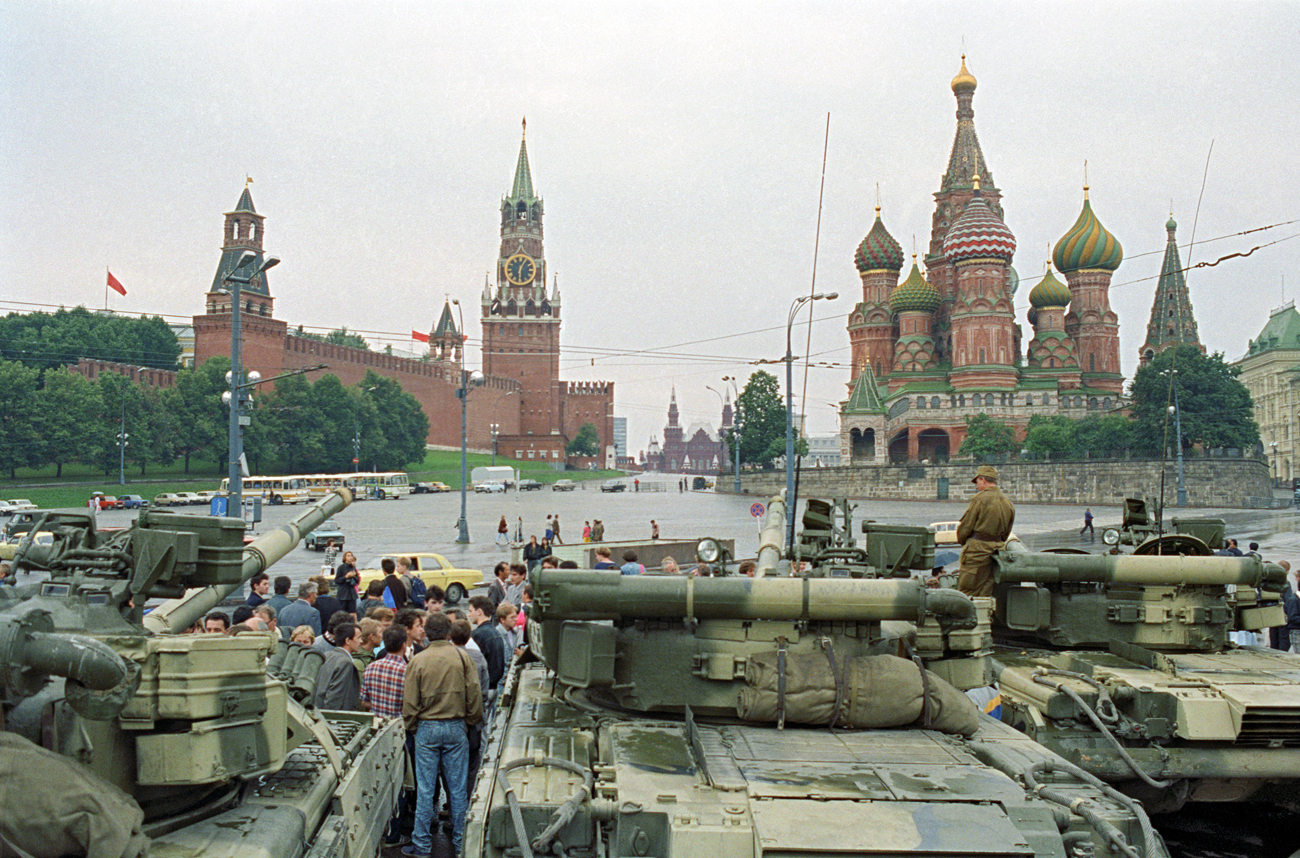 Moscow. Tanks at Red Square on August 19, 1991.
Alexander Chumichev / TASS
Seamus Martin, former Irish Times Moscow correspondent, recalls 1991 coup in Moscow.
On this day 25 years ago (August 19, 1991), while virtually the entire foreign press corps was away on holidays, the tanks rolled out on to streets of Moscow in a coup d'état to overthrow Mikhail Gorbachev the President of the Soviet Union who was on holidays in Crimea.
I was in Dublin. My colleague Peter Pringle (London Independent) was in New England with his partner Eleanor Randolph (Washington Post). My neighbor Alison Mitchel (New York Newsday) did an about turn at JFK airport when she heard the news. She moved from arrivals to departures and bought a ticket for a flight back to Moscow. My friends Kathy Lally and Will England (then of the Baltimore Sun and now with the Washington Post) were on holiday in Sweden.
Thanks to the "Shannon Stop-over" I was one of the first to get back to Moscow. I caught an early morning Aer Lingus Dublin-Shannon-Boston flight, connected with Aeroflot Washington-Shannon-Moscow and was back that afternoon.
The big Ilyushin 63 airliner left Shannon with just six passengers on board. A quantity surveyor from Limerick who worked for Aer Rianta at Moscow's Sheremetyevo Airport, four Siberian businessmen who had been at the Irish Sugar factory in Carlow and myself. All the Americans who had been booked out of Washington had cancelled their plans.
We were all moved up to first class and treated as VIPs. We were offered Champagne and Caviar: the most bizarre introduction to a coup d'état one could possibly imagine. At Sheremetyevo it began to dawn on me that this was a very Russian coup. I was expecting the airport to be ringed with tanks but there was no sign of any military activity. I got through passport and immigration control in five minutes flat (It could take hours usually).
I had arranged a taxi from the airport to the city center before I had left Dublin and very shortly after the plane had touched down I was approaching the center of the Soviet capital. Armed soldiers stopped us. We were told that all traffic in to the center had been banned and that we could go no further than the inner ring road known as the Sadovoye Koltso. I learned later that they had forgotten to stop the Metro from running so getting in to Red Square was no problem.
Fortunately my apartment-cum-office was located on the ring road so I was able to get home. On my way there I saw the first tank. It was parked outside the Foreign Ministry Press Center and bizarrely a group of small boys were clambering over it playing soldiers. At my foreigners-only apartment block on Taganskaya Square there was an indication of how little importance was attached to us by the authorities. A little armored vehicle was parked outside. A very bored looking soldier sat there reading Krasnaya Zvezda (Red Star) the newspaper of the Soviet Armed forces.
When I reached the office the phone was ringing. It was the Irish Times office manager and editorial assistant Elena Firsova, who was to be of invaluable assistance over the next few days. She was checking on whether I had arrived and was reporting for duty.
Importantly Lena's father worked in the Kremlin and by late the following evening (August 20) I received the following message: "The coup plotters are not in control. The Prime Minister, Valentin Pavlov, has been carried out of his office having drunk himself into a state of collapse. The bodyguards who carried him could be heard complaining about his weight."
Next morning (August 21) on RTE (Irish TV channel) I was able to tell listeners that their evening bulletins would be reporting the collapse of the coup. Although my source was impeccable I had a nervous few hours before finally, at about 4:00 p.m., there was a message that the Communist Party had disowned the coup plotters and would hold a press conference at the Oktyabrskaya Hotel to denounce them.
On my way there with Peter Pringle who had managed to return the previous day (August 20), we got stuck behind a truck-load of soldiers. "Konyets?" (Is it over?) we shouted at them. "Da. Konyets" (Yes it's over) came the smiling reply.
Government House defenders put up barricades on the way to the democratic Russian Federation Parliament to prevent its seizure by order from the top officials who attempted a state takeover, August 20, 1991. Source: Boris Babanov / RIA Novosti
It was over for the plotters but it was also over for Gorbachev. Boris Yeltsin saw his chance to take power and grabbed it. By the end of the year the Soviet Union, the world's second superpower and NATO's nemesis, had been dissolved into fifteen separate and independent republics. It was one of the most peaceful revolutions in history. Three young men had lost their lives on the second evening of the coup in what later turned out to be an accidental skirmish with an armored car in a traffic underpass.
The coup was unbelievably badly organized. It was devised in order to keep the Soviet Union intact but it led to its dissolution.
Twenty years later I interviewed one of the plotters Oleg Baklanov, who had been a member of the Central Committee of the Communist Party of the Soviet Union at the time. I put it to him that his actions had caused the Soviet Union to collapse. He looked at me and replied in his strong Ukrainian accent that he now realized that this was true. He then burst into tears and left the room.
The opinion of the writer may not necessarily reflect the position of RBTH or its staff.
Subscribe to get the hand picked best stories every week
All rights reserved by Rossiyskaya Gazeta.