Ringing in a Russian-style New Year in Thailand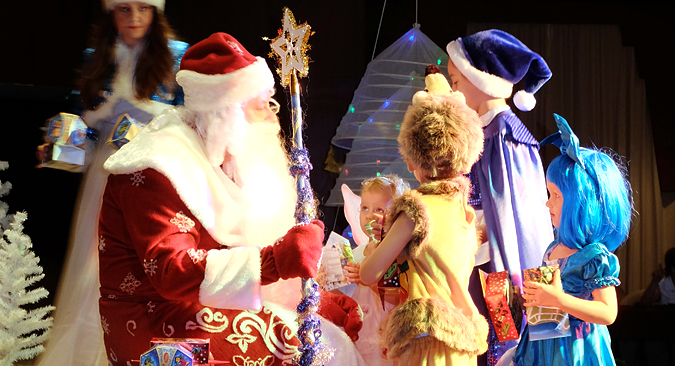 Russian-style New Year celebration in Thailand
Irina Vinokurova
On New Year's Eve, Russian expats in the kingdom try to follow as many traditions from home as possible. All they lack are snow and real fir trees.
The Christmas and New Year period is traditionally the high season for tourism in Thailand. Many visitors come to Bangkok on New Year's Eve for the city's famous countdown, while others welcome the New Year on a beach. A large number of expats in Thailand head home for the holidays, but those who stay back try and celebrate the New Year the way they would in their countries of origin. This is particularly true of the Russian community in the country.
The New Year is by far the most important holiday in Russia. There is a saying in Russia that goes on the lines of "The way you spend New Year's Eve is the way you will spend the rest of the year (Как Новый Год встретишь, так его и проведешь)." Few people really take this saying literally, but just about every Russian person wants to welcome the New Year in style. We decorate our homes with symbols of prosperity, cook a lot of special food, stock up on sparkling wine and wear new clothes.
The traditional New Year in "Russian style". Source: Irina Vinokurova
It's easy to replicate the Russian atmosphere in Thailand, except for the fact that there is neither snow nor fir trees. Many people like to keep an artificial New Year tree at home. Some tune into satellite television to be able to hear the Russian President's traditional speech, and drink the first glass of champagne after watching the Kremlin clock strike midnight.
During the 20th century, Russians added a few "must haves" in the New Year's menu. These include Olivier (known also as Russian salad) and Herring 'under a fur coat' (diced salted herring covered with layers of grated boiled potatoes beetroot and carrots, chopped onions, and mayonnaise). Russians in Thailand try to include these dishes in their lavish food spread on December 31, but many people are not keen to cook. They prefer going to a restaurant with a set menu and special program.
New Year's Day traditions
In Thailand, Santa Claus has become a popular figure and you see Santas in many city malls. No one dresses up in public as Grandfather Frost or his granddaughter the Snow Maiden. These two iconic characters can be seen in Russian homes, ensuring that children get their gifts after waking up on New Year's Day.
An important January 1 tradition in Russia is watching New Year Cultural Programs in the main concert halls in the country. The most famous of these programs is the concert at the State Kremlin Palace in Moscow.
Christmas sweet gifts for children. Source: Irina Vinokurova
Members of the Russian community in Thailand also organize special shows. The New Year program, which is organized by the 7 flowers Russian kindergarten in Pattaya is popular with Russian families. The program has a musical about Grandfather Frost and the Snow Maiden. The organizers aim to showcase the traditions of motherland to Russian children who are growing up abroad.
All rights reserved by Rossiyskaya Gazeta.