Getting lost in Indo-Russian translation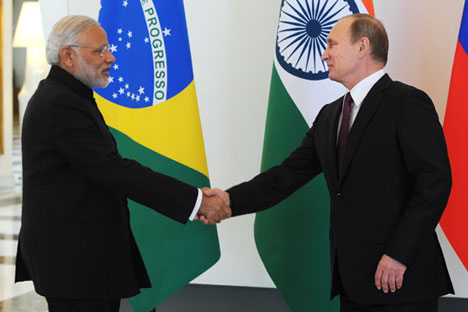 Narendra Modi and Vladimir Putin probably don't need interpreters.
RIA Novosti/Michael Klimentyev
The inability to fully comprehend one another creates its fair share of humorous situations when Indians and Russians interact.
It's a good thing that Narendra Modi and Vladimir Putin will have excellent interpreters when they meet for the annual summit in Moscow at the end of the month. Both leaders are fluent in English, but then again it's comforting to know that several Indian diplomats, including the current ambassador speak excellent Russian, and that Russia also has its fair share of diplomats who are well versed in Hindi, with the ambassador's Hindi prowess being on par with anyone.
In day-to-day communication, these privileges don't trickle down to the masses, and the inability to fully comprehend one another creates its fair share of humorous situations when Indians and Russians interact.
I recall a summer morning in 2007 when a friend of mine who worked as an interpreter for Rosneft called me with an SOS. A delegation from ONGC was in Sakhalin to discuss potential Indian involvement in the Sakhalin-3 project. Six months earlier, the man who set up the Indian oil and gas company's operations had left the island. He was an alumnus of a Russian university and could speak fluent Russian. His successor was not fluent in Russian, and the delegation consisted of people from eastern India, who were well qualified but not exactly articulate graduates of St. Stephen's.
"We can't understand each other's English accents," my desperate friend said over the phone. I immediately went over to the Rosneft office and helped them out. It was tough to maintain a poker face while listening to English spoken with strong Russian, Bengali and Oriya accents, all at the same time. I asked my friend to only translate the technical Russian into English, to save time. I literally worked as an interpreter for interpreters that morning!
It's actually much easier for Indians to pick up accented English and unusual accents in other languages since we are used to a variety of pronunciations within the country. Russia, on the other hand, is obsessed with diction and intonation. Russian schoolteachers tend to be incredibly strict with children who mispronounce words. This is why even Russians who learn English in universities try their level best to put on a standard British or American accent. Many of them fail miserably with this and sound quite cute (in my opinion).
Despite their obsession with accents, Russians tend to be extremely tolerant of foreigners who speak Russian with an accent. The attitude is more on the lines of "it's wonderful that a foreigner is making the effort to speak our difficult language."
The newspaper I worked for in Sakhalin had a landline number that once belonged to the governor's office. We'd get our fair share of calls for the governor. I once answered the phone and spoke to an irate citizen who wanted to know why there was no water supply to her house. When I tried to tell her that she called The Sakhalin Times and not the governor's office, she said my attempts at faking a foreign accent were really poor.
I tried to level with this woman and tell her that I was from India and that I was not pretending to be a foreigner, but she was adamant. After all, the state-run telephone enquiry service said this was the number to the governor's office. Unable to convince her otherwise, I said I would I get the message across to the right person. When I called the governor's spokesman he burst out in laughter and said I had a future in Russian politics!
Mumbai has its fair share of aspiring actors and models from Russia. Many of these people first came to India to study Hindi, while others have made a concerted effort to learn the language. I know one particular actor, who I only bump into at programs organized by the Russian Cultural Center. There's a strong Russian accent in his Hindi but his fluency blows people away.
I think the best way to bring people together from India and Russia is to encourage people to learn each other's languages. Some of the most fun-loving and interesting people I know in Russia couldn't speak English to save their lives. But if I weren't able to communicate with them, I'd be the loser. The same goes for some intellectuals I know in places such as Varanasi and Kerala. These are highly educated, well-read and sophisticated people who completed their university studies in their native language. I have learnt so much from them just because I understand Hindi and Malayalam. They have more to offer me intellectually and knowledge-wise than the other way around.
So if there were one thing I could ask of our leaders when they meet in Moscow in three weeks, it would be to set up some sort of youth initiative to promote Indian languages in Russia and Russian in India.
All rights reserved by Rossiyskaya Gazeta.