Russia and India need to restart EAEU free trade agreement talks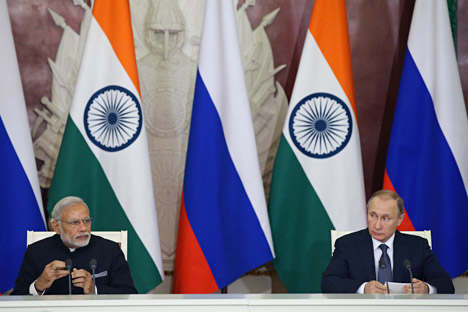 Vladimir Putin and Narendra Modi need to put an India-EAEU free trade agreement back on the agenda.
Artyom Korotayev/TASS
Discussions on a potential free trade agreement between India and the Eurasian Economic Union seem to have been relegated to the back burner, largely because of the former's insistence on services and investment being part of an agreement. Several options exist for Moscow and New Delhi to solve the impasse.
In 2013, when officials and diplomats in were celebrating the fact that India-Russia bilateral trade touched $11 billion, Viktor Khristenko, then Chairman of the Eurasian Economic Commission visited New Delhi for talks what many expected to be a game-changing project. The Russian politician invited India to begin negotiations for a free trade agreement (FTA) with the Customs Union, which became the Eurasian Economic Union (EAEU). Talks with Vietnam on a similar agreement were making progress at that time and India looked like the next logical choice. It was widely touted that a FTA between India and the Union would provide a major boost to trade.
Flash forward to 2016 and there is no talk of a FTA between India and the EAEU. There was a passing mention when Narendra Modi visited Moscow for the annual summit with Vladimir Putin last year and a Russian economic official suggested that a 2017 date would be a realistic target. However, the idea seems to have fallen off the Indo-Russian radar and doesn't seem to have been featured in this week's inter-governmental commission meeting in New Delhi.
The bone of contention seems to be the fact that India is looking for a comprehensive economic partnership agreement, which would cover goods, investment and services, while the EAEU, especially the newer and smaller members would like to restrict a FTA to goods.
Vietnam, which signed an agreement with the union last year, seemed to be content enough with an agreement that did not involve services. But then again, the Southeast Asian country, whose growing prosperity is clearly visible, is on a trade-agreement signing spree. This column by Anton Tsvetov, one of Moscow's best young Vietnam experts, explains the country's logic in being a part of the Trans-Pacific Partnership and signing a FTA with EAEU.
It is quite clear that the Vietnam-EAEU FTA provides a win-win situation for both sides. The agreement comes into effect in October 2016 and Vietnam's food exports are expected to gain a growing share in the Russian market, while manufacturers from the EAEU look to take advantage of the benefits that the ASEAN Economic Community would provide to goods made in Vietnam.
One of the factors that has come in the way of an India-EAEU FTA is the complicated structure of the Eurasian body. In an interview with RIR's parent publication in August, EAEU Trade Minister Veronika Nikishina said a comprehensive agreement that involves services and investment was far harder to work out, as the Union could only negotiate trade deals.
"Under EAEU rules, services and investment fall under the competence of member states and the EAEU does not have a mandate for holding these talks," Nikishina told RBTH. "Having said that, the EAEU is evolving and time has come to ask the leaders of the five member states whether they consider it possible to expand the EAEU mandate, perhaps not systemically but for individual cases, like with Singapore."
India and South Korea are two other countries that would require a more comprehensive agreement that goes beyond goods.
Benefits for both sides
With ASEAN, India managed to sign separate agreements for goods and services. The agreements were signed five years apart but it looks like both the Southeast Asian bloc and India are content with the final outcome. A similar approach with the EAEU may work out to India's benefit.
A free trade agreement would pave the way for Russian and Belarusian truck and automobile manufacturers to increase their 'Make in India' component and use the country as a base for exports to SAARC countries and even some of India's trade partners in Africa. The same goes for Russian manufacturers in other industries that would benefit from the provisions of a FTA.
Indian goods would also gain better access to previously untapped markets of Central Asia, as Kyrgyzstan is a now member of the EAEU. Needless to say that India's exports to Russia that stand at about $3 billion would grow with a FTA.
Russia's greatest benefit from pushing for an expanded EAEU mandate would be the quicker realization of Vladimir Putin's vision of an integration of the Shanghai Cooperation Organization (SCO) with ASEAN and the EAEU.
If the rising economies of Asia are going to come on board with the grand project, there needs to be a more lenient approach towards services and investments from the EAEU. A larger number of Asian countries would be more open to the idea of the 'Greater Eurasia' project that is spoken about in Moscow than being a part of China's plans that would lead to nothing more than Beijing's domination of the economic space from the Pacific to Europe.
With more or less convergent economic and strategic interests in Central Asia, India and Russia could be the leaders in a wider economic transnational partnership. This is exactly why Moscow and New Delhi need to aggressively pursue a free trade agreement between India and the Eurasian Economic Union.
All rights reserved by Rossiyskaya Gazeta.