Putin, Modi rejuvenate India-Russia ties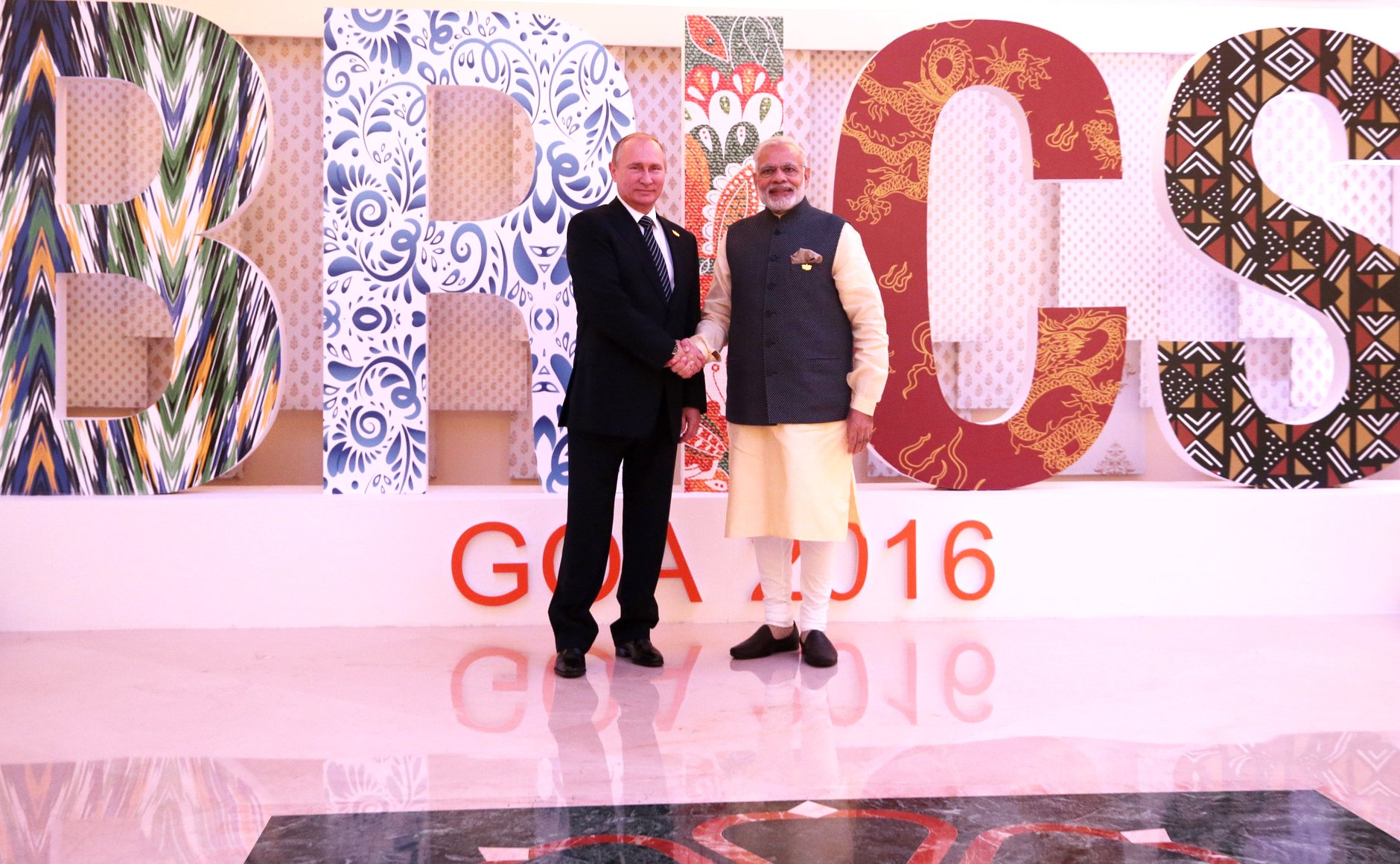 The Putin-Modi chemistry is at work.
Kremlin.ru
The 17th Russia-India summit, between Russian President Vladimir Putin and Indian Prime Minister Narendra Modi, was very successful, with the imprint of both leaders clearly visible.
There can be little doubt that, at their 17th annual bilateral summit on the sidelines of the BRICS summit in Goa, Russian President Vladimir Putin and Indian Prime Minister Narendra Modi rejuvenated the 'time-tested' bilateral ties, even though hysteria in the local Indian media over the first -ever Russo-Pakistani military exercises had clouded the prospects of the talks.
After his parleys with the Russian leader, Prime Minister Modi invoked a popular Russian saying: "Stari drug luchshe dvukh novykh (An Old Friend is better than two new ones)." Media gurus and political pundits raced to interpret whether Modi had hinted about Moscow's newly found friendship with Pakistan or whether it was a hint to Washington about the absence of a breakthrough in the bilateral relations despite New Delhi's willingness to quit "hesitations of past".
However, this author is inclined to accept PM Modi's words at face value as they also resonate in the final phrase of his press statement on October 15 saying: "Indiya i Rossiya ruka-v-ruku v svetloye budushoe" (India and Russia hand-in-hand in to a bright future).
Talking to the Kremlin pool reporters at the end of his Goa sojourn, President Putin also left no stone unturned in reiterating the priority partnership with India.
According to the transcript released by the Kremlin Press Office, responding to a question by a pool reporter, Putin said: "Indeed, India is one of our priority partners, and a strategic partner. I should not need to recall the time of the popular 'Hindi Rusi bhai-bhai' slogan (Indians and Russians are brothers). In fact, little has changed since then, and our relations have grown stronger if anything."
He regretted that Russia had not "fully taken advantage of its (Indian) capabilities in the civil sectors of economy and could do much more."
India is a huge market, with 1.25 billion people. Moreover, a significant portion of the Indian population has fairly high living standards that match average European income levels. That is a very big and lucrative market for our products," the Russian leader stressed.
Experts and diplomats acknowledge that the Military-Technical (or defence) Cooperation, the route for the acquisition of cutting-edge military technologies and platforms for the Indian Armed Forces, is the strongest pillar of the bilateral India-Russia strategic partnership.
President Putin underscored that the quality of this cooperation is quite high, "maybe even better than with many other countries. We do not just sell India high-tech modern weaponry, but we also have joint research projects".
Then President Putin made a sensational announcement, largely ignored by the Indian media.
Everyone knows about the BrahMos supersonic cruise missile joint venture between the two countries, which has range of under 300 km under Russia's international obligations.
"We have also agreed to improve the BrahMos missile...We will also work to increase its range," Putin announced. This will be a game-changer. So far, India was facing curbs under the Missile Technology Control Regime, however, in June 2016, it became the 35th member of the elite group.
The multibillion dollar S-400 'Triumf' Air Defence System deal itself is a clear indication of Russian - Indian defence cooperation confidently moving from the conventional sub-strategic domain to the higher -strategic domain, where Washington is hardly a competitor of Moscow.
President Putin sounded least envious of growing ties between New Delhi and Washington. He said: ".. who is developing relationships, with whom and how. India, for example, is making friends with the United States. Good for them! The United States is a great power, and India is a great power. Great powers have interests and they pursue these interests in a multilateral format. It is impossible to imagine the modern world any different."
The biggest takeaway of the Goa bilateral summit was that Moscow and New Delhi have reaffirmed their commitment to consolidate their strategic partnership which, in the preceding weeks through the media prism, looked fragile because of the Moscow-Islamabad bonhomie, in the backdrop of India's presumed drift towards the US.
Simply speaking, the Putin-Modi chemistry is at work, and 'babus' (bureaucrats) in both countries now need to work earnestly to make it physically tangible.
All rights reserved by Rossiyskaya Gazeta.