Despite risks, Russians keep borrowing from banks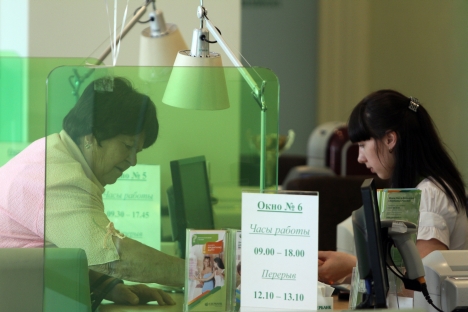 Regardless of the risks Russians continue to take loans from the banks. Source: RIA Novosti
Russian consumers are borrowing like there is no tomorrow. Experts believe that even higher interest rates are unlikely to turn them away. The only way to cool down the shopping frenzy is to make it harder to qualify for loans.
A new car, the latest iPhone, a Christmas trip to Europe – Russians are not going to miss out on all the fun, as long as credit is available. If the two-year consumer lending boom is anything to go by, then Russians have had a taste of life on credit, which is the very thing Europe has been trying to do away with for a year now.
According to the Bank of Russia, consumer lending reached 7.4 trillion rubles ($244 billion) for the first 10 months of 2012. This means that the total consumer loan portfolio grew by 38 percent over that period, exceeding the total for the whole of 2011.
Mikhail Sukhov, deputy chairman of the Bank of Russia, predicted that growth would reach 40 percent for the full year. This makes S&P's forecast that banks would see a record net profit of 1 trillion rubles ($33 billion) in 2012 look more than realistic: banks earned 930 billion rubles ($30.7 billion) in the first 11 months of 2012, up from 850 billion rubles for the whole of 2011.
Remarkably, while consumer lending grew 40 percent over the course of a year, the corporate sector saw just a 20 percent increase. Moreover, the unsecured lending sector led the way with 60 percent growth, according to Bank of Russia estimates.
"People are ready to borrow, but they mostly want shorter-term loans as opposed to mortgages," said the senior vice president of Renaissance Credit Bank's product development and marketing, Denis Vlasov.
"Judging by our database, which holds the information of 60 million clients (or almost 80 percent of Russia's economically active population), we can say that practically all Russians have used loans at one point or another. We have observed a class of actual credit junkies spring up in our country: the share of borrowers with five accounts rose from 5 percent to more than 8 percent in 2012," said the general director of the National Credit History Bureau, Alexander Vikulin.
People caught in the credit trap seem to be oblivious to the fact that consumer loans became considerably more expensive last year. For example, market maker Sberbank hiked consumer loan interest rates by 0.65-2 percent (up to 15.5-22 percent APR) at the end of March 2012, before jacking them up again in September by an average of 2 percent. This followed the Central Bank of Russia's refinancing rate increase from 8 percent to 8.25 percent.
Overall, however, bank loan offers at the end of 2012 were pretty much the same as they had been at the beginning of the year: rates in the classic cash loan segment varied between 15 percent and 25 percent (depending on the quality of the borrower), while credit card rates were in the 20-40 percent range, rising as high as 70 percent in the express cash loan segment.
The article is abridged and first published in Russian in the Kommersant-Dengi magazine.
All rights reserved by Rossiyskaya Gazeta.