Ban on alcohol ad threatens wine tastings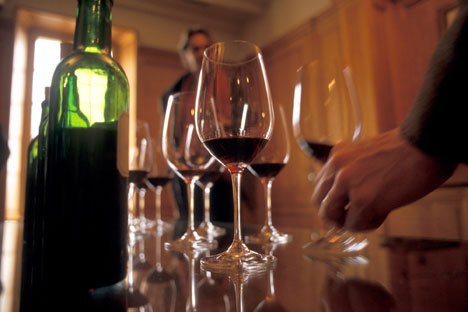 The law, which came into force on Jan. 1, bans all alcohol-related ads from magazines, newspapers, the Internet and TV. Source: DPA / Vostock Photo
New law banning promotion of alcohol may be extended to apply to tastings and promotional events such as ProdExpo.
In mid-January Russia's Federal Anti-Monopoly Service threatened once again to consider wine tastings at major wine and food festivals as advertising for alcohol. The issue came up in relation to ProdExpo, which is scheduled to open its 20th anniversary festival on Feb. 11 at the Expocenter in Moscow.
Some wine producers scheduled to appear at the fair have already received suggestions from ProdExpo organizers to move tastings to restaurants and other facilities that possess the retail or on-premise sales licenses that are required to promote wine tastings under the new federal law on advertising of alcohol.
The law, which came into force on Jan. 1, bans all alcohol-related ads from magazines, newspapers, the Internet and TV. The law was adopted in Summer 2012, but the government gave producers and media outlets several months to adapt to the new regime and to allow advertising contracts to run out. Experts at RosBusinessConsulting believe that the total advertising budgets of alcoholic products make up only about 1-2 percent of total ad spending.
The most controversial part of the new law concerns advertising on the Internet. Market players are still not sure if alcohol-related information, including their own websites, will be treated as advertising. The same is true for expositions. The law and comments by the FAS on it have left lots of room for interpretation as to what counts as "advertising."
Some sources at FAS have indicated that do not plan to sanction exhibition organizers with respect to wine tastings if such tastings were held during the event at the producers' stands. But the new official statements seem to contradict these anecdotal accounts.
Then, as if to confuse the situation further, an FAS representative said that no punitive actions will be taken against alcohol vendors unless there are complaints from the exhibition visitors – which puts at risk any producer trying to organize a tasting at his stand. This latest statement was the one that prompted ProdExpo organizers to suggest wine producers organize tastings outside the festival premises. The restaurant Genatsvale-City has been cites as one possible venue for tastings.
All rights reserved by Rossiyskaya Gazeta.