Goldman Sachs to improve Russia's image for $500,000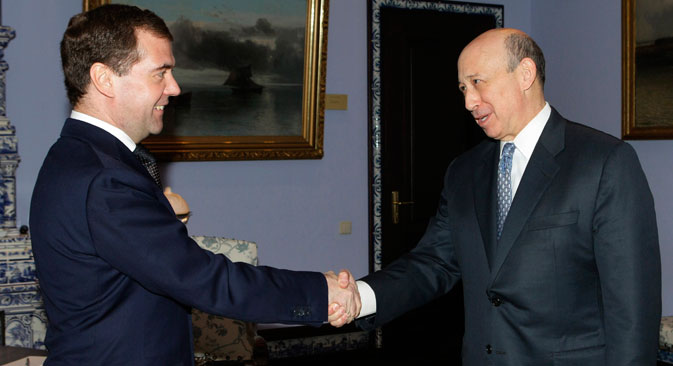 Russian President Dmitry Medvedev, left, shakes hands with Goldman Sachs Chief Executive Officer Lloyd Blankfein during a meeting in the Gorki residence outside Moscow, Tuesday, March 15, 2011. Source: AP Photo/RIA Novosti, Vladimir Rodionov
In a new image campaign to spur investment, the Russian government has hired the investment bank Goldman Sachs to persuade investors and ratings agencies of the country's appeal. Officials hope the move will improve Russia's credit rating, as well as its position in other international rankings, both of which experts say are underestimated.
The Russian Ministry of Economic Development and the Russian Direct Investment Fund (RDIF) have signed a memorandum of understanding with Goldman Sachs, announced Russia's deputy minister of economic development, Sergei Belyakov. The investment bank will help to establish a dialogue with foreign investors and ratings agencies, said a spokesperson for the head of Goldman Sachs in Russia, Paolo Zannoni. Goldman Sachs is said to be very pleased with the government's expansion of the partnership. The bank's fee for consulting services for three years will be approximately $500,000.
The polishing of Russia's image will not be a substitute for improving the investment climate, assures Belyakov. He notes that Russia has, so far, failed to keep investors sufficiently informed of its actions. "Either no one knows about the improvements taking place, or the data gets distorted," says Belyakov. According to the minister of economic development, Goldman Sachs will coordinate the communication process with investors and participate in presentations and international trips, for which an action plan is being drawn up.
Goldman Sachs was not chosen as part of a bid. By law, such services can only be purchased from a single supplier, says a government official: the bank was chosen for its experience and influence in different countries.
Quite recently, in December 2012, employees of the bank expressed a negative view of Russia. As cited by Interfax, Goldman Sachs chief economist for Russia and the CIS, Clemens Graf, stated that the bank had stopped including the shares of Russian companies in the list of top emerging markets, since the Russian market was "hard to forecast" due to seesawing regulation. Goldman Sachs simply needed to avoid a conflict of interests, explains the official; otherwise, they could not have become a government advisor.
According to RDIF CEO Kirill Dmitriev, Goldman Sachs will not be left entirely to its own devices — a working group has been set up to improve Russia's image. The group includes high-ranking officials, managers of Vnesheconombank, state-owned banks, and the RDIF.
At the economic forum in Davos, the RDIF also announced a new image campaign under the title "Invest in Russia." The campaign slogan is "Russia is Growth," which is backed up by the country's impressive macroeconomic performance over the period of 1999-2012. "Where else have international reserves increased by a factor of 44 in just 13 years?" says Dmitriev.
Sberbank President German Gref complains that Russia is underestimated in the international rankings: in terms of financial sector development, Russia lies in 134th place in the World Economic Forum's competitiveness ranking, below Albania, Armenia, Botswana, and Peru.
Russia's credit rating is also below what it should be, points out the Ministry of Finance (MoF) in its "Debt Policy Guidelines" report for 2013-2015. The country's economic figures are better than those of many BBB-rated and even some A-rated countries.
To rectify the situation, the MoF also intends to ask investment banks for assistance, reports the agency Finmarket, in reference to letters written by the head of the Department of State Debt, Konstantin Vyshkovsky.
The MoF has inquired as to investment banks' willingness to help Russia improve its rating and what action they could take to achieve this aim. The department is not expecting overnight results, as the ratings are influenced by many fundamental factors. Nevertheless, some banks have already responded to the proposal, and potential consultants are being screened.
Consultants could help to unpick the methods used by the ratings agencies, says ING analyst Yegor Fyodorov, to determine the basis on which countries are upgraded or downgraded and how predictions are made, for example. If one of the agencies were to give Russia an A rating, the yield on Eurobonds would drop by 25-50 basis points, while CDS (credit default swaps) spreads against U.S. Treasuries would decrease by more than 1.5 times; but this would be short-lived, says the analyst. A rating is no more than a guide for investors: they stem from the issuer's ability to repay the debt, the likelihood of default, and a host of other factors.
Fitch's outlook for Russia is "stable," with no foreseeable factors that could lead to an upgrade this year, says Charles Seville of Fitch. To improve its rating, Russia must reduce economic dependence on oil prices, keep track of macroeconomic indicators, cut inflation, raise productivity, improve the investment climate, and continue the privatization of state assets, he advises.
First published in Russian in Vedomosti.
All rights reserved by Rossiyskaya Gazeta.