Digital October: Where start-ups & investors meet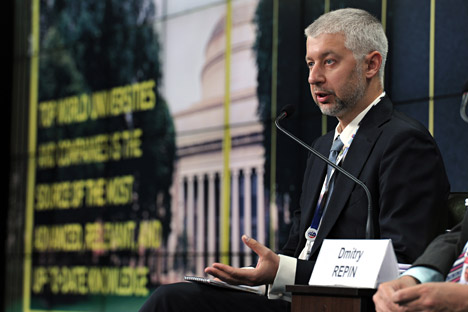 If you look at the leading e-commerce firms here, they all have U.S. investors. Source: ITAR-TASS
Russia Beyond the Headlines talked to Dmitry Repin, CEO of Digital October company.
Russia Beyond the Headlines (RBTH): What is Digital October, and how does it help Russian start-ups?
Dmitry Repin (D.R.): Since its inception just two years ago, Digital October has become de facto at the center of Russia's start-ups ecosystem. Our center, in the former Red October chocolate factory, is a place for globally minded technology entrepreneurs: where great content meets great people. We host international conferences devoted to new technologies and entrepreneurship, host presentations of new technology products, and present a weekly show on Business FM, a Moscow radio station. Our flagship event is TechCrunch Moscow, which we hosted in December, and our next big event is Demo Europe in June.
We check out start-ups to make sure there's no compromise on quality and content, and aim for them to be the best of the best by world standards. We are trying to create a meritocracy in the technology community. Start-ups should be supported by foreign investors. We seek to bring entrepreneurs together with angel investors and venture capitalists. These foreign investors often become our evangelists around the world.
RBTH: What should foreign investors look for when choosing a Russian start-up to get involved with?
D.R.: Several years ago, it was much riskier for foreign investors. But traditional businesses, such as purified water or dry cleaners, were profitable because the market was wide open. Now it's less risky, but the simple opportunities have gone. The obstacles are different from those in a country like the United States. There's no single sector investors should focus on – it's better to look case by case. For example, Russia is the No. 1 Internet market in Europe now, bigger than Germany. E-commerce is a big growth area, but it's a huge challenge to deliver goods bought online.
It's interesting: if you look at the leading e-commerce firms here, they all have U.S. investors. There are basically two kinds of companies to invest in: efficient companies going after the local market and doing something different; and good companies serving the global market. Russian start-ups have done well in computer gaming, for example, with such success stories as Zeptolab (the maker of the game "Cut the Rope").
RBTH: What are Russia's competitive advantages when it comes to technology start-ups?
D.R.: Russia still has incredible brain power in its software engineers. In the outsourcing world, Russia still has the edge over India and China when it comes to things like financial services and travel websites, because they require complex mathematical algorithms, something at which Russian specialists are very skilled.
RBTH: What are the biggest problems facing start-ups in Russia?
D.R.: They face the same universal problems facing Russian companies in general: poor enforcement of laws, an uneven legal environment. They are often overloaded with paperwork. Also, start-ups here often need to structure their financing outside Russian jurisdiction. Other hurdles are that the large companies B2B start-ups serve here often don't respond to innovations very well. And it's hard to find a good product manager here.
RBTH: Is the brain drain going one way - out of Russia?
D.R.: Technologically, yes, the brain drain is still outbound. But managerially, there is a reverse trend – more managers are coming back. I'm an example of this, as I worked in Boston for eight years as a senior researcher at MIT. Later I came back and taught at Skolkovo, and then I came to Digital October.
RBTH: Is it important for Digital October to have a trendy location?
D.R.: Yes – Red October is a cool, trendy place. The Strelka Institute for Media, Architecture and Design next door contributes to this image. Many of us geeks are kind of boring, but if you add in design, art and business, it becomes a cooler place, a better mix.
All rights reserved by Rossiyskaya Gazeta.