Plastic cards squeezing out American Express travellers checks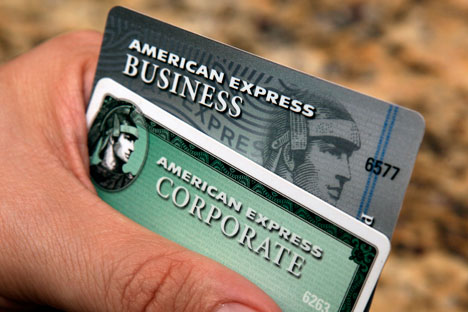 Sberbank has been trading in AmEx checks for 19 years, twice (in 2007 and 2008) becoming the global leader in sales, reaching $1 billion worth of operations with the American payment system's checks. Source: AP
Russia's Sberbank, the world's largest American Express sales channel, discontinues operations with travellers checks.
Plastic cards have been squeezing out traditional payment instruments from the market. Sberbank announced on Friday 1 February that it would stop selling and buying American Express (AmEx) travellers checks effective this March. VTB24 abandoned operations with travellers checks a year ago.
"The ceasing of operations with American Express travellers checks reflects Sberbank's desire to improve the effectiveness of our product offerings and optimise our product line," the bank said in a statement.
Sberbank has been trading in AmEx checks for 19 years, twice (in 2007 and 2008) becoming the global leader in sales, reaching $1 billion worth of operations with the American payment system's checks. But volumes have dwindled recently however. Sberbank hasn't disclosed the size of its AmEx portfolio.
A source at American Express told RBC Daily that the decision to stop check operations was made jointly with Sberbank. The source named "a difference in priorities" as the reason behind the decision, adding that AmEx wasn't planning to wrap up its business in Russia.
Nevertheless, the number of partners servicing American Express payments has been declining. VTB24 stopped operations with travellers checks in February 2012, citing low customer demand for the service.
Obviously, the popularity of travellers' checks has been affected by the growing competition from other means of payment, such as plastic cards, which saw volumes almost double last year. Major players in this segment increased operations by a wide margin; for instance, market leader Sberbank expanded its card portfolio from 63 billion roubles to 149.3 billion roubles in the space of one year.
"Demand for travellers checks has been falling, primarily because of rising volumes of bank card payments and expanding ATM networks," said Aleksei Kapustin, Head of Raiffeisenbank's Retail Products and Customer Relations Division. He added that customers were increasingly using plastic cards for both day-to-day shopping and to carry foreign currency when travelling abroad.
The AmEx website says the company works with Bank of Moscow, Raiffeisenbank, Svyaz Bank, Gazprombank, Primorye Bank, Far East Bank, Master Bank, and Primsotsbank for purchase and sale operations involving travellers checks.
Some of those banks told RBC Daily they could follow Sberbank by substituting plastic for traditional travellers checks.
First published in Russian in RBC Daily.
All rights reserved by Rossiyskaya Gazeta.