Russia produces more brandy than Europe consumes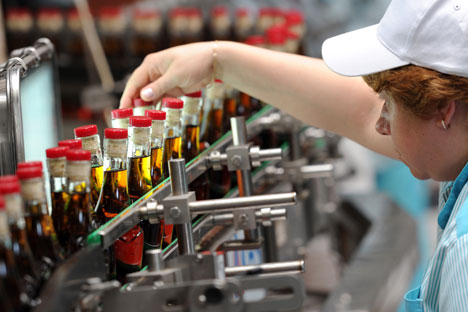 45 Russian producers produced a total of 97.8 million litres of the spirit last year, which is the largest figure modern Russia has ever witnessed and more than the whole of Europe consumes. Source: Alexey Filippov / RIA Novosti
Russian enterprises set the absolute record for brandy production in 2012.
According to the country's statistics agency Rosstat, 45 Russian producers produced a total of 97.8 million litres of the spirit last year, which is the largest figure modern Russia has ever witnessed and more than the whole of Europe consumes. The reasons behind the record surge include a willingness to build up stocks before the excise tax goes up, and the current popularity of the drink as a gift.
After the hardships in 2011, when brandy production plummeted 10.2% in Russia to 81 million litres, last year marked intensive growth, with output skyrocketing 20.4%.
However, TSIFRAhead Vadim Drobiz believes that such impetus has come from the spread of corruption at the grassroots level. "In Russia, brandy has traditionally been considered a gift," Drobiz explained. "It is often used as a kickback for certain services rendered by doctors, government officials and professors. The spreading of corruption at the community level will continue to drive the growth in this area."
All rights reserved by Rossiyskaya Gazeta.