Pirate Party launches service to host blacklisted content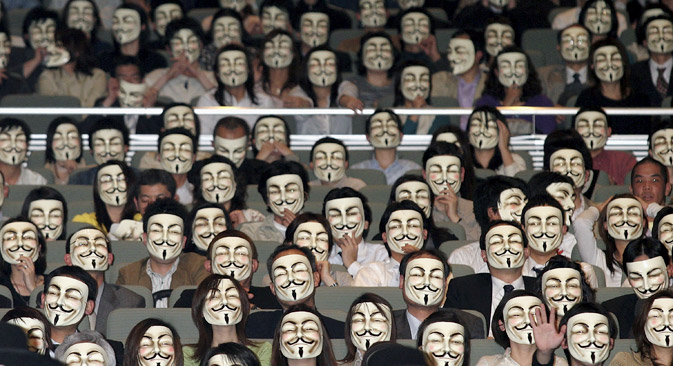 The Pirate Party will offer hosting services to projects that can be prosecuted by law in their own countries, including in Russia. Source: Getty Images
Web content at risk of being blocked can be moved to servers rented by Russia's Pirate Party. Organizers say the move is in response to official blacklists of websites, which were introduced in 2012. While some analysts say the service is legal, others believe it will only lead to further government restrictions on the Internet.
Vice chairman of the Pirate Party of Russia, Stanislav Shakirov, announced on his blog that the organization was developing a special "pirate hosting" site called Pirateshost.net. According to Shakirov, the decision is a response to attempts by the state and copyright holders to regulate the Internet. Pirate Party data reveals that, since the register of websites with prohibited content was introduced in November 2012, more than 3,300 websites have been unlawfully included on it. These resources, which share IP addresses with banned domains, are subject to being blocked.
"We don't have any data centers of our own, but we do have rented facilities in certain European and Asian countries; we also have agreements with local operators on traffic switching," Shakirov told Vedomosti. The Pirate Party will offer hosting services to projects that can be prosecuted by law in their own countries, including in Russia. These include resources containing information that infringes on copyright and political projects.
"We assume that there is no prohibited information — only information that some states may wish to conceal, or data that, if made available, would affect corporations," says Shakirov. Nevertheless, he promises that certain content will be screened: there will be no spam, no carders (web resources created to steal credit card information), no phishing (sites attempting to trick users into sharing their personal information) and no child pornography.
The party is guided by both ideological and business considerations: the pirate hosting services will be provided for a fee, Shakirov adds.
The Pirate Party vice chairman does not say where exactly the party has rented the servers; he only notes that such resources can be hosted in the Netherlands, Germany, Latvia, the Czech Republic, Malaysia and Indonesia. Shakirov is keeping quiet about where the money is coming from, as well. In his words, the project is supported by Russian and foreign "Internet personalities."
The organizers of the project are aware that officials may attempt to block the unwanted domain. To prevent this, Shakirov has promised to block access to sites hosted by servers that are rented by the party from official IP addresses, such as the telecommunications watchdog Roskomnadzor and other state agencies. "We will set traps to protect our friends from visits from IP addresses owned by state agencies," the Pirate Party promised in a statement. "To this end, we will create pages to filter Roskomnadzor and other state agencies. We will track the addresses of those logging on these marker pages and add them to our blacklist. We have a response to the blacklists imposed by officials!"
Roskomnadzor representatives were unavailable for comment.
"This is an expected response to the inappropriately harsh and technologically awkward procedures contained in increasing numbers of bills that restrict the freedom of search and the distribution of information, and often impede the operation of bona fide resources," says Irina Levova, analyst at the Russian Association for Electronic Communications (RAEC), which unites more than 100 companies of the Russian Internet segment.
According to Roskomnadzor, as of mid-January 2013 there were 1,680 entries on the list of banned web resources. Only 166 of these have actually been blocked. Since November 2012, Roskomnadzor has received more than 23,300 applications for blocking web pages.
Levova believes that the service does not violate any applicable regulation. A representative of a large Internet company has criticized the initiative, however, believing that the authorities will become even more irritated and crack down on Internet resources.
"If the service conflicts with Russian legislation, the state will take measures to shut it down and punish those guilty of providing that service," says deputy chairman of the State Duma, Sergei Zheleznyak. Furthermore, if this new hosting service should feature content that is illegal in other countries, the reaction of European and American copyright holders will be very harsh, he notes. The Duma deputy believes that all governments should look for ways to do away with piracy without harming users or copyright holders.
Russian experts are discussing a scheme whereby royalties will be included in Internet fees. According to Zheleznyak, this is a complicated project, because the decision must be agreed upon by both Russian and international copyright holders, as the fees should ideally be introduced for the entire Internet.
First published in Russian in Vedomosti.
All rights reserved by Rossiyskaya Gazeta.