Imported liquor market reaches ceiling in Russia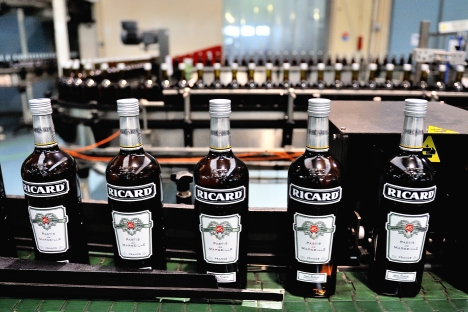 Pernod Ricard's saw its share of the segment decrease by 7.9 percent in Russia. Source: AFP / East News
The three biggest distributors of foreign alcohol in Russia are cutting down on their imports. Experts say this is the result of increased competition from smaller distributors and a saturated market, which was previously fueled by growth of the middle class.
RBC Daily has obtained Federal Customs Service data for 2012 showing that the "Big Three" (Diageo, Pernod Ricard, and Bacardi) are losing their share of the key liquor categories in Russia — even cutting supplies in certain segments. Bacardi, the leading rum supplier, saw its share of the segment shrink by 10 percent, reducing supplies to Russia by almost 132,000 gallons.
The leader in the gin category, Pernod Ricard's, saw its share of the segment decrease by 7.9 percent.
The 2000s were a time when liquor imports into Russia were growing rapidly. Whiskey, rum, tequila, and gin imports were expanding by 50–60 percent a year, pushing some Western journalists to conclude rashly that Russians were abandoning vodka in favor of foreign spirits. However, Russian experts were more cautious in their estimates, pointing out that interest in imported liquor was driven by an increase in the incomes of a specific segment of the population, on the one hand, and lowballing by suppliers, on the other.
2012 might have been the last year when Russia's liquor importers demonstrated positive performance, according to industry experts. Total supplies in 2012 rose to $12.4 million — a 10-percent increase over 2011. While growth was also reported for each of the major categories (whiskey, rum, tequila, and gin) in 2012, it was not comparable to the 2011 dynamic.
For example, supplies of whiskey to Russia rose 16.8 percent to $3.8 million, after soaring up 66 percent in 2011. A similar picture is observed in other segments, too.
According to Vadim Drobiz, director of the trade agency TsIFRRA, such statistics are hardly surprising. "The alcohol market reflects the socio-economic processes in society," he told RBC Daily. "As soon as the segment of the population that could afford expensive imported liquors stopped growing, the import growth rates of such products slowed down too. I think we've reached the ceiling there."
The performance of international alcohol giants operating in Russia is further evidence of a slowdown on the imported liquor market. Diageo, Pernod Ricard, and Baccardi could not avoid losing market shares in key categories. For example, the biggest whiskey producer, Diageo, saw its share decline from 35.5 percent to 27.6 percent; physical supplies dropped by 264,000 gallons.
According to Erkin Tuzmukhamedov, an expert on the liquor market, the giants are losing their market shares due to pressure from small players, who were attracted to the market by reports that the demand for imported spirits was growing in Russia.
"Whereas there were more or less two kinds of rum in Russia before — Bacardi and Captain Morgan — store shelves are now full of all sorts of cheap swill imported by small distributors. Because of their low prices, those products are cannibalizing the big brands' market shares," Tuzmukhamedov told RBC Daily.
The story is based on materials from RBC Daily.
All rights reserved by Rossiyskaya Gazeta.