Russia may develop heavily sanctioned Iranian oil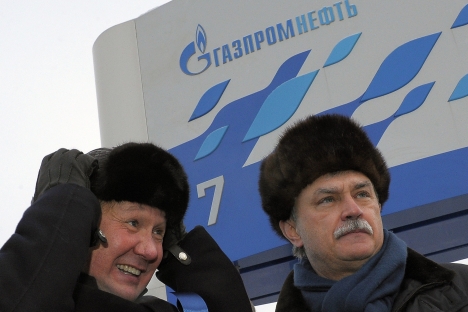 Russia's oil company Gazpromneft might have dragged its feet over the joint energy project with Iran because of fears of U.S. sanctions. Pictured (L-R): Gazprom CEO Alexei Miller and St. Petersburg Governor Georgy Poltavchenko. Source: Kommersant
Facing embargoes from the U.S. and the EU, Iran allows Russian oil companies into its market.
Under sanctions from the United States and the European Union, Iran is looking to Russian oil companies for investments, inviting them to participate in various energy-related projects. So far, only Zarubezhneft has responded; others are more wary, believing the risks are too high, experts believe. Experts predict the move will not affect world oil prices.
Iran has invited Russian companies to take part in developing some of its oil and gas fields, Energy Minister Alexander Novak said after a mid-February meeting of the Russian-Iranian intergovernmental commission, RBC news agency reported. Iran may even be prepared to adopt necessary amendments to the law, in order to facilitate the entrance of Russian companies into its market.
Russian companies have worked in Iran before, though not for long.
In 2008, Gazpromneft and the National Iranian Oil Company signed a memorandum on the development of the Azar and Shangule fields located in the Anaran Exploration Block. In 2011, the Gazprom subsidiary had to leave the country, after being accused of being behind schedule in developing the field. Another theory has it that, for fear of U.S. sanctions, Gazpromneft was dragging its feet over the project.
In 1996, the U.S. passed a law allowing the American government to take measures against foreign companies and individuals with more than $20 million invested in Iran's energy sector. LUKOIL, which worked at Iran's Anaran Exploration Block, abandoned the project in 2010.
Economic sanctions against Tehran introduced by the EU in 2012 involve, among other things, a ban on the import, purchase and transportation of oil and its products. As a result, Iranian oil exports and oil export revenues decreased by 40 and 45 percent, respectively, between March and December of 2012.
According to Russia's energy minister, Zarubezhneft has expressed its desire to take part in hydrocarbon projects in Iran. The company is 100-percent state-owned and has no need to fear U.S. sanctions.
Zarubezhneft representatives — like the representatives of companies Gazprom Neft, LUKOIL, Bashneft and Rosneft — declined to comment.
"Most Russian companies are happy to participate in such projects [under various arrangements]," says Mikhail Loshini, an analyst at RMG Research. "The deals are generally highly lucrative…Although, in this case, the risk is very high, because extracting the oil will be possible, but it will not be clear who will buy it. The European market is closed, which leaves only Asia, where contracts are already in place."
Iran may, of course, change its laws and allow Russian companies to sign participation contracts rather than service contracts, according to Sberbank CIB analyst Valery Nesterov; however, he thinks Iran is unlikely to go for it. Russian companies would still not be interested in Iranian projects, because a large number of political risks would remain alongside the economic ones.
Iran is an OPEC member and produces about 4 million barrels of oil per day, with plans to increase output to 5 million barrels per day. Its daily production of gas stands at 60 million cubic meters (around 15.8 billion gallons).
"This deal will not affect world oil prices," says Loshini. "Even though Iran has said it intends to increase oil production, while the embargo is in place, such statements are unsubstantiated."
The story is based on materials from RBC Daily and original comments.
All rights reserved by Rossiyskaya Gazeta.