ALROSA valued at $15.4 billion for privatization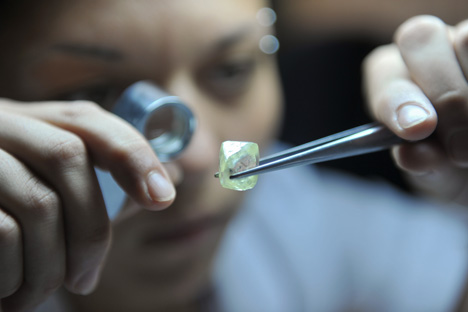 Investors are expected to view Russia's diamond mining company Alrosa positively. Source: RIA Novosti
Diamond mining company Alrosa needs to shed the dead weight of its natural gas assets before a public offering
The Federal Agency for State Property Management (Rosimushchestvo) has valued ALROSA — the world's largest diamond mining company — at 7×EV / EBITDA, for a public placement on the Moscow Exchange in November 2013. Interfax reported in late February that the Ministry of Economic Development and Trade had recommended Goldman Sachs be appointed as the deal's underwriter.
ALROSA's average EBITDA stands at around $2–2.2 billion, putting the entire company's value at $14–15.4 billion. This, however, does not include debt, which totaled $4.6 billion as of September 30, 2012. This means that the base value of the company is between $9.4 and $10.8 billion.
ALROSA was trading at $8.2 billion on the Moscow Exchange in the last week of February.
The plan is to sell 14 percent of equity in the third quarter, consisting of 7 percent stakes held each by Rosimushchestvo and Yakutia's Property Ministry. Based on the $9.4–10.8 billion valuation, the shares could fetch between $1.3 and $1.5 billion. Compare this to February 2012, when Alrosa's Supervisory Council was hoping to get at least $1 billion for a 14 percent stake it was considering selling at the time.
Representatives for Alrosa and Goldman Sachs were unavailable for comment, while Rosimushchestvo spokespersons refused to discuss the deal.
Since the underwriter has yet to conduct an assessment, the abovementioned estimate represents the upper limit of a potential price range, a source told Vedomosti. The upper limit is easy to calculate, as 7× EV/EBITDA is the average multiple for valuing mining companies. Some of the industry's major players, such as Rio Tinto and BHP Billiton, trade at this multiple. Diamond extracting companies are even more expensive.
Petra Diamonds was trading at 9× EV/EBITDA, though it is much smaller than Alrosa, with revenues of $316.9 million for the year that ended on June 30, 2012.

IFC Metropol share sales analyst Sergei Filchenkov believes that Alrosa has few peers in the industry. Alrosa's closest competitor, De Beers, is a privately held company. Rio Tinto and BHP Billiton subsidiaries follow it, in terms of size, while the rest are much smaller.
The 7× EV/EBITDA multiple is applicable to ALROSA, given its size, Filchenkov believes. He thinks the market would be prepared to pay a premium on top of the current price in order to increase free float, since the shares are in strong demand.

Before offering its shares, however, Alrosa must get rid of natural gas assets it had to purchase from VTB last year for approximately $1 billion, in order to clear its balance sheet and shed the risks associated with the gas business. The company is in talks with prospective buyers that are not banks, a source close to the diamond mining company said. It was reported earlier that Alrosa was discussing the possibility of a gas asset swap with LUKoil.
In addition, the sale of a 51 percent equity stake in a Timir iron ore project should close soon; ALROSA's Supervisory Council approved the deal at the end of last year.
According to one source, this year is the best time for Alrosa to make a public offering. In 2014, the company will transition to underground diamond extraction, which is more complicated and expensive. On the bright side, notes Filchenkov, investors will view Alrosa positively, because 2012 could become a record-breaking year for the company.
First published in Russian in Vedomosti
All rights reserved by Rossiyskaya Gazeta.