Mobile banking technologies catch on in Russia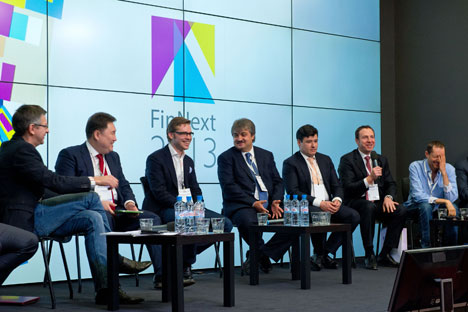 In late February, industry insiders discussed the state of the Russian market for financial startups at the FinNext forum in Moscow. Source: finnext.ru
Portable terminals and personal finance management services are sweeping the global banking market. In Russia, the mobile- and online-banking segments are growing, introducing similar innovations to the market. Some banks are ready to invest in these innovations, while others wait for these new technologies to become actual drivers for the industry.
Experts at Cisco Systems predict that the volume of global, mobile data-traffic will increase 13-fold by 2017, while the number of mobile devices will reach seven billion (that is, there will be the same number of mobile phone handsets as there are people on the earth). This will provide impetus for the development of mobile services across the board, including banking — a new area for mobile devices. Some projects of the future have already started to appear.
The American service Square took the global market by storm in 2012. It is based on a simple idea of connecting a miniature MasterCard and Visa card reader to a smartphone.
A special app is used to receive data and execute transactions, allowing users to pay for purchases or receive money transfers from friends. This has benefited small and medium businesses in particular. Users were quick to appreciate the service's advantages, with annual turnover reaching $10 billion in November 2012.
Proprietary offerings have sprung up in the Russian market too. The most well-known ones — 2can and Lifepay — do exactly what Square does, in that they enable transactions using MasterCard and Visa cards. Restrictions in Russian law, however, mean that only legal entities can use them.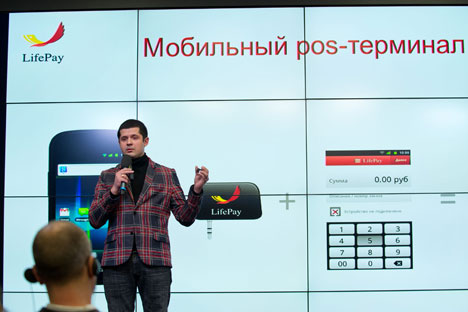 Lifepay, finance start-ups with moblie phones. Source: finnext.ru
This has been done to protect cardholders. "If your card is stolen and then used to make a payment, it is the seller that processed the transaction that bears the liability in full. That's because the seller must check the ID of every person that pays by card. In case of fraud, the buyer will get a refund," Lifepay CEO Vyacheslav Semenchuk said.
The market for such portable terminals is growing all the time. According to Semenchuk, it is now worth hundreds of millions of dollars. This has been helped in part by a government legislative initiative: the Russian Ministry of Finance is planning to compel online retailers to accept plastic cards as means of payment.
Another interesting trend involves personal finance management (PFM) services. Personal banking is moving online; this much has become conventional wisdom globally. "But in Russia, bankers understand this better than their clients do," Yelena Makhota told the Russian online publication Bankir.ru.
"They are still training clients to use online- and mobile-banking services. Personal Finance Management (PFM) systems are the latest fad in the global online banking universe. In Russia, such online banking add-ons featuring diagrams and charts are usually offered as bells and whistles for user interfaces, because they lack functionality for analyzing risks or building financial projections," said Makhota.
Several personal financial management projects are making it to the Russian market right now. Easyfinance and Zenmoney — both modeled after Mint.com — are the most notable. "We expect a dramatic increase in banks' interest in PFM, including that based on third-party solutions, such as ours," said Easyfinance General Director Alexander Popov.
"Few people need accounting for the sake of accounting. Most people want an easy-to-use tool and additional data to be able to make decisions. Around 30 percent of banks' clients use PFM in the West, while, in Russia, this market is only just developing," said Popov. Easyfinance currently boasts 80,000 users, but it has ambitious plans to reach the target of half a million this year.
In late February, industry insiders discussed the state of the Russian market for financial startups at the FinNext forum in Moscow. Despite the presence of young teams and interesting projects, experts were realistic in their assessments. "Innovations will become a driver for the industry only once they become a source of income for the mass market. Until then, it's nothing but pretty stories," said Bulad Subanov, deputy chairman of the Management Board at OTP Bank.
On the other hand, Alfa Bank's retail product director, Grigory Babadzhanyan, said his bank was ready to invest in various innovative solutions, if only in hopes that at least one of them will make it big and help recover all other investments.
"Toys will remain just that — toys — while actual innovations will outperform the core business in the space of one or two years," said Boris Dyakonov, first deputy chairman of Bank24.ru Executive Board. In the meantime, experts believe that moving away from paper-based technology remains the greatest innovation in banking practice to date.
All rights reserved by Rossiyskaya Gazeta.