Russian entrepreneurs positive about business at home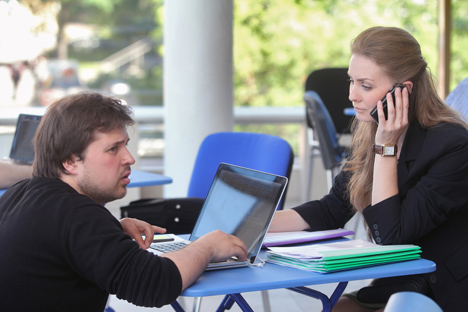 Businesswise, Russia has a lot more to offer than the West. Sourse: RIA Novosti
Young Russian entrepreneurs believe doing business at home has more to offer them. Experts see this as a good sign, pointing to the growth in popularity of doing business amongst young Russians. However, experts also note that Russia needs to move away from raw materials, to point business activities in the right direction.
A survey conducted jointly by Biznes Molodost and the Levada Center has revealed that the majority of young Russian entrepreneurs believe doing business in Russia has great potential. Eighty-four percent of respondents were positive that, businesswise, Russia has a lot more to offer than the West. Although 56 percent have no plans to settle permanently in any other country, 73 percent expressed their willingness to be educated abroad.
Business strategies have changed, as well. In the early 1990s, entrepreneurs focused on accumulating and retaining funds. Today they have different priorities, as entrepreneurs often do business for fun now. "The typical entrepreneur's profile has evolved to the next level," says Biznes Molodost co-founder Pyotr Osipov. "Today's businessmen are looking to have fun rather than just save money."
Nevertheless, young entrepreneurs do need support. Apart from tax cuts and a lower administrative burden, businesses need guidance from those who have learned the ropes in the real-life environment: 82 percent of aspiring businessmen want to find a personal business mentor.
"There is no doubt that the business community in Russia has come along in leaps and bounds," says Yevgeny Yakubovsky, a member of OPORA RUSSIA's managing board. "Business activities in Russia during the first few years after the collapse of the Soviet Union boiled down to either privatizing state-owned property or siphoning off government budget funds. Today, the situation is different."
Yakubovsky believes that modern Russian entrepreneurs are closer to the "classic businessman" type. Moreover, doing business has become trendy amongst young people, which he sees as a good sign.
"We never said [Russia's] current business activities were going in the right direction. Unfortunately, the raw materials industry remains the only area that has been developing," says Delovaya Rossiya's vice president, Anton Danilov-Danilyan. He believes the turning point was in the early 2010s. "Before that, the share of raw materials and primary industries in exports was to the tune of 63–65 percent, whereas today it amounts to approximately 85 percent," he says.
According to Danilov-Danilyan's forecasts, the country will have to focus on agriculture in the second half of the 21st century. "We have huge potential here, which can be tapped by lifting the existing barriers," he says. "Other future growth areas include the chemical, communications and technology industries."
All rights reserved by Rossiyskaya Gazeta.