Russia becomes attractive for beauty salon chains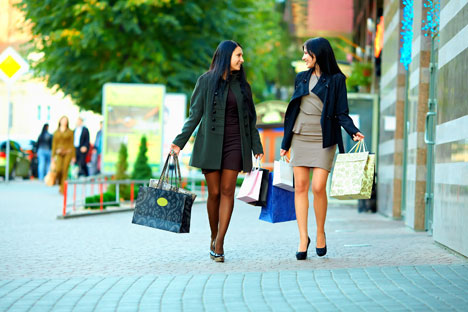 Russian women spend a dispropotionate amount of their income on cosmetics. Source: Shutteckstock / Legion Media
The beauty industry is considered a growth area in Russia, where women place high value on presenting a polished appearance at all times.
The international advertising agency DDB once worked on an campaign for a cream by RoC skincare to air in several markets. The commercial the agency created, which showed a woman looking at herself in the mirror smiling at the results of her skincream, won acclaim in France, but was a failure in Russia, scoring low on believability and likeability.
When the DDB team introduced a man looking at the woman in admiration, the attitudes of Russians toward the spot changed dramatically. The scores of the new ad on likeability, persuasion and believability wre sky high.
Three Russian Women to know
1) The highest-ranking woman in Russian politics is Valentina Matviyenko, the deputy speaker of the Federation Council and former St. Petersburg mayor.
2) Ksenia Sobchak first became known as a socialite and television star, but today she is recognised as a savvy busiesswoman and a leader of Russia's nascent opposition movement.
3) Construction magnate Yelena Baturina is Russia's richest woman, although she now lives mostly in London. She is reportedly worth $1.1 billion.
DDB's experience is just one example of what beauty experts consider the key difference between Russian and Western women. Ads directed at European women emphasize that a product can make the user feel comfortable in her own skin; they often show women wearing comfortable clothes and light makeup that underlines natural beauty.
But Russian women need to look their best 24/7 and they prefer to see women in ads with the kind of make-up, high heels and attractive clothes they see on the streets in Moscow. Russians themselves attribute the look to their particular mindset — one that draws on historical experience.
Natalya Tsel, a linguist from St Petersburg who completed a student exchange program in the United States, says that many Russian women find it hard to comprehend the love of Americans for casual style.
"How do American women dress and apply makeup? They'd use the words 'comfortable' and 'practical', but we'd say 'careless' and 'dull'," Tsel said.
Said stylist Natalya Tan: "The reason Russian women dress the way they do is because of their background. We shouldn't forget that half of the country is in Asia. Our art, our national costume and architecture build on the heritage of the Scythians, Mongols and Byzantines. Look at the Orthodox churches, their luscious painting and the shining domes. This is the cultural code that identifies our taste and penetrates us from early childhood."
Some women attribute the Russian style to the shortage of men after World War II, which forced Russian women to compete for them. Others say that Russian women are breaking out from the restrictions of the Soviet era, when any attempt to stand out was frowned upon.
"We are too bright for European women, the way Asian women look too bright to us. But we are not better or worse; we are from different cultures," Tan added. "That identifies our taste and penetrates us from early childhood."
Studies show that Russian women spend generously on cosmetics. Euromonitor notes that Russian women spend a higher proportion of their income on cosmetics than European women. Citizens of Spain, Portugal or Greece spend about 100 euros ($128) on cosmetics a year; French women spend 200 euros ($256); Swiss women 180 euros ($230) and British women 150 euros ($198). A Russian woman is ready to spend about 70 euros ($89) on cosmetics a year. However, monthly salaries in Russia are much lower, averaging $760 in 2012, compared to $2,715 in Spain and $2,521 in Greece).
The beauty industry in Russia is considered one of the most potentially profitable sectors of the economy. The European market for beauty services is oversaturated, but in Russia it is still developing, with growth estimated between 5 per cent and 10 per cent annually. Analysts note that since Russia joined the W.T.O., the market for beauty services has become increasingly attractive for global chains of beauty salons.
All rights reserved by Rossiyskaya Gazeta.