Magnitsky boss Browder called in for questioning by Russian police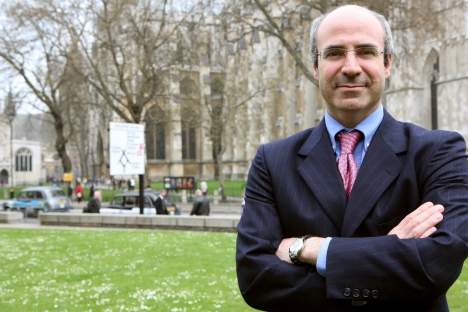 Hermitage Capital Chief William Browder. Source: Jonathan Player / Rex Features
Russian police call Hermitage Capital chief William Browder in for questioning.
Russian police have called Hermitage Capital CEO William Browder in for questioning as part of a criminal investigation into the alleged illegal purchase of Gazprom shares by his investment fund. Police representatives said that if he fails to turn up "all legal means of investigation" would be employed, including "issuing an international warrant."
The Interior Ministry's Investigations Department made the announcement at a news conference on the investigation into the purchase of Gazprom shares. The summons was served through the Russian Embassy in London, said Mikhail Alexandrov, the head of the department's Organised Crime and Corruption Investigation Division.
According to Alexandrov, police are planning to file charges at the questioning. Investigators are unperturbed by the fact that Browder refused to come to Russia after a criminal case was opened against him and his auditor Sergei Magnitsky for large-scale tax evasion. Browder and Magnitsky, who died in pre-trial detention in November 2009, are currently being tried on tax evasion charges in absentia and posthumously, respectively, in Moscow.
[Editor's note: Browder has claimed that he was denied entry to Russia on security grounds in November 2005.]
A spokesman for the Investigations Department said Wednesday that Browder would face the news charges either in person or in absentia. If he fails to show up for questioning, "all legal means of investigation will be applied to him, including putting out an international warrant."
The Investigative Department alleges that Guernsey-based Hermitage Capital illegally bought more than 131.5 million Gazprom shares when it was illegal for foreign companies to do so (the ban was lifted in 2006).
The purchases were channeled through companies set up by Browder specifically for this purpose and whose operations he controlled personally, and the fund did not obtain permission from the regulator to engage in such transactions, while the shares were used not only for personal enrichment, but also for "putting political pressure" on the company's management, the Investigative Department claims.
A spokesman for the department said: "Having illegally obtained a block of shares" the investment fund head "was actively and insistently sending his demands to Gazprom" between 2001 and 2004. Initially limited to charter amendments and nominating himself as a candidate for Gazprom's board of directors, Alexandrov said Browder's demands then extended to "changes to dividend and information policy, as well as changes to the procedure of transaction approval by the board of directors."
Hermitage Capital has denied any wrongdoing, claiming that it purchased Gazprom shares legally.
"All transactions for the purchase of Gazprom shares were conducted in strict compliance with existing legislation," Hermitage said in a statement. "The procedure itself was examined by the securities commission, which confirmed its compliance with the law. Allegations that this in some way inflicted damage on the company are simply absurd."
Hermitage Capital has said that the criminal prosecution of Browder is linked to the Magnitsky Act, which Browder initiated.
First published in Russian in Kommersant.
All rights reserved by Rossiyskaya Gazeta.