Yandex SPO going at a discount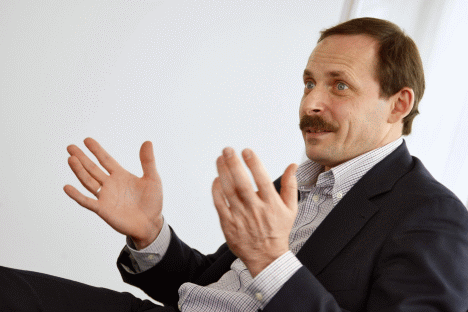 The shares of Yandex founders Arkady Volozh [pictured] are expected to be sold off. Volozh will receive $117 million for his share package. Source: Kommersant
Company launches new offering as shares are down, but still trading near nine month highs.
In its secondary public offering (SPO), Yandex will offer stock at a price of $22.75 per share, according to a statement from the company. The whole share package is valued at $551.8 million. At the close of NASDAQ trading on March 12, Yandex shares were listed at $23.03, down 8 percent for the day.
Yandex shareholders plan to sell 7.4 percent of Class A stock. The main seller, offering 5.5 percent of the stock, is BC&B Holdings B.V., which owns shares on behalf of various funds served by the consulting arm of Baring Vostok. Baring is the company's oldest Russian shareholder; it paid $5 million for 35.7 percent of Yandex in 2000.
Also up for sale are the shares of Yandex founders Arkady Volozh and Ilya Segalovich, and the fund Emerald Trust. Volozh will receive $117 million for his share package, Segalovich $4.6 million, and Emerald Trust $16.5 million. Volozh will remain the largest shareholder of Yandex with a 10.6 percent stake.
The bookrunners are investment banks Morgan Stanley, Deutsche Bank, and Goldman Sachs. They have a call option for 2,425,399 Class A shares, which can be exercised within 30 days from the date of the placement. The total package is worth $55.1 million).
Following the SPO, Yandex will begin redeeming its own shares from the market. The company's board of directors has approved the purchase of 12 million shares. At the close of trading, the package was valued at $276.3 million.
Alexander Vengranovich, an analyst at Otkrytie Financial Corporation, does not link the buyback scheme to the SPO: "They are two independent events. The simultaneous announcement of the SPO and the buyback was done to buoy up the share price, which usually drops when a large package is floated," Vengranovich said.
Said a source close to the floatation who wished to remain anonymous: "Analysts have repeatedly stated that the possible SPO could be one of the factors putting downward pressure on the share price. That risk has now been alleviated." In his opinion, the traditional discount on SPO shares will enable Yandex to buy them back at a reasonable price.
According to Mikhail Kazakov, director of financial markets at investment firm Grandis Captital, now is a good time to hold an SPO, particularly in the U.S., where stock indexes are at multi-year highs and Internet companies are still in vogue. Addtionally, said Kazakov in an interview with Russian daily Vedomosti, Yandex shares on the eve of the SPO were trading at close to their highest level in nine months.
All rights reserved by Rossiyskaya Gazeta.