Russian railways to offer duty-free shopping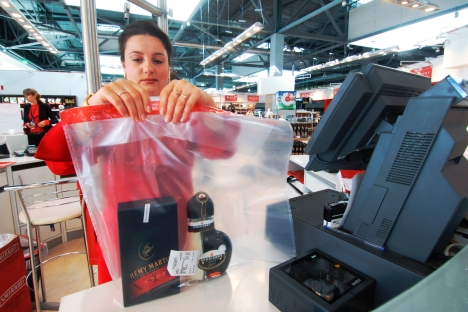 The Russian Railways company will launch duty-free shops on international routes this summer. Source: RIA Novosti
Russia's largest railway company RZD will open duty-free shops onboard trains servicing international routes, starting with the Stolichny Express rapid train between Moscow and Kiev. Yet experts question if Russia can handle such a project.
A subsidiary of Russia's largest railway company Russian Railways (RZD) announced that it will begin opening duty-free shops onboard trains servicing international routes, starting with the Stolichny Express rapid train between Moscow and Kiev. Experts, however, question whether or not Russia's infrastructure and laws are advanced enough to handle such a project.
In their quest to generate additional revenue, railway operators are prepared to borrow a page from the playbook of their airline counterparts. RBC Daily has learned that the Federal Passenger Company (FPC) — a Russian Railways subsidiary operating long-distance trains — is planning to open on-board, duty-free shops.
The pilot project will be launched this summer onboard the Stolichny Express rapid train, which provides non-stop service between Moscow and Kiev. The company will then look into bringing duty-free shopping to its Lev Tolstoy train, which services Moscow and Helsinki.
The FPC told RBC Daily that the range of goods available for purchase would be similar to what is normally offered by airlines — alcoholic beverages, perfumery, cosmetics, jewelry. The company refused to disclose the name of the duty-free operator, citing the fact that the contract has not yet been signed.
Russia has around 30 duty-free operators (including five majors) at airports and onboard aircraft, says Yulia Mescheryakova, deputy executive director of the Association of Duty Free Trading and Travel Retail (BORT). According to BORT estimates, duty free sales reached $1 billion last year, with sales onboard planes accounting for 10–15 percent of that amount.
The situation is different in the West, according to Mescheryakova: on-board sales there generate 30–40 percent of total revenue.
The success of duty-free shops around the world suggests that this could be a lucrative area for railways. Then again, Russia still lacks the necessary infrastructure and an established legal framework.
"The main question is this: How is Russian Railways going to organize control at non-terminal train stations to make sure that buyers of duty-free goods don't disembark at the Russian border? As a minimum, a system for scanning tickets must be implemented," said Mescheryakova.
The same should apply to train stations. Like in airports, a control system should be set up to separate domestic and international areas, preventing passengers who have cleared security checks from coming back in, Mescheryakova suggests.
The idea of establishing railway duty-free shops received state support last spring, when the government authorized opening them at railway border crossings. The first duty-free shops were supposed to appear at the Finland Train Station in St. Petersburg and at the train station in Vyborg, before spreading to all Russian train stations servicing international routes. However, the service has yet to appear at any railway facility in the Russian Federation.
First published in Russian in RBC Daily.
All rights reserved by Rossiyskaya Gazeta.