Authorities to track down offshore owners of Russian facilities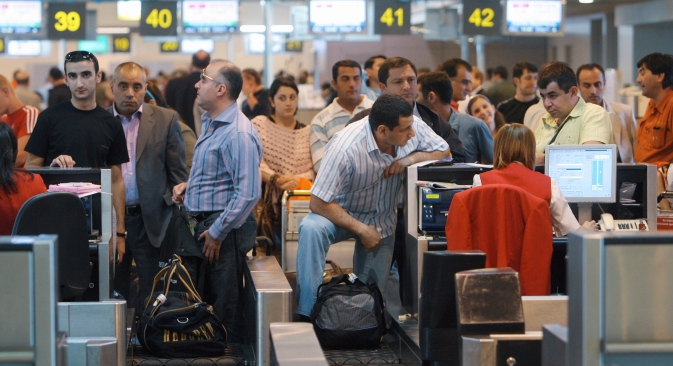 Russia's authorities will keep an eye on the issue of the ownership of Domodedovo International Airport (pictured). Source: RIA Novosti / Ilya Pitalev
The government is looking to amend certain laws, in order to force offshore companies owning strategic facilities in Russia to disclose their owners. Moscow's Domodedovo Airport tops the list of likely first victims in the drive to "de-offshore" the economy.
Companies incorporated in foreign jurisdictions that hold strategically important Russian facilities will be forced to either re-register in Russia or reveal their ultimate beneficiaries, according to a source who attended a meeting presided over by Prime Minister Dmitry Medvedev on March 6.
"We need to amend current laws to prevent complex infrastructure facilities from being owned by entities we have no knowledge about," said the source in attendance at the meeting. "It's not about banning foreign ownership. We just want foreigners to control the facilities through Russian legal entities, and Russian legal entities not to conceal their owners."
A source at the Ministry of Economic Development confirmed that this marked the actual launch of efforts to "de-offshore" the economy, but neither of the sources gave any deadlines or named specific laws to be amended.
"Companies will certainly be given time to settle technical issues," the ministry source said.
Formally, the meeting was called to discuss the issue of the ownership of Domodedovo Airport.
"The airport was ordered to reveal who its owner was [following the terrorist attack at Domodedovo Airport in early 2011], and this still has not been done. We don't have the necessary laws."
Back then, Deputy Prosecutor General Alexander Buksman said they had failed to put the last piece of the puzzle in place to finally discover who the true owner of the airport was. At around the same time, Domodedovo's parent company, DME Ltd. (based in Maine), announced plans for an IPO and named Board of Directors Chairman Dmitry Kamenshchik as its sole owner. It later pulled the plug on its IPO plans, with Kamenshchik announcing he was a hired manager.
"It is hard to imagine a New York airport owned by a group of individuals unknown to the New York mayor, let alone the FBI," Vedomosti's source said.
"Domodedovo seeks to become the main airport for the 2018 FIFA World Cup," a source in the government said. "Multi-billion dollar investments from the budget will be channeled into it. By revealing who the owners are, we are hoping to open up a dialogue with them."
"Domodedovo representatives were not allowed to take part in the closed-door part of the meeting. Therefore, we can provide no comment on its results," a DME Ltd. spokesperson said. "If I were to comment on the issue at hand, though, I would say that Domodedovo has always observed and will continue to strictly abide by Russian laws."
"There will be no specific Domodedovo law. Instead, there will be a list of facilities which need to be registered in Russia," a source in the government said.
Amendments are likely to be made to the law on foreign investment and the Federal Aviation Regulations, according to King & Spalding partner Ilya Rachkov. The law on foreign investments lists 42 types of activities key to national defense and security, while the Federal Aviation Regulations outline restrictions on foreign ownership of airports and airlines.
Meanwhile, the move could result in constitutional conflicts, since the Constitution sets out the right of ownership and freedom of enterprise. On a different note, the country of incorporation can actually bring an offshore company to disclose its beneficiaries, as Rachkov noted. Russia can send a relevant request, but it must have substantial grounds to do so — tax evasion charges, for example.
Meanwhile, Paragon Advice Group partner Alexander Zakharov says that the tax authorities in Cyprus can request information on beneficial owners from local directors and lawyers without any underlying inquiry. They can even prevent companies like Domodedovo from re-registering in other jurisdictions. The expert pointed out that, last year, Domodedovo owners transferred their assets from Maine (DME Ltd.) to Cyprus (Verulia).

Another method may be employed to help disclose the identity of Domodedovo owners: the Ministry of Finance has proposed that the government require tax havens in receipt of Russian loans to disclose information on Russian founders and beneficiaries of corporations, trusts and funds.
This information comes from a Finmarket report and has been confirmed by a source in the government, in an interview with Vedomosti. Cyprus qualifies, as it has already received $2.5 billion in loans from Russia and is asking for $5.5 billion more.
First published in Russian in Vedomosti newspaper.
All rights reserved by Rossiyskaya Gazeta.