Russia's online company launches first bidding platform for mobile devices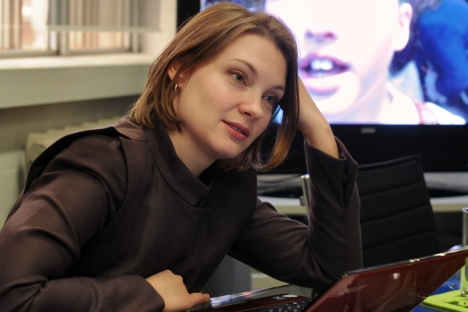 Tinkoff Digital CEO Anna Znamenskaya: "We see an enormous potential: mobile Internet users account for more than 50 percent of all Internet users, and this number is growing at an amazing pace." Source: Kommersant
The Tinkoff Digital online banking company introduces Russia's first Real-Time Bidding platform for mobile devices - MADNET. The company predicts the mobile advertising market's growth, yet experts remain sceptical.
Tinkoff Digital introduces MADNET — Russia's first Real-Time Bidding platform for mobile devices. Tinkoff Digital CEO Anna Znamenskaya estimates that the mobile advertising market will grow to at least $200 million by 2014, although experts are skeptical about the potential for such growth.
Tinkoff Digital CEO Anna Znamenskaya has confirmed that the company has launched MADNET — Russia's first Real-Time Bidding (RTB) platform for mobile devices. According to Znamenskaya, Tinkoff Digital is Google's first partner in Russia to provide mobile advertising impressions through Google's DoubleClick Ad Exchange (Google bought DoubleClick for $3.1 billion in April 2007).
Tinkoff Digital has also signed agreements with leading, international, mobile-advertising networks, including Smaato, MoPub, Mobclix and Hunt Mobile Ads. Tinkoff Digital's mobile project co-investors — businessman Oleg Tinkov and Goldman Sachs — have already provided about $3 million in investments.
MADNET aggregates all mobile traffic from apps on iOS, Android, Windows Phone and websites. It is also actively developing its own advertising network. The major suppliers of mobile-advertising traffic will be international networks that work exclusively with mobile apps for smartphones. Tinkoff Digital experts say that MADNET thus gives its clients highly convertible smartphone traffic.
Znamenskaya believes that the main challenges in Russia are the fragmentation of mobile traffic purchases and limited advertising capacity. There are three types of platforms: large platforms, such as Yandex, Mail.ru, Avito.ru; smaller, premium websites that trade traffic via special sellers; and mobile traffic for smartphones, for which there is a huge market.
"No one offers this kind of traffic in Russia," Znamenskaya says. Tinkoff Digital estimates the advertising capacity of this market at 2 billion ad impressions a month; it is expected to further expand to 5 billion impressions by May and 15 billion impressions by the end of the year. Android and iOS smartphones will account for more than 90 percent of all ad impressions.
In 2013, the RTB market will amount to an estimated $100 million, but it will at least double in 2014, the Tinkoff Digital CEO notes. "We see an enormous potential: Mobile Internet users account for more than 50 percent of all Internet users, and this number is growing at an amazing pace," says Znamenskaya.
According to the eMarketer research company, by 2015, the RTB market in Russia will have reached $720 million — 18 percent of the entire Internet advertising market of Russia, which is estimated at $4 billion.
The head of SUP Media advertising technologies, Dmitry Karmanov, says smartphone ads are attractive for at least two reasons: for one, advertisers have a better chance of getting through to an audience with a higher paying capacity; they also benefit from a broad variety of advertising methods, including regular banner impressions and multimedia ads that make use of Flash and JavaScript solutions.
Experts warn that Tinkoff Digital may run into some problems, however. "Our estimates of the mobile RTB market are markedly different from those provided by Tinkoff Digital: you can't generate the declared amounts of money, given the quality and quantity of traffic available via the systems mentioned," says Alexey Katkov, vice president and commercial director of Mail.ru Group.
"Their predicted growth rate — from 2 to 15 billion impressions in just six months — also raises questions, because we are talking about Russian traffic going to foreign resources, which physically can't grow at such a rate," Katkov says. Furthermore, Karmanov warns that there are also complications in monitoring unique users in ad networks (each network counts its unique users, although essentially it is the same device), browsers and apps.
The article is first published in Russian in Kommersant Daily.
Read more about Russia's IT sector in the TOP Russia Start-ups section.
All rights reserved by Rossiyskaya Gazeta.