TNK-BP deal takes Rosneft to world No. 1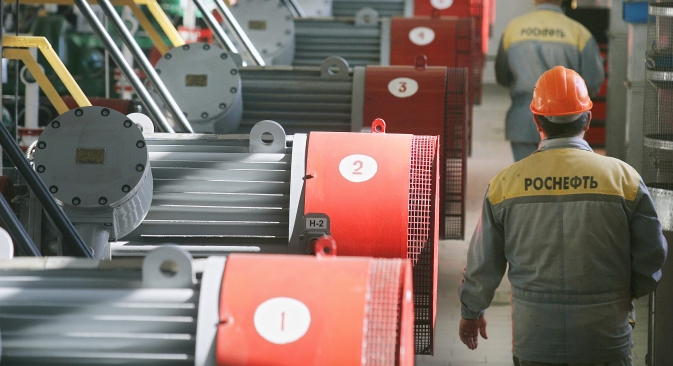 Rosneft's oil refinery plant in the Krasnodarsky Region. Source: ITAR-TASS
Russia's energy giant announces the completion of its acquisition of TNK-BP, making it the world's largest publicly traded oil producer.
Russia's oil giant Rosneft on Thursday announced it had completed its acquisition of TNK-BP, the country's No. 3 oil company – a deal that Rosneft it the world's largest publicly traded oil company.
Rosneft paid $16.65 billion and 12.84 percent of its own stock for the 50 percent stake in TNK-BP owned by BP, both companies said. Rosneft also announced it had paid $27.73 billion for the stake held by Alfa-Access-Renova.
This brings the cash portion of both deals to $44.38 billion.
The establishment of TNK-BP – a joint venture between Britain's BP and the AAR consortium of Russian billionaires – was announced in London in June 2003. Alfa Group co-owner Mikhail Fridman and BP CEO Lord John Brown signed the agreement in the presence of President Vladimir Putin and British Prime Minister Tony Blair. The united company started operating two months later.
TNK-BP will now celebrate its 10-year anniversary under different ownership. Rosneft completed the purchase of 50 percent of TNK-BP stock from each of BP and AAR on Thursday. Rosneft had secured approvals from all regulators, including the anti-trust authorities in Russia and Ukraine, as well as from the European Commission. BP will get $17.1 billion in cash plus 12.84% of Rosneft, while AAR will receive $28 billion.
Rosneft will also pay each of the big shareholders around $1 billion in interest accrued since the end of last year, when preliminary agreements were signed.
Rosneft president Igor Sechin made an official visit to BP's London headquarters on Thursday to mark the completion of the deal. With a 19.75 percent equity stake, BP has become Rosneft's second-biggest shareholder after the Russian state.
The unified company will produce about 4 million barrels per day of oil – the biggest output by a publicly traded energy company – and its reserves will amount to 28 billion barrels, according to Rosneft data. According to Bank of America-Merrill Lynch estimates, the unified company's 2013 revenue is predicted to reach $160.2 billion and its EBITDA $32.9 billion.
Rosneft has already set up a TNK-BP integration committee and expects to complete the integration within a year, Arkady Samokhvalov, an advisor to Sechin, told Rosneft's corporate publication.
Senior TNK-BP executives, led by executive director German Khan, will leave the company after the deal is closed. Rosneft senior vice president Eduard Khudainatov, who is now in charge of the integration drive, will lead the company, according to a source close to one of the sellers. Heads of key business units at Rosneft will be in charge of their counterparts at TNK-BP, a Rosneft representative said.
TNK-BP may soon cease to exist altogether. Yet it will be difficult to run the unified company without first bringing TNK-BP Holding (around 5% owned by minority shareholders and the rest by TNK-BP Limited, a company bought by Rosneft) into the fold, Otkrytie Capital head of research Alexander Burgansky said.
TNK-BP Holding will become Rosneft's biggest subsidiary, accounting for around 40 perecent of the parent company's output and for some $10 billion in operating cash flow annually. The company should have accumulated a $4 billion cash pile on its balance sheet, Burgansky said, which could be paid out in dividends.
In the future, it would be better to consolidate the shareholding structure, Burgansky said. It should not be a problem for the state-controlled company, given that all former Yukos assets have long become Rosneft branches.
However, the deal will likely lead to a deterioration in virtually every Rosneft key performance indicator. Production-related operating expenses will rise from $2.9 to $3.7 per barrel and refining operating expenses will increase from $3.04 to $3.17 per barrel, because most TNK-BP oilfields are more depleted, said Dmitry Lukashov, an analyst at Solid investment company.
The share of oil refining in the united company will decrease from 48.5 to 45 percent (it was 40.1 percent at TNK-BP). The key synergy is expected to come from a reduction in ТNК-ВР's administrative and management expenses, Lukashov said, citing the example of when Gazprom acquired Sibneft in 2005. Admin and management costs fell by almost half, from $1.83 billion in 2005 to $1.05 billion in 2008, he noted.
Finally, Rosneft's net debt/EBITDA ratio, which stood at 1.2 at the beginning of this year, will reach 2.2 after the acquisition of TNK-BP, Solid's Lukashov said. Even so, this will not be because of TNK-BP's particularly high leverage but because Rosneft has raised significant funds to finance the deal (the cash portion coming to around $45 billion), he said.
The article is first published in Russian in Vedomosti.ru.
All rights reserved by Rossiyskaya Gazeta.