Can Russia repeat last year's GDP growth?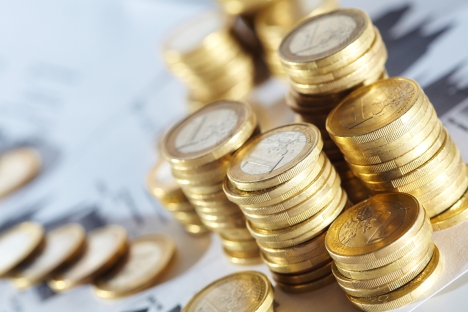 According to a report released in late February, Russia — with the economy growing 3.4 percent — ranked first in the G8 and second among BRICS nations, in terms of economic growth rates in 2012. Source: PhotoXPress
Russia led the G-8 and ranked second among BRICS countries in terms of economic growth rates in 2012. Experts make guesses whether Moscow will be able to replicate its performance in 2013.
Russians have always had an appetite for risk — something the year 2012 proved once again. Despite the threat of a double-dip, global economic crisis and constant reports of problems cropping up in one European country after another, many Russians decided not to put off spending until better times. Their preference for spending their hard-earned cash benefited the nation's GDP.
Consumer demand was the key driver of Russia's economic growth last year, according to National Ratings Agency Senior Analyst Maksim Vasin. The growth of new-car sales is one bright example. According to preliminary estimates, sales of home appliances and electronics (including computers, office equipment and mobile phones) also posted double-digit growth rates.
In a report released in late February and based on IMF, OECD, Eurostat and national statistic bureaus' data, Russia'd Statistics Agency Rosstat said Russia — with the economy growing 3.4 percent — ranked first in the G8 and second among BRICS nations, in terms of economic growth rates in 2012.
As far as the G8 is concerned, such an outcome was to be expected. While many remember the dramatic drop in Russia's GDP during the 2008–2009 crisis, Moscow was fortunate this time around. The European crisis did not spiral into a systemic one, nor was there a substantial drop in oil, gas or metals prices. Last but not least, the decision to not tighten monetary policy had a positive effect too.
The refinancing rate has remained at minimal levels since 2009, and this has had a more stimulating effect on the economy than in 2008–2009, according to Zerich Capital Management analyst Yelena Shishkina.

In the G8 rankings, comprised of the U.K., Germany, Italy, Canada, Russia, the U.S., France and Japan, Russia was followed by the U.S. (whose GDP rose by 2.2 percent), Japan (1.9 percent), Germany (0.7 percent), the UK (no rise), France (-0.1 percent) and Italy (-2.3 percent), respectively. Rosstat did not report Canada's economic data for the year, but its GDP rose 1.5 percent in the third quarter.

Within the BRICS association, China predictably took the top spot with 7.8 percent. However, it looks like Russia was able to overtake India, South Africa and Brazil last year. To be fair, Rosstat only cited third-quarter data for India and Brazil, at 3.2 percent and 1 percent, respectively. South Africa came in fourth with 2.6 percent.

Practically all analysts agree that the picture would have been different if oil prices had failed to remain at a reasonably high level. They have risen 150 percent since the 2008–2009 crisis.
"Energy prices were the only reason why Russia avoided a recession trough. Despite all the promises, or, to use the government's rhetoric, 'strategic plans' to reduce oil sales proceeds to 5.6 percent of GDP, its share is still at least double that," Forex analyst Artem Deyev said.

Still, Russia came in last in terms of inflation for 2012 (6.6 percent). It led the G8 by price growth rates, while it was second only to India among the BRICS nations, where prices rose 11.2 percent for the year (Rosstat did not have data for South Africa at the time of publication).
Russia is unlikely to replicate its 2012 achievement in 2013. A number of sectors reported a slowdown in output and sales at the end of last year. The Russian economy keeps decelerating — a process set to continue into the coming quarters, according to Shishkina.
"There are very few growth drivers. Ministry of Economic Development officials are predicting increasing foreign investment, claiming that our country has the right fundamental outlook; but capital outflows have already exceeded the Ministry's forecasts, nearing the $60-billion mark [according to the Central Bank's capital movement statistics]. There doesn't seem to be a turnaround of this trend on the horizon," the analyst said.

The National Rating Agency projects a decline of Russia's GDP growth rate to 2.5 percent in 2013.
"Russia would only be able to maintain the current pace if an extremely favorable situation persisted in the global hydrocarbon market," said Vasin.
All rights reserved by Rossiyskaya Gazeta.