Special economic zones' companies to engage in mineral processing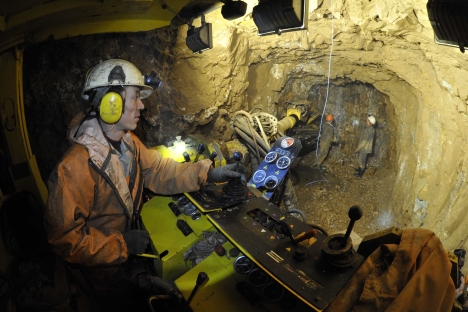 The amendments prepared by the Ministry of Economics expand the list of activities for residents of special economic zones, which will now be able to process minerals. Pictured: An ore-dressing plant in the Kamchatka Region. Source: ITAR-TASS
Officials hope new amendments to the law on special economic zones will will improve investment climate in Russian regions and particularly in the Russian Far East.
The amendments to the law on special economic zones will be introduced in pursuance of instructions given by President Vladimir Putin on December 26, 2012, when he presided over a State Council session to address ways of enhancing the investment appeal of Russian regions — especially the Russian Far East.
The president's instructions emphasized "mechanisms to provide state support for promoting industrial parks." The amendments prepared by the Ministry of Economics expand the list of activities for residents of special economic zones, which will now be able to process minerals. Companies registered in such zones are already exempt from land, property and transport taxes, customs duties on imported equipment and components, as well as VAT on finished products.
If the amendments are adopted, residents of special economic zones will be able to engage in any activity other than mineral extraction and the production of excisable goods. "Potentially, you can now have an ore-dressing and processing plant in a zone, because such activities are no longer banned," Andrei Sokolov, head of the Department for Special Economic Zones, told Kommersant.
Even so, the procedure for applying for residence in a special economic zone remains unchanged, and applicants will have to justify their projects to a board of experts. The only restrictions are on crude oil and natural gas. In addition, the president's state and legal directorate suggested that metal scrap be excluded from the list, and the Ministry of Economics agreed, says Sokolov.
The original amendments have been approved by all of the ministries concerned, as well as by the executive office of the president and his state and legal directorate. The amendments will be addressed by the government legislative commission in late March.
"We have not estimated the potential inflow of investment, but we believe that the amendments will improve the situation in existing Special Economic Zones, the Far East and Trans-Baikal," says Sokolov.
The port zone in Sovetskaya Gavan in Khabarovsk, Russian's Far East. Source: RIA Novosti / Alexander Lyskin
In the Russian Far East, there are three recreational areas (two on Lake Baikal and one on Russky Island), the Magadan Special Economic Zone (regulated by a separate law), and the port zone in Sovetskaya Gavan. The port zone had no investors last year and was on the verge of being removed; authorities are now considering incorporating the much larger port of Vanino into it.
The article is first published in Russian in Kommersant Daily.
All rights reserved by Rossiyskaya Gazeta.