American lobbyist in Russia leaves Chamber of Commerce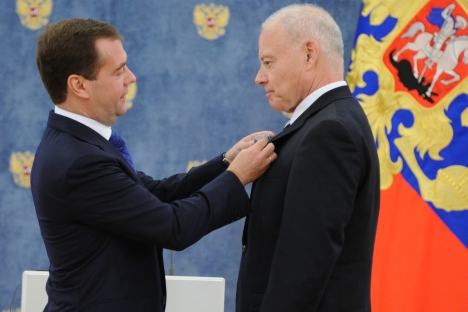 Russian President Dmitry Medvedev (left) hands over an the Order of Friendship to American Chamber of Commerce in Russia president Andrew Somers during an awarding ceremony in the Gorki residence outside Moscow. Source: AFP / East News
President of the American Chamber of Commerce in Russia Andrew Somers is resigning to pursue business opportunities in Moscow.
The American Chamber of Commerce the most influential foreign lobbying group in Russia, will have a new chief executive before the end of 2013. After 13 years at the Chamber of Commerce, the organization's president, Andrew Somers, is joining the more lucrative private sector.
The American Chamber of Commerce (AmCham) officially informed its members in Russia that, "after 12 years of managing the American Chamber of Commerce in Russia and assisting with its transformation into the most influential foreign business advocacy organization in Russia, Andrew Somers has informed the Chamber's Board of Directors that 2013 would be his last year as its president and CEO." ]
Somers, who was in St. Petersburg, told Kommersant that the AmCham Russia Board of Directors had begun the search and selection process through a headhunting agency for vacancies to be filled starting 2014.
According to Somers, he is planning to remain in his position for the rest of the year and stay in Moscow beyond that: He has accepted an offer from Teneo Holdings, where he will mainly be in charge of the Russian dossier. Kommersant learned that semi-official information about his impending departure had appeared in late March.

A source close to the situation told Kommersant that the AmCham Russia Board of Directors had an agreement with Somers that stated he could leave his post to pursue business opportunities, and AmCham viewed the rotation of staff as a positive and inevitable process. Still, everyone is agreed that finding a replacement for Somers will be quite a challenge.
Despite the fact that the Russian business culture is rather cool toward business associations or public lobbying efforts, AmCham has had a very successful track record in Russia over the past decade — especially given the ups and downs of political and trade relations between Russia and the United States in 2003–2010.
Alexander Ivlev, managing partner of Ernst & Young Russia and a member of the AmCham Russia Board of Directors, said that Somers had played a pivotal role in building relations between American businesses and the Russian Federation. The AmCham president was also instrumental in protecting the interests of Russian businesses in the United States.

The success of AmCham Russia under Somers is primarily evidenced by the fact that a large portion of the lobbying organization's members are not even American companies or transnational corporations. The scope of AmCham's activities in Russia is much bigger than U.S.–Russia trade turnover would suggest. Judging by more or less public campaigns AmCham has been involved in to protect the interests of its members, it has been able to work on some of the most unpleasant and
complicated situations in Russia, thanks to Somers' good ties with the upper echelons of power and his personal contacts with Vladimir Putin, Dmitry Medvedev and other major players in Russia.
In an interview with Kommersant, Somers said that the situation in 2010–2012 (when Russia adopted a law on the national payment system that directly affected the interests of VISA and MasterCard, as well as a number of financial market infrastructure companies from the U.S. and the EU) was his most time-consuming case. However, Somers' participation in U.S.–Russia WTO negotiations was his highest-profile effort known to the general public.

Starting in the second half of 2013, Somers will be involved with a rather prominent business in Russia, converting his reputation at AmCham Russia into substantially more money than anything he could ever hope to make in a business association that, while influential, still has a limited ability to pay a hired chief executive (Kommersant sources speculated that limited earning opportunities were one of the key reasons behind Somers' decision to leave).
Somers will be responsible for establishing the Moscow office of Teneo, a consulting firm founded in 2011 by advisors to former U.S. President Bill Clinton, former U.S. Secretary of State Hillary Clinton and former British Prime Minister Tony Blair. Teneo Holdings has no office in Russia yet. At the beginning of 2013, the New York-based company had 130 employees at its divisions in Washington D.C., London, Sao Paolo, Dublin, Hong Kong, Zurich and Dubai.
First published in Russian in Kommersant.
All rights reserved by Rossiyskaya Gazeta.