Europe deprived of Russia's liquefied natural gas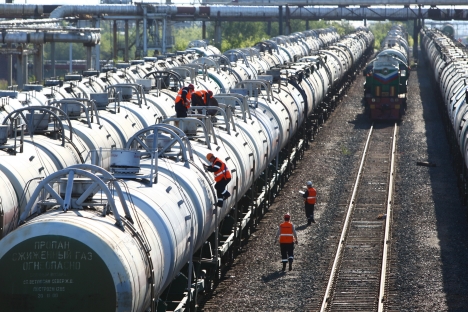 The preparation of the liquefied natural gas (LNG) tanks in an Orenburg gas refinery plant belonged to Russia's gas giant Gazprom. Source: ITAR-TASS
Russian gas exports are to be de-monopolized for Asia, but not Europe.
The Russian Ministry of Energy believes, in the event that liquefied natural gas (LNG) exports from Russia are freed up, the European market must be closed to independent producers, and their gas should be sold only to the Asia-Pacific region (APR) in addition to Gazprom supplies, said Energy Minister Alexander Novak.
The minister reported that final proposals for the liberalization scheme would be submitted by the Ministry of Energy within a month – but "the final decision will be taken by the president."
The Russian monopoly Gazprom is already facing intense competition on the stagnant, European, gas market from Norway, Qatar, and re-exported LNG from the U.S. (with the looming prospect of real exports of U.S. gas). Against this backdrop, Gazprom continues to build high-capacity, expensive pipelines to Europe. The government is therefore adamant that the opening up of borders to independent producers must not cause additional harm to Gazprom.
In mid-March, Russia's deputy prime minister for fuel and energy, Arkady Dvorkovich, said that liberalization would only be possible given a clear division of markets between companies and projects. He declined to go into detail but assured that the government understood how to achieve this aim.
Of the major European markets, Gazprom does not supply pipeline gas to Spain, which consumes more than 30 billion cubic meters (1 trillion cubic feet) of gas per year. The company also does not supply Spain's neighbor, Portugal, which annually consumes about 5 billion cubic meters (176 billion cubic feet) of gas. There are no deliveries to Belgium and Greece either, and the company only trades with the UK through the spot market.
Regarding supplies of pipeline gas to Greece, for example, Gazprom is looking to the South Stream pipeline, while it is eyeing a new branch of the Nord Stream for the UK.
The independent producer most interested in supplies to Europe is Novatek, which is currently developing the Yamal LNG project (with a capacity of 16.5 million metric tons) in conjunction with France's Total.
Negotiations for the project are underway with five European companies, including Spanish and French consumers, said Total's Christophe Thoma back in mid-February. In mid-March, Chief Financial Officer Mark Jetway of Novatek clarified that Yamal LNG was planning to split gas sales to Europe and Asia by exactly half.
Novatek CEO Leonid Michelson – as part of a delegation with Arkady Dvorkovich and Alexander Novak – recently paid a visit to China, South Korea, and Japan, where he discussed LNG supplies with local companies and their potential involvement in Yamal LNG.
However, gas supplies to the APR from Yamal would have to be routed via the Northern Sea Route (NSR), through which there is no year-round shipping lane. Even President Vladimir Putin admitted in February that some LNG from Yamal would have to be sold on the spot market in Europe.
Moreover, Gazprom is also looking to deliver gas to markets in Japan, China, and South Korea, under its Vladivostok LNG project.
A solution could be for Gazprom and independent exporters to divide not countries but importers with whom they conduct negotiations, says Valery Nesterov of Sberbank Investment Research. When Yamal LNG begins supplying LNG to Europe under Gazprom contracts – and Gazprom to the APR from Vladivostok LNG under Novatek contracts – swap deals could also be on the table.
Recently, Novatek confirmed that the company had expected to supply gas from Yamal LNG to Europe and the APR in approximately equal proportions. Now it is simply a matter of reloading LNG at European ports for onward shipment to Asia as soon as the NSR becomes navigable.
"Analysis has shown that volumes, growth rates, and market premiums are larger in the APR, despite the higher transport costs," reads a Novatek statement. "We have held talks with potential APR customers and now consider the market to be our main focus."
Novatek's priority is to break Gazprom's monopoly and globalize the process, in order for it to become easier to compete for individual local markets, notes Vitaly Kryukov of IFD Kapital. He adds that, if Novatek can set a precedent – for example, by delivering gas to Spain – it means that Yamal LNG will have entered the European market regardless. Spanish companies will be able to buy its gas not only for domestic consumption, but also for resale across the entire EU.
The article is a combined report based on materials from Kommersant.
All rights reserved by Rossiyskaya Gazeta.