Siberia Airlines to sell equity stake in April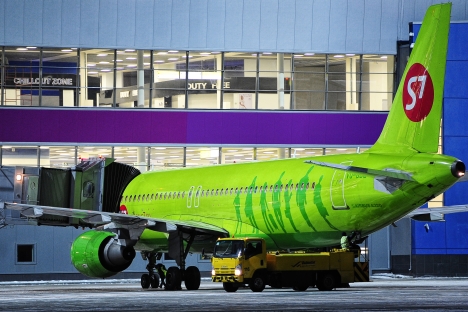 The authorities plan to sell their equity stake in Russia's third largest airline, Siberian Airlines. Source: ITAR-TASS
The authorities plan to sell their equity stake in Russia's third largest airline, Siberian Airlines. Potential buyers could include some of Siberia Airlines' European, Oneworld alliance partners and Middle Eastern airlines.
The government is planning to sell a 25.5-percent equity stake in Russia's third largest airline, Siberian Airlines, which operates under the S7 Airlines trade name. Kommersant has learned that potential buyers could include some of Siberia Airlines' European, Oneworld alliance partners, as well as Middle Eastern airlines.
Alfa Bank, the government's agent for the privatization of a blocking stake in Siberia Airlines, announced on March 22 that it would be accepting bids until April 18. The auction itself is scheduled for April 25, with the starting price at 1.1 billion rubles ($35.6 million). Airlines that are state-owned by more than 20 percent, or companies whose parent companies are state-owned by more than 20 percent, are not allowed to take part in the bid.
Based out of Tolmachevo Airport in Novosibirsk, Siberia Airlines is part of the S7 Group (which includes the Globus airline) and a member of the Oneworld global airline alliance.
S7 Group, owned by the husband-and-wife team of Vladislav and Natalya Filev, holds 71.3 percent of its equity. The airline carried 8.2 million passengers in 2012, ranking fourth among Russia's airlines. Siberia Airlines carried 6.3 million passengers last year. S7's fleet consists of 51 aircraft, with its route network spanning 83 destinations in 26 countries, including 41 domestic destinations.
A source close to government agencies told Kommersant that, besides the Filevs, potential investors could include Siberia Airlines' European Oneworld partners (such as British Airways), a number of Middle Eastern airlines, and discount airlines willing to enter the Russian market. Preliminary talks with a number of airlines have already begun.
Acquiring a blocking stake could become a way into the Russian market. Thirty-six million dollars will buy a potential investor a blocking stake in a major national airline – a stake sufficient to take part in the majority owner's business while making money in Russia's fast-growing market. British Airways did not reply Kommersant's request for comment.
Kommersant's source recalled that, "according to Russian Accounting Standards, Siberia Airlines made 733.5 million rubles (about $24 million) profit in 2011. With the proper management, earnings could be higher still."
The source has not ruled out the possibility that international or Russian financial investors could express interest in the stake.
They could buy the stock from the state to resell it to the Filevs later on. Russian airlines that may be interested in the Siberian Airlines tender include Transaero and UTair.
The government has been trying to sell the Siberian Airlines stake since 2001. Shares were included in its privatization plan in 2006.
The Ministry of Transport proposed adding the stake into the charter capital of Aeroflot, which lagged behind Siberian Airlines in the domestic market at the time. The Ministry of Economic Development opposed the idea. Initially scheduled for December 2006, the auction was postponed. In March 2007 it did not take place due to lack of bidders, who were frightened off by the high starting price of $96 million.
"There wasn't much interest in a stake that wasn't even big enough to give the buyer the right to participate in strategic decisions or the airline's operating activity," said the Region investment company deputy CEO, Anatoly Khodorovsky.
"An acquisition would be possible to further consolidate the entire airline," he added.
Potentially, a Russian financial institution, together with a Western partner, could set out to increase Siberia Airlines' capitalization, provided the majority shareholders are also involved.
First published in Russian in Kommersant.
All rights reserved by Rossiyskaya Gazeta.