Healthier lifestyle drives organic farming in Russia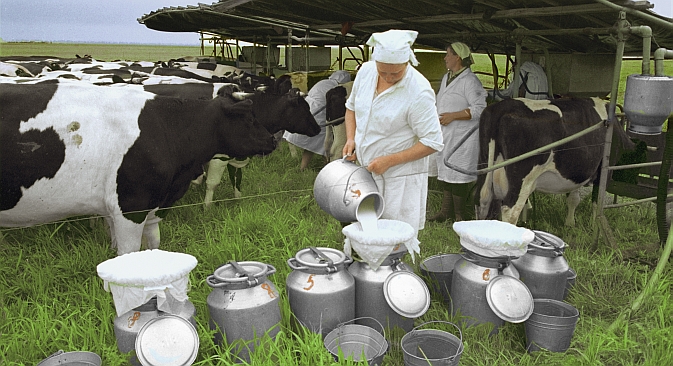 Eco-friendly products are in high demand among Russians. Pictured: The Konovalov eco-farm in the Moscow Region. Source: RIA Novosti / Valery Shustov
While Russians are ready to pay for organic food higher prices, the new business niche is increasingly expanding. This indicates that new legislative regulations should put the situation under control.
The growing trend toward a healthy lifestyle is boosting organic farms in Russia that cultivate eco-friendly products. Russians in Moscow and St. Petersburg, particularly, are prepared to pay higher prices for organic produce. The new business niche has expanded so much that it now requires legislative regulation.
Organic foods are those produced without chemical fertilizers, additives or industrial processing. Naturally, organic crops have been cultivated in Russia for ages, but those vegetables and fruits mostly came from private plots until about five years ago.
There were neither appreciable sales of green products nor distribution networks back then: Private farming had been discouraged since the first half of the 20th century, when large-scale collective farms were established. It was not until five or six years ago that some Russian businessmen decided to take up farming, invest in land, cultivate organic crops and produce organic meat for sale.
Four years ago, Boris Akimov, founder of the organic grocery store Lavka, was looking for private farmers to provide regular supplies. The situation has improved since then, as farming has gained popularity. Farms themselves now contact Lavka to offer supplies of their produce.
Russians are ready to pay for eco-friendly producs higher prices. Source: Kommersant
Akimov claims that 99 percent of contemporary Russian farmers out in the countryside used to live in cities. Take Vladimir Lunyashin of Penza Region, for example, who took a $300,000 loan from Rosselkhozbank to build a road house, create an apple orchard and plant a vegetable garden. He sells up to $20,000 worth of vegetables and fruit a month.
According to Igor Gubernsky, director of the Moscow gastronomic festival, there could have been many more success stories of this kind in Russia (there are 200 currently), but people are discouraged by the lack of standards and state support.
Farmers tend to complain about the high interest rates on subsidized loans (currently at 5-6 percent, compared to 2-3 percent in Europe), whereas initial investments in a farm can amount to $500,000. A breeding bull can cost up to $30,000 at auction, and treatment of land for cultivation costs about the same per 10,000 square feet, says Maksim Livsi, founder of Ferma at Home.
Yet there is a strong demand for farmer produce. Organic foods are currently available even on the Internet. Lavka or Pryamo s Fermy (Right from the Farm) shops, which have become market drivers, have created websites for customers to order foods directly from the producer and have them delivered to their door. There are shelves with farmer produce in all major grocery stores.
Opinion polls show that 60 percent of the residents of the two main cities – Moscow and St. Petersburg – are ready to pay more for eco-friendliness. To compare: Two pounds of potatoes grown using fertilizers and chemical treatment against potato beetles cost around $1.5, whereas organic potatoes cultivated with no chemical agents cost at least twice as much.
"A healthy lifestyle is a new hobby for Russians – especially in bigger cities, where incomes are higher than in the regions. It is no exaggeration to say that this new trend has boosted farming. You can find farmer produce in nearly all the chain stores in Moscow and St. Petersburg, which is a good sign," said an expert who wished to remain anonymous.
The demand for organic food creates a demand for regulation. In late February, the Ministry of Agriculture prepared a bill on organic agricultural products and submitted it to concerned agencies. The document conceives of the certification of producers and state support for farmers starting in 2015. If farmers receive real support from the state, the business will expand many times over.
All rights reserved by Rossiyskaya Gazeta.