Diamonds: ALROSA rethinks presence in Africa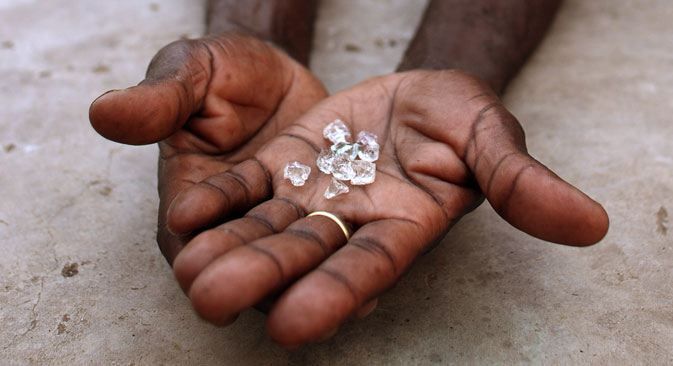 Russia's diamond giant ALROSA is going to step up its collaboration with its African counterparts. Source: Reuters
Russia's major diamond producer is preparing to set up several joint ventures in southern Africa regardless of high political risks.
Major diamond producer ALROSA is considering resuming business in Africa, which it froze in 2009. Russia's diamond monopoly has been in talks with the Angolan government and plans to set up ventures in Botswana and Zimbabwe. High political risks are forcing the company to focus on geological exploration projects, which do not require large-scale investments.
Kommersant learned of ALROSA's plans from a source close to the diamond company. The source noted that ALROSA has already completed preliminary negotiations with Endiama (the Angolan government's representative in all diamond projects) over a joint venture, which will engage in exploration outside of the Catoca diamond mine project.
"We are talking about looking for new primary deposits in the country's northwest, near the border with Congo, which is home to many promising areas," the source told Kommersant, adding that ALROSA had made preliminary inquiries about obtaining exploration licenses for the joint venture in the Kwanga and Luminas regions.
ALROSA's business in Angola is effectively limited to the Catoca project, in which it holds a 32.8-percent stake. GRO Catoca Ltd. was founded in Angola in 1992 to develop a kimberlite pipe of the same name. ALROSA partnered with Angola's Endiama (32.8 percent) and Brazil's Odebrecht (16.4 percent) on the project.
In the late 1990s, the Russian company sold 18 percent to entities owned by Israeli entrepreneur Lev Leviev, who sold his stake a few years ago to Hong Kong-based China Sonangol International Holding – the largest buyer of Angolan oil – for $400 million.
ALROSA has proposed establishing a geology council, which will be attached to the company's chief executive board and control all geological exploration in Catoca's area of responsibility. ALROSA also hopes to set up a cooperative agreement with the Angolan side on a national program to evaluate the country's diamond production potential.
Catoca is a lucrative project for the Russian company, which collects around $30 million in dividends from the venture annually.
ALROSA's plans for Africa are not limited to Angola. Last week's meeting of ALROSA's international operations committee heard a report that also named Botswana – the world's second largest diamond producer after Russia – and Zimbabwe as priority countries for business development.
"In Botswana, ALROSA is considering a joint venture with Botswana Diamonds PLC, which holds 13 exploration licenses in that country, for the purpose of looking for new kimberlite bodies. In case these are discovered, we will seek a concession," the source told Kommersant, adding that ALROSA expected to spend around $1 million in Botswana this year.
In Zimbabwe, ALROSA is looking for a partner to set up a similar joint venture for the geological exploration of diamond-rich areas in the Marange diamond fields.
"ALROSA is approaching the selection of a project in that country with more caution: A presidential election should take place there in the summer, which could potentially change the political situation in a serious way," the source told Kommersant.
Robert Mugabe, one of the world's oldest heads of state at 89 years old, has been Zimbabwe's president since 1987. The West considers his regime to be a dictatorship. The European Union and the United States have imposed sanctions on a number of state-owned Zimbabwean companies.
"Angola is one of the few places in the world with a high probability of discovering primary diamond deposits. The only problem is that the political risks in the region are increasing by the day, as the echo of the Arab Spring has already spread to central Africa," said Rough&Polished trade agency expert Sergey Goryainov. A military coup occurred in the Central African Republic just one week ago, in late March.
Goryainov believes that, under the circumstances, ALROSA is now choosing projects in Africa more carefully.
"ALROSA used to invest heavily in Angola, focusing on large-scale, capital-intensive projects with uncertain economic outcomes," he said. "A case in point is the extremely expensive projects at the Luo diamond deposit and the hydro power plant at the Chikapa River. Now ALROSA is proceeding more cautiously, which is totally justified in this situation."
ALROSA's subsidiary Escom-Alrosa Ltd. holds a 45-percent stake in Luo-GRO Kamachia-Kamajiku Ltd., which was founded in 2002 to engage in geological exploration at the Luo River. In 2009, ALROSA froze its participation in the project after investing more than $100 million in it.
The article is first published in Russian in Kommersant Daily.
All rights reserved by Rossiyskaya Gazeta.