Dish.fm app finds the best plate in the city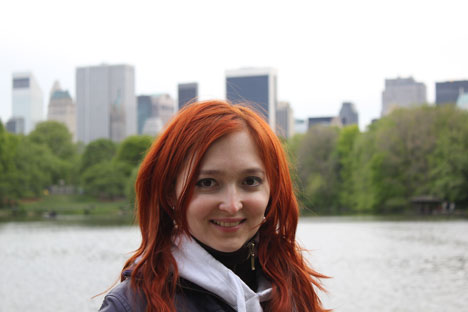 Zhanna Sharipova, one of the founders of Dish.fm says about beginning of the start-up "We had no plans to create a technology; we were looking for a way to help people choose only tested and delicious dishes". Source: Personal archive
An application developed by Russian start-up Dish.fm rates restaurant dishes and helps guests choose the best course, on the basis of reviews from Foursquare, Yelp.com and Instagram hashtags. The app is currently available in New York and San Francisco.
About a year ago, Dilyara Mingalieva and Zhanna Sharipova, who have been friends since school, met for a dinner that ended up being spoiled by poor food. Nothing extraordinary happened, but the incident prompted them to change their lives and set up their own business. The friends decided to create a service to help people make fewer mistakes when selecting dishes at restaurants.
Their friend Andrei Surin joined the project a bit later, and thus the team of the future Dish.fm application was formed. "We had no plans to create a technology; we were looking for a way to help people choose only tested and delicious dishes," Sharipova says.
They were so carried away that they made up their mind to leave their jobs and dedicate themselves entirely to the new project. Mingalieva held an executive position with Unilever, Sharipova had just returned to Moscow from Geneva (where she worked for Procter&Gamble), and Surin chose to leave a well-paid position with an IT company.
The team decided to create a special iPhone application to rank dishes in restaurants on the basis of their popularity with diners. They found money for their project unexpectedly fast. When they started working on the project, they sent a presentation of it to Igor Matsanyuk's Farminers Startup Academy; seven days later, Dish.fm was presented to investors and received $300,000 in investments.
The main competitor for the Russia project, foodspotting.com, has more than 3 million dish reviews, which took four years to accumulate. Dish.fm took just six months to make its technology operational and compile almost 8 million reviews.
"We didn't have as much time to create our own database of unique reviews of dishes as our competitors did," says Mingalieva. "So we developed a solution that analyzes reviews from several Internet sources, and we rate a dish on the basis of these reviews." The main sources include Foursquare, yelp.com and Instagram.
The application is currently fully operational in two cities: New York and San Francisco. By the end of April 2013, thirteen more cities will have been added to the database, including Chicago, Las Vegas and Boston. Afterward, the owners will launch Dish.fm in Moscow and St. Petersburg. They had to start in the U.S. because there is no adequate database for Russian cities.
"We need reviews to operate this solution, and there are not enough reviews in Russia. The most popular restaurant on the Afisha website has 100 reviews, whereas a similar restaurant in the U.S. generates 5,000 [reviews]," says Sharipova.
She attributes the gap to a more developed restaurant culture in the United States — even in smaller towns. It is much more complicated in Russia: besides the two capital cities, only Yekaterinburg and Novosibirsk have potential for the application.
At the moment, the founders are focusing on improving their technology and the application, and there are no specific monetization plans. At a later phase, the project might start inviting restaurants to promote some of their dishes. Mikhail Brusov, social media monitoring expert and founder of wobot.ru, says:
"This technique works perfectly on eBay.com. The motivation for restaurants to buy additional bonuses to promote their business may work." Svetlana Vorobyeva, managing director of the Russian cuisine restaurant MariVanna believes the project can only benefit new restaurants that have opened recently and seek promotion.
Sharipova says that Dish.fm observes a stable 5-percent increase in the customer base every week (Dish.fm will not give any exact numbers, though). The team plans to launch an updated version for iPhone, add new locations and develop an iPad application.
"If an iPhone app helps select the best dish on the menu, then the iPad version has a different objective. You normally use your tablet at home or the office to choose a place to eat. So you can ask your device where to go to have the best pizza in town and you will immediately get the top-ranking places," say Dish.fm developers. Owing to a trademark solution, iPad will compare dishes rather than restaurants, which is impossible in the standard mobile version.
The company is also gearing up for another round of investment, looking to launch more sources and cover more cities. They do not specify the investment requirement, but — judging by their ambition — investors are expected to pay handsomely.
Read more about Russian startups.
---
Name: Dish.fm
Website: Dish.fm
App helps guests select the most delicious dishes at a restaurant.

Unique selling point:

Analysis of millions of real reviews (from various sources), with the help of a trademark solution to provide precise recommendations concerning dishes.

Start date:

September 2012

Development plans:

Development and launch of an iPad app, coverage of additional U.S. cities and app launch in Russia (late April); monetization based on dish promotion services (by year-end); expansion of the review database to improve the quality of the application.

Contacts:

Zhanna Sharipova:

e-mail: j.sharipova@gmail.com

tel. 8 (965) 185 46 26
All rights reserved by Rossiyskaya Gazeta.