Will Rockfeller buy Russia's principal oil asset?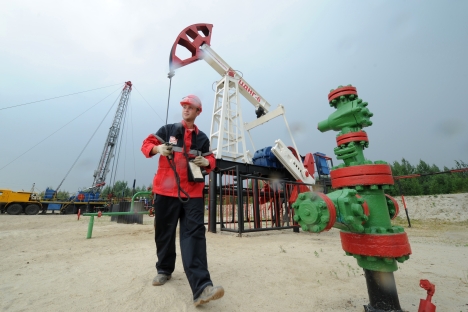 Rockefeller Oil Company may enter Russia's oil business by purchasing assets of the TNI Group, according to Russia's media. Yet this information hasn't been confirmed officially by the company's representatives. Source: RIA Novosti / Iliya Pitalev
Rockefeller Oil Company shows interest in a company that no other Russian oil-extractor does.
Rockefeller Oil Company, which belongs to Steven Clark-Rockefeller, has agreed to purchase 100 percent of the Russian oil TNI Group (Tekhneftinvest), according to a source familiar with the deal. The group owns seven blocks with overall reserves of 180 million tons of oil and 706.2 billion cubic feet of gas. The fields are already being developed. The deal has not yet closed, but it is worth an estimated $1 billion dollars.
This will not be Rockefeller's first attempt to enter Russia's oil business. In 2012, his fund BESS (British Empire Special Solutions PLC) tried to buy out a 51-percent stake in ZAO Geotransgas and shares in OOO Urengoyskaya Gazovaya Kompaniya for $612 million from diamond-miners ALROSA and the investment bank VTB Capital. However, the deal was never closed, and ALROSA decided to develop non-core gas assets independently.
Among Tekhneftinvest's main assets are seven fields in the Yamal and Khanty-Mansiysk autonomous regions. Nearly all the licenses will lose their validity in 2025. Their overall reserves are 181 million tons of oil and 681.5 bcf of gas. Currently being developed is the Palnikovsk field (2,300 tons in 2008, overall extractions since it was opened in 2007 are 4,800 tons), along with four fields in the Izvestinsk source (130,000 tons of oil, 3.9 bcf of gas in 2011).
Tekhneftinvest is a company with a troubled past. NK Tekhneftinvest was registered in 2002. Its sole owner was Sagitech Investments Limited (Cyprus). An unofficial beneficiary of the company is former Sibneft top manager Fedor Khoroshilov. Since November 27, 2012, however, it has been in a state of liquidation.
The reason for the bankruptcy procedure was the economic crisis of 2008, after which the company was not able to service its loans (the main creditor was VTB). By the end of 2008, the company's balances included long-term obligations of 26.5 billion rubles ($857.4 million). By 2009, their debts had increased to 28.5 billion rubles, and, at the end of 2011, this figure had grown to 44.8 billion rubles.
In 2009, the Moscow Arbitrazh Court ordered Tekhneftinvest to pay VTB $469 million initially and then $291.5 million in debts, according to two loan agreements. The company appealed this decision, but lost. Today, VTB owns 100 percent in assets.
Vitaly Kryukov from IFD Capital notes that, at $0.78 per arrel, Tekhneftinvest has assets "within the range of the market."
According to him, there are quite a few relatively small companies like this on the market; but purchasing comes with certain risks attached, since reserves and well-productivity can turn out to be less than the forecasts. The analyst says VTB has been offering non-core assets to all the big oil companies that own fields in the Yalta and Khanty-Mansiysk autonomous regions – the largest oil-drilling regions.
"It should be taken as a warning that none of the Russian oil companies are interested in Tekhneftinvest, despite the attractiveness of the region and the good reserves," says Kryukov. In early April, employees at the biggest Russian oil companies were unable to confirm whether they were interested in Tekhneftinvest.
At the same time, notes Kryukov, if the blocks' reserves turn out to be larger than expected, or, if new fields are discovered in these blocks, investment could pay dividends.
The article is first published in Russian in Kommersant Daily.
All rights reserved by Rossiyskaya Gazeta.