Commercial real estate investment hits record high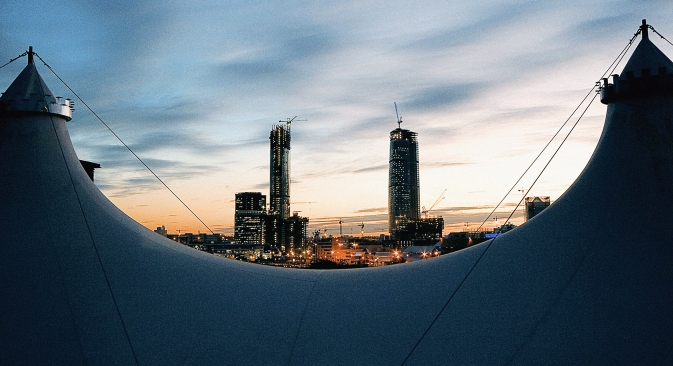 The Russian commercial real estate sector has recently enjoyed an increase in investment. Pictured: The Moscow-City Business Center. Source: RIA Novosti / Tatyana Gritsaieva
First quarter investment in the Russian commercial real estate market soared to a record high of $2.4 billion, a figure nearly 25 times higher than the first quarter of 2012 and almost three times higher than the previous record in 2006.
Investments in commercial real estate reached a new all-time high of $2.4 billion in the first quarter of 2013, according to a report by the CBRE Group. By comparison, the first quarter of 2012 saw investments at $101 million, a figure almost 25 times lower than that of this year. The previous record was set in 2006, when investors channeled $843 million into commercial property during the first quarter.
"Such figures are not typical for the first months of the year because large deals are traditionally closed at the end of the year," says Valentin Gavrilov, head of research at CBRE. Gavrilov believes that the new record can be attributed to technical reasons – some of the important deals that began in 2012 were only closed at the start of 2013.

"Retail property accounted for about 60 percent of all investments in the first quarter of 2013, whereas previously, office property led the way," says a representative at Jones Lang LaSalle. According to him, Moscow accounted for 96% of all transactions, and 82 percent of all investments were by foreign companies.

Gavrilov warns that in the months to come, investments will likely decrease because of the crisis in Cyprus.
Meanwhile, Colliers International CEO Nikolay Kazansky believes that commercial real estate transactions will continue to be closed through sales of Cypriot companies because it is the most convenient structuring instrument.
"The crisis in Cyprus is primarily connected with Cypriot banks and deposit accounts, while Cypriot companies may have accounts in other jurisdictions, say, in Switzerland, and that's true for most of them," he said. "It is rather a problem of those who save in Cypriot banks rather than of the Cypriot jurisdiction."
Kazansky believes that the trust in Cyprus may suffer in 5–7 years.
The representative at Jones Lang LaSalle says that the company has not revised its investment forecast for 2013 despite the events in Cyprus. The company expects this year's investments to total $7.5 billion.
First published in Russian in Vedomosti.ru
Click to view the infographic.

All rights reserved by Rossiyskaya Gazeta.