Russian glossy magazines readers challenge publishers' creativity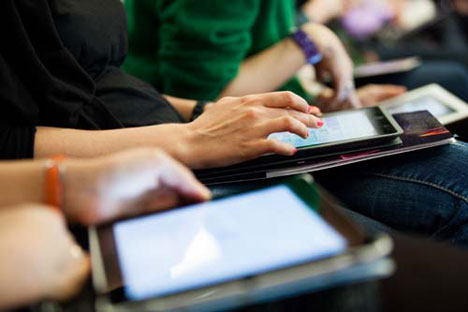 Russian market of print media (including both, newspapers and magazines) shrank 45 percent during the last four years. Source: Courtesy of CNDD
Moscow hosts the fourth Condé Nast Digital Day (CNDD) - an annual professional conference designed to discuss and review the most relevant issues in digital marketing, new media and the rapidly changing digital space.
The print vs. digital battle is over. And guess who won? The readers. Just like in other countries Russian consumers prefer spending time online rather than making an effort to go to the kiosk and buy a print publication. According to Moscow media professionals Anita Gigovskaya, President of Condé Nast Russia, and Mikhail Semiz, marketing director at Bacardi Russia, this challenge has stimulated a creative approach by the publishers towards their products.
Technology has changed the way we do business. This was the main topic discussed at the Condé Nast Digital Day conference, an event held in Moscow that attract each year media professionals, business representatives and startups.
"Just like in many other companies Condé Nast Russia's strategy is based on digital. We don't produce glossy magazines and websites anymore, we create media brands that exist wherever a consumer wants them", said Ms. Gigovskaya.
Over the last four years the Russian Internet advertising market grew threefold and is now worth $2 billion. At the same time the Russian print media market (i.e. newspapers and magazines) shrank by 45 percent. Ad money is now directed towards different platforms to experiment which one of them will produce better results. The digital audience of www.vogue.ru, which belongs to Condé Nast Russia, grew by 200 percent by March 2012 and is doing well on the advertising side, according to Gigovskaya.
In return, people from the adversing industry admit to having to face a whole new set of challenges, as effective ads need become more and more original to grab the consumer's attention. The director of "Red Keds Agency" Vitaly Bykov and the CEO of "Smetana Agency" Andrey Buzina both point at the power of online video clips and viral videos in particular.
Mikhail Semiz, marketing director of Bacardi Russia, shared his company success story with promo via social media. Alcohol advertisement in print publications, Internet and on TV is not permitted in Russia. This does not leave much room for companies like Bacardi to promote their products.
This "home-made" Harlem Shake video got lots of hits baring just a part of a professional marketing campaign. Source: Youtube
"Difficulties generate a surge in creativity" said Semiz during a talk about Bacardi's highly successful social media campaign, which engaged with the audience through a series of videos identified by the hashtag #скорейБыНаступилоЛето ("let the summer come sooner"). In reality, the campaign was a promotion of the Bacardi Rum brand, and all the characters in the videos occasionally drank rum-based Mojito Cocktails.
"We don't feel sorry for letting print go. If readers want to read Condé Nast's content on holographic projectors in the sky, that's where we are going to be," - said Gigovskaya.
More video presentations and speeches from the conference are available here in English language.
All rights reserved by Rossiyskaya Gazeta.