Around 58 percent of Americans with annual incomes of $25,000 or more are prepared to invest in early-stage startups, according to a U.S. crowdfunding industry study by EarlyIQ, Crowdfund Professional Association, and Crowdfund Capital Advisors. They are prepared to support two or three startups annually, by investing around $2,000 in each.
Americans making in excess of $75,000 a year are even more interested in crowdfunding, with 68 percent prepared to invest in startups.
In the crucible of the market
Crowdfunding – collective financing of a project by a large number of non-professional investors – is yet to take off in Russia. Around 700 investors polled by the Russian investment forum MMGP said they were ready to take part in collective financing of startups, but would not risk more than $1,000.
"People want to be part of something constructive and have the money to do it. But the level of mutual mistrust here is higher, so crowdfunding will take longer to gain a foothold in Russia," said Gaidar Magdanurov, Runa Capital's Investment Director.
"Until a billion dollars invested in various projects burns in the crucible of the market, it will be premature to speak of active commercial crowdfunding," said investor Viktor Lysenko, founder and General Director of the RocketBank mobile financial service. "When there are at least ten successful and outstanding projects financed by non-professional investors on the market, the movement will shift into higher gear."
Lysenko believes Russia will need approximately five years to achieve this. So far, investment comes mainly from people with annual incomes starting at $100,000.
Crossing the valley of death
Magdanurov believes that support from the state is crucial: the first order of business is to establish court practice and laws to regulate such investment.
"Only the state can put a crowdfunding infrastructure in place," agrees Lysenko. He believes that the growing interest in crowdfunding among ordinary people in the United States is a result of legal protection.
The Agency of Strategic Initiatives (ASI), which is setting up a fund to support web initiatives, is acting on behalf of the state in Russia's case.
"It's extremely important to find a niche in which the fund wouldn't overlap with development institutions and would be of maximum benefit to Russian startups and web projects," said Andrei Nikitin, General Director of ANO ASI.
"We talked to people who had launched startups and learned the hard way and we saw that, in this business, there's a concept of a 'valley of death,'" he added. "This term describes the situation when there's an idea but zero implementation; large funds are normally reluctant to enter projects at this stage. As a result, young people scrap the idea and go out of business. These are precisely the kind of early-stage projects we will be supporting."
The new fund will provide financial and expert support to entrepreneurs implementing web projects and train young leaders in developing business online. "It will be in the fund's domain that crowdfunding will develop," Nikitin said. "For this, we need to create a legal framework for housewife investors. The fund is pending registration with the Ministry of Justice."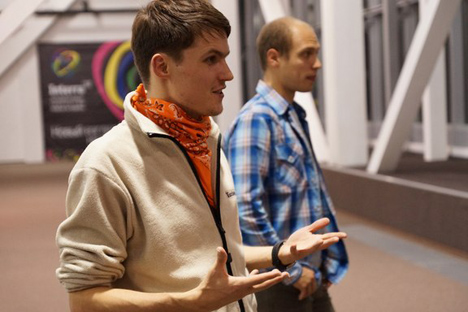 Andrey Dunayev, S Miru Po Nitke co-founder. Source: Personal archive
A bonus for angel investors
While commercial crowdfunding is a thing of the future in Russia, non-commercial popular financing of different projects is gathering pace. The S Miru Po Nitke Russian crowdfunding platform, founded at the end of 2010, raised around RUB 1 million ($30,000) last year to finance 80 projects.
According to Andrey Dunayev, an S Miru Po Nitke co-founder, similar crowdfunding websites raised a total of around 15 million rubles ($450,000) in 2012. The average investment amounted to 1,000 rubles ($30).
Angel investors are the keenest supporters of music and the production of independent movies; according to Dunayev, this trend is common to crowdfunding venues internationally. This kind of crowdfunding does not envisage investors receiving any future profit.
But project founders guarantee their angel investors some pleasant bonuses, such as mentions in screen credits, autographs, books, or limited-edition souvenirs. Russian projects raise between 50,000 rubles ($1,500) and 200,000 rubles ($6,000) this way.
The highest-cost project on the S Miru Po Nitke portal has raised 250,000 rubles ($7,500) so far – that is the amount invested in the development of Daru Dar (an international community where people provide one another with things or skills free of charge).
All market participants polled by Vedomosti agreed that society's low level of trust is holding back active development of crowdfunding in Russia.
Generating a high level of trust is not so simple, according to Dunayev. The project's promoters would need to supply proof through videos and profiles in social media. Dunayev also stressed that international crowdfunding websites have already cycled through about a hundred thousand projects with no more than ten instances of fraud to date.
First published in Russian in Vedomosti.ru
Read more about Russian start-ups

All rights reserved by Rossiyskaya Gazeta.