Revamp of major Moscow landmark will cost $2 billion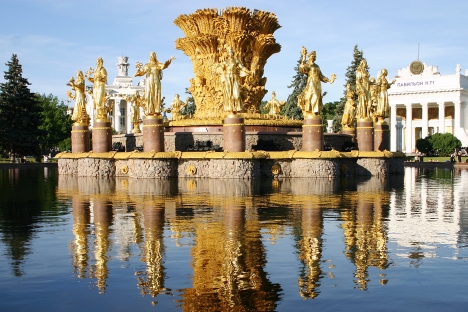 Moscow authorities are going to allocate $2 billion to restore the historical site of the All-Russian exhibition center. Source: ITAR-TASS
The All-Russian Exhibition Center – a sprawling, monumental space filled with fountains, statues and pavilions – is to be renovated to the tune of around $2 billion.
One of Moscow's principal tourist attractions – the All-Russian Exhibition Center (VVC) – is scheduled to undergo major repairs. RBC Daily has reported that the Moscow Mayor's Office has approved the redevelopment parameters for the historical site, along with construction of about 7.5 million square feet of parking lots and commercial property.
Sources say the goal is not only to restore the historical site of the exhibition center, but also to build a new center around it that will become a new landmark and symbol of Moscow.
The new center will feature an aquarium, water park, swimming pool, congress hall, exhibition pavilions, two hotels, a rollerdrome, rock-climbing wall, cinema halls and several museums.
These new facilities are to be built outside the historic part of the exhibition center. According to RBC Daily, Natalya Sergunina, deputy mayor for property and land and chairman of the Board of GAO VVC, has stated that all the new facilities will be constructed on territories within the area of the center but outside of its historical part.
According to Sergunina, the historical part will be restored at a cost of at least $500 million – a conservative estimate. The wear-and-tear of communications is estimated at 100 percent, while building and structural damage register at 75 percent, says the general director of GAO VVC, Alexei Mikushko.
By his estimate, each historical pavilion – and there are 45 of them – requires about 1 billion rubles ($31.5 million) in investments, while the famous fountains need a total of 1.4 billion rubles.
During the restoration of the existing pavilions and reconstruction of those that have been lost, it is planned to turn most of the VVC into a "historical exhibition park," a representative at Moscow Master Plan Research Institute says.
The total reconstruction costs are projected at $2 billion. "We plan not only to fix all the buildings and monuments, but also create a new landmark in contemporary Moscow that all Muscovites will love and that will become a symbol of Moscow," says Mikushko.
Originally called the Exhibition of National Economic Achievement, VVC used to be an important landmark during Soviet times. The exhibition complex was founded in 1939 by a resolution of the Second All-Union Congress of Collective Farmers as a site to showcase achievements of the national economy. The center became hugely popular with farmers and received about 250,000 applications.
The area of more than 345 acres features more than 250 buildings: industry pavilions, houses of Union republics, etc. Displays here were organized by economic sector and geographic region. The VVC is famous for its 42-foot monument, "Worker and Collective Farm Woman," which depicts a tractor driver and a collective farm woman holding a sheaf of wheat standing on a 170-foot pillar.
After World War II, the Friendship of Nations Fountain was built in the central square of the exhibition center. It features statues of collective farm women from the republics of the Soviet Union performing a circle dance in national costumes. The statues are made of bronze with a thin gold coating, and the sheaves are made from gilded copper sheets. Every second, the fountain shoots more than a ton of water up 80 feet in the air.
By the mid-1990s, the exposition center was hardly used at all for its original purpose. Many pavilions were leased out as warehouses and stores selling household appliances, computers and consumer goods.
The timeframe for the repairs has not yet been determined. Even so, Moscow officials are going to expedite the reconstruction process, since "the VVC has become an obscure site," says Alexander Kibovsky, director of the Department of Cultural Heritage of Moscow.
This article is a combined report based on materials by RBC Daily and RIA Novosti.
All rights reserved by Rossiyskaya Gazeta.