Russian cash drives reappearance of Cyrillic alphabet in Europe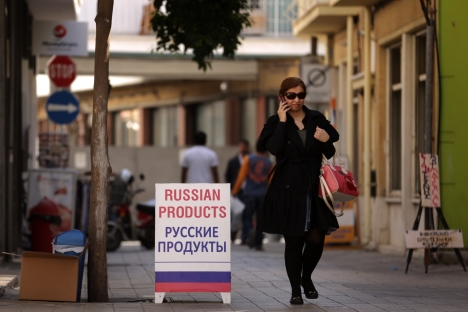 Russian-language signs can be observed in Europe, especially, in debt-ridden countries like Cyprus [pictured] which have eased visa and residency permit requirements for Russia's wealthy shoppers. Source: AFP / East News
The resurgence of the Cyrillic alphabet in Europe's major cities has attracted the ire of some locals, but Russians insist it's just a question of money.
The Czech resort town of Marianske Lazne recently drew international attention for local legislation seeking to limit the abundance of Cyrillic-language signs on the streets. With the influx of Russian tourists and money over the last two decades, the town – along with nearby Karlovy Vary – have come to be called "Russia's enclaves" in the Czech Republic.
And the influence has not just been limited to tourists' cash: According to Expat.su, Russians constitute the fourth-largest foreign nationality permanently residing in the country (after Ukrainians, Slovaks and Vietnamese) at over 28 thousand people in a country of 10 million.
"Cyrillic signs are everywhere: on advertisement booths, in shop windows, and on dozens of makeshift placards, tied to street lamps and road signs with chains in a very un-Czech manner," reported Deutsche Welle.
This abundant outdoor "Russification" has not gone unnoticed by locals remembering the former Soviet Union's Cold War dominance of Eastern Europe who have warily perceived Russian script creeping back into their everyday lives.
"Without this [law], the absurd situation would exist which would mean that the Czech language would be the one suffering discrimination," Czech lawmaker Rudolf Chlad told Czechposition.com.
The Marianske Lazne incident merely drew attention to a broader trend: Russian-language signs can be observed in practically any European metropolis from Madrid to Berlin.
Most downtown shops and boutiques keep at least one Russian-speaking person on staff to cater to their increasingly affluent Eastern neighbors. In Spain, the number of Russian tourists doubled to one million between 2010 and 2011, while hospitals in the Italian region of Marche recently began offering healthcare services in Russian.
Since 1996 the number of Russians making foreign visits has increased from 12 to 40 million. In 2011, Russians were the largest visitor group to Europe at 24.6 million, trailed by Americans at 20.6 million.
"This is, first and foremost, a question of trade," explains Dmitry Aleksandrov, head of research and analysis at Univer Capital. "The upsurge in people using Russian is a direct result of Russians coming to other countries to spend their money, either as tourists or as immigrants. Businesses are responding to the needs of their customers."
And this is business a cash-strapped European economy can not afford to miss.
Debt-ridden countries like Portugal, Cyprus and Greece have moved to ease visa and residency permit requirements for Russia's wealthy shoppers. Euromonitor International reported last year European shops and boutiques sold $24 billion worth of goods to visiting Russians, more than the entire GDP of Eurozone member Estonia. Moreover, Russians are the leading buyers of residential and commercial property in many European countries.
The daughter of Russian billionaire Dmitry Rebolovlev recently bought the Greek Island where Aristotle Onassis famously married Jacqueline Kennedy in the 1960s (estimates to the price fluctuate in the region of $100 million).
However Mike Bridges, editor of International Residences, a Russian property magazine, told The Guardian: "The majority of Russian buyers are now from the middle classes with an average budget of €500,000. They normally don't need mortgages and pay cash. The Russian economy is doing very well, and the middle class is immense."
Meanwhile, in the quiet Tuscan town of Montecatini, the mayor recently proposed initiative seemingly opposite to the one at Marianske Lazne: He has insisted that all Italian signs be doubled over in Russia's Cyrillic script to take advantage of Montecantini's increasingly affluent Eastern neighbors.
The story is a combined report based on materials from Voice of Russia.
All rights reserved by Rossiyskaya Gazeta.