Agenda set for Petersburg Economic Forum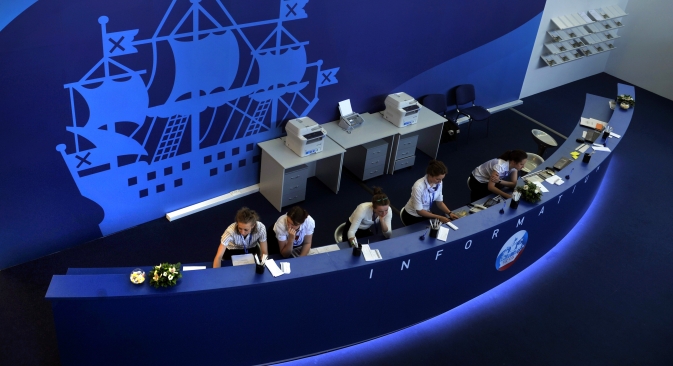 The St. Petersburg International Economic Forum is the key platform for the discussion of the economic agenda. Source: ITAR-TASS
Russia's major business and political event – the 17th St. Petersburg International Economic Forum – has been scheduled for June 20–22, with over 5,000 participants from 30 countries worldwide expected to attend and discuss the outlook for the global economy.
The 17th St. Petersburg International Economic Forum (SPIEF) will take place on June 20–22, 2013. The forum is dubbed the "Russian Davos," and rightfully so, considering its scale. Its main focus will be on what has become a fairly hot topic: "Finding Resolve to Build the New Global Economy."
"The St. Petersburg International Economic Forum serves as one of the key platforms for the discussion of the economic agenda – both domestic and international. Our idea was to thrash out an agenda that is relevant to its status," said Igor Koval, director of the Department for Investment Policy and Development of Private/Public Partnership under Russia's Ministry of Economic Development.
The fact that Russia currently holds the rotating G20 presidency further emphasizes the topic.
"This year, the G20 agenda will be crammed into the forum's program," Koval said. The issues include, among other things, encouraging investment in order to propel economic growth, managing public debt, reforming the international financial system, developing the energy markets in a sustainable way, as well as boosting global trade.
German Chancellor Angela Merkel and Dutch Prime Minister Mark Rutte are expected to attend the conference. It should also be noted that, ahead of the "Russian Davos," G20 youth and G20 business summits are expected to be held within the SPIEF framework.
It is widely expected that the main topic for discussion will be how to reinvigorate the economy and achieve sustainable economic growth; this is a fairly urgent task that many countries are now facing.
The key factors that impact global economic development, as well as the steps needed to restructure the global economy and encourage sustainable growth, will be discussed as part of the "Global Growth Agenda" umbrella theme.
The forum will bring together key representatives of the global business community, as well as the political and economic elite. They will take part in the traditional and highly regarded SPIEF "Sessions that Change the World" series.
For instance, last year, these series of meetings were attended by Goldman Sachs head Lloyd Blankfein, Mangrove Capital Partners founder Gerard Lopez and Nobel Peace Prize recipient Henry Kissinger.
Two more highly relevant topics on the agenda are "Russia's New Horizons" (top-priority development areas for the Russian economy, as well the country's international standing, to be attended by representatives of the Russian government), and "New Catalysts for Change," the latter of which focuses on the potential for cutting edge technologies and innovative approaches for resolving economic and social problems.
In addition, the SPIEF will also host its traditional summit of energy companies. Last year, Rosneft signed a series of contracts – including with Eni and Statoil – regarding access to its Arctic shelf in return for access to oil refining facilities in Europe, Northern African fields and other assets.
The St. Petersburg Economic Forum has come a long way since its first incarnation.
Up until the mid-2000s, it was no more than a local conference, with the number of its participants rarely breaking 2,000. However, the Ministry of Economic Development, led by German Gref (then minister and current Sberbank CEO), started to push for the forum to be positioned as an international platform.
Supported heavily by First Deputy Prime Minister Igor Shuvalov, the forum later reached its peak as the premier business forum in Russia.
The forum currently serves as a benchmark for Russian public officials to gauge preparations for international events. "The St. Petersburg Economic Forum has become the model forum held in Russia," said Oleg Fomichev, deputy minister of economic development.
Indeed, there are quite a few things to admire about it: Last year, the forum was attended by over 5,347 business people, including heads of 157 major foreign companies (55 of them listed in Forbes and Fortune rankings).
The forum resulted in 84 agreements signed – including eight contracts for over 360 billion rubles (around $12 billion), four of which had a total of 164.4 billion rubles (about $5.5 billion) in credit facilities. It also received extensive media coverage, with 1,139 journalists from 30 countries working in attendance.
All rights reserved by Rossiyskaya Gazeta.