Interros could become ALROSA's anchor shareholder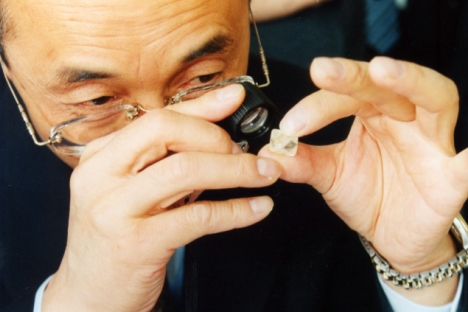 ALROSA accounts for 25% in the global diamond production in terms of value and for 94% of Russia's overall diamond output. Source: ALROSA
The Russian government invited Vladimir Potanin's Interros to take part in ALROSA's IPO in a move to stop foreign competitors getting an equity stake in Russia's largest diamond producer.
The Russian government invited Vladimir Potanin's Interros to become an anchor investor in ALROSA's 14% equity placement.
The stake has been valued preliminarily at 24–48 billion roubles ($750 million–1.5 billion). According to Kommersant sources, officials are wary of ALROSA's global competitors taking part in the IPO and "breaking the company into pieces," that's why a decision has been made to bring "a large domestic investor" on board.
It's unknown whether Interros was the only one to receive an invitation. Interros, ALROSA, and Goldman Sachs (the underwriter for the sale of the 7% state-owned stake) all declined to comment on Friday.
Sergei Goryainov, an expert with the Rough & Polished industry agency, believes the assumptions about foreign rivals are unfounded.
"Frequent comparisons of ALROSA to Petra Diamonds aren't accurate because they are different sizes, while De Beers, which shares many customers with ALROSA, is already in a position to know all the details of the Russian company's sales practices," Goryainov said.
He believes that it therefore "makes no sense" for international players to spend $200–300 million on an ALROSA stake that won't give them access to management. Representatives of De Beers and Petra Diamonds had already told Kommersant in early April that they weren't planning to buy ALROSA shares, but would not return the request for comment on Friday.

ALROSA's public placement is scheduled for the fourth quarter of 2013 at the Moscow Exchange. The Federal State Property Management Agency (Rosimuschestvo) – whose stake has been valued at 12–24 billion roubles ($380–760 million) – and its Yakutia branch are expected to sell 7% each.
Until recently, the Yakut government was against the sale, until it passed a bill on the partial privatisation of ALROSA in a final reading on April 19th. Rosimuschestvo currently holds 50.92% of ALROSA stock, Yakutia holds 32%, eight Yakut districts together hold 8%, ALROSA subsidiaries hold more than 2%, and 4–5% of shares are in a free float.
Rosimuschestvo head, Olga Dergunova, told The Russia Forum 2013 that "the approach and deal structuring" for the privatisation of ALROSA were under discussion and that the agency planned to complete it this year. A source close to the Moscow Exchange said that he wasn't aware of any changes in plans for the placement.
Sergei Filchenkov, of IFK Metropol, said that inviting Interros didn't mean that the government had decided to forego a public placement. If the holding agrees, it will simply submit a high bid.
According to the analyst, the participation of Interros could become a good sign for other investors. Filchenkov believes that ALROSA's upside potential exceeds 40%. The company has a current market valuation of 231 billion roubles ($7.3 billion).
Based on a placement price of 7x EV/EBITDA (ALROSA targeted the same ratio in 2012 based on a 2012 EBITDA projection of $2.15 billion), its capitalisation could reach $10.9 billion. The government's best-case revenue projection uses the same numbers (7% for 24 billion roubles, or $750 million), while a 14% stake could fetch $1.527 billion.
Some Kommersant sources in the investment community noted that Interros had no cash after spending heavily on Olympic facilities. However, Interros should soon get $867 million from the sale of 2.84% of GMK Norilsk Nickel to Millhouse, and at least $606 million in 2012 GMK dividends.
First publishe in Russian in Kommersant.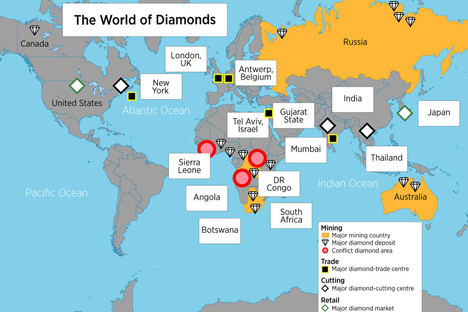 All rights reserved by Rossiyskaya Gazeta.