Bloomberg names Roman Abramovich Russia's most charitable billionaire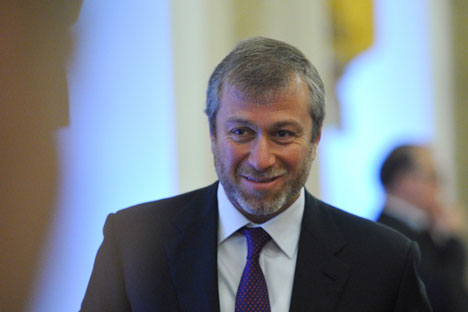 Russian oligarch Roman Abramovich contributed to the development of Chukotka, Russia's Far East region that borders Alaska. Source: RIA Novosti / Alexey Kudenko
The oligarch has donated $310 million to philanthropic causes over the past three years, bringing his total to more than $2.5 billion from 2000-2012.
CEO of Millhouse Capital and owner of the Chelsea Football Club, Roman Abramovich has earned the title of the most charitable Russian billionaire of the past three years. Bloomberg states he has donated approximately $310 million of his $12.8 billion fortune in that period.
According to the Bloomberg, the 46-year-old billionaire has given more to charity than any of Russia's 15 wealthiest people. About $98 million was spent on social projects in Chukotka, a Russian region where he used to be governor.
Abramovich first became governor of this northern territory that borders Alaska in 2000, and remained in office for eight years.
A strategic territory for the USSR, Chukotka was on nuclear watch during the Cold War era. However, once the Cold War was over, the region became increasingly desolated. Its population shrank almost threefold, and its infrastructure was falling to pieces. According to an eyewitness, "once Abramovich came in as governor, the entire Chukotka area was turned into an enormous construction site. He was spending his own money."
In Anadyr, Chukotka's administrative centre, he rebuilt the community centre and administration buildings. He built a new stadium with a skating rink, a state-of-the-art movie theatre designed as an iceberg made of glass, the Baklan entertainment centre, a laundrette and a fitness club. Hotels were renovated, and Internet and mobile connections established. Dilapidated houses were pulled down, and new single-family homes were built in the American style.
The new homes were granted free of charge to Chukotka residents.
According to Bloomberg, Abramovich's personal investment in Chukotka has topped $2.5 billion since 1999, which amounts roughly to $179 million a year.
Furthermore, Abramovich also gave $65 million to support the Avangard ice hockey team from Omsk, and $52 million to the Federation of Jewish Communities of Russia and the Jewish Fund, which he set up himself.
Metalloinvest owner, Alisher Usmanov, came in second in the Bloomberg ranking. The wealthiest person in Russia - and the 35th wealthiest individual in the world - gave away $247 million of his $19.1 billion fortune. Viktor Vekselberg, Chairman of the Renova Group Board of Directors, ranked 3rd with $160 million in charitable donations.
According to experts polled by the agency, philanthropic donations of Russian billionaires have been steadily rising.
"It's only the last few years that have seen ultra-rich Russians starting to pay attention to what they can do to make the world a better place," New York attorney, Edward Mermelstein said. "In the past, charitable giving was done more for vanity, but today we see some serious philanthropists."
The article is a combined report based on materials from RIA Novosti, Kommersant and RB.ru
All rights reserved by Rossiyskaya Gazeta.