Although Russian savers of all descriptions, from private individuals and small businesses to corporations and institutions, have suffered in the Cypriot financial crisis, the effect is seen most starkly among the thousands of Russians actually living on the Mediterranean island. Here, it's not oligarchs but middle-class entrepreneurs who have been devastated by the crisis, and the EU-imposed "haircut" on deposits of more than $130,000.
"My business is more dead than alive," says Anton, the 32-year-old owner of a foodstuffs distribution network in Limassol. "I was rash enough to keep all the company's money in the Bank of Cyprus."
It's an all-too-common tale from middle-class Russians living and working in Cyprus, of whom there are 30,000 to 50,000 – mostly businesspeople, executives, and the Russian wives and girlfriends of Cypriot nationals.
A $13 billion bailout was announced last month in return for Cyprus agreeing to close Laiki Bank, the island's second largest, levying all uninsured deposits there, and possibly around 40 percent of uninsured deposits in the Bank of Cyprus, many held by wealthy citizens of other countries, including many Russians. Insured deposits of $130,000 or less are not affected.
The seizure of deposits has hardly touched Russian oligarchs: Thanks to the intricate structure of holdings registered in Pacific and Caribbean tax havens and ingenious schemes of share distribution, the oligarchs' money accounted for an insignificant share of deposits held in Cyprus banks. Instead, it's small and medium-sized businesses that were most often caught out.
Georgy, 52, owner of a Russian goods shop in Limassol, says his business hasn't been doing well since the last financial crisis in 2008.
"Unjust, unprofessional and dangerous.'' (Describing the EU's initial plan to levy a tax on depositors, rejected by the Cypriot parliament)
"The more you squeeze foreign investors in the financial institutions of your countries, the better for us, because the affected, offended and frightened (not all of them, but many) should, as we hope, come to our financial institutions and keep their money in our banks. I am even glad, to some extent, because these events have shown how risky and insecure investments in western financial institutions can be."
Vladimir Putin, President
"We were thinking of selling our business because it barely paid its way, and we've been running at a loss for the last month."
Like other Russians interviewed, Georgy was reluctant to give his surname, because of suspicions among Russian businesspeople about talking to the media.
"I can't imagine how I will pay the suppliers, the rent and the bills… we have far fewer customers, and they buy only the bare necessities."
In this respect, Russians living here have been affected much the same as ordinary Cypriots, and Russian small and medium-size entrepreneurs mostly provide work for Cypriots.
Alexander, 40, managing director of a shipping company, says most of its 80 Cypriot employees – operational staff, logistics specialists and accountants – will probably be fired, or have to take deep pay cuts.
"The company is still operating, our ships continue to carry fertiliser, but the company has no capital left," says Alexander. "Shock, horror and depression prevail."
The other emotion, naturally, is anger – that the Cypriot and European authorities could conspire to seize depositors' money in a way that Russian businesspeople would hardly expect of bankers back home.
"The seizure of deposits is simply expropriation, which I thought only the Bolsheviks were capable of," says Anton. "To put it simply, this is daylight robbery, gentlemen."
"Let us talk about what's happening with Cyprus. The stealing of the stolen is continuing there, I think." (Reference to a comment by Vladimir Lenin after the 1917 Revolution to condone Bolshevik expropriation of "capitalist" property)
Dmitry Medvedev, Prime Minister
The Cypriot economy has for decades depended on financial services and tourism. Before the Russians came to Cyprus in the 1990s, it was well-heeled expatriates from Beirut, taking refuge from Lebanon's civil war. And as the Lebanese went home, their place was taken by Russian entrepreneurs seeking a safe haven from the Wild West-style Russian economy of the 1990s, and a more predictable tax regime and business climate.
Since then, Russian business has underpinned the island's economy, with Russian companies, property owners and tourists becoming indispensable. But now all that is under threat as the island faces up to potentially decades of austerity and economic pain.
Companies providing financial services have been a mainstay, due to the low corporate tax rate and British-style legal system. They are now facing the pinch, as Russian and other investors look for other places to keep their money.
"What is happening is a good signal to those who are ready to return their money, under Russian jurisdiction, into Russian banks. We have very stable banks."
Igor Shuvalov, First Deputy Prime Minister
Marina, 35, corporate services executive, says that her clients are curtailing their business on Cyprus and moving to other jurisdictions, such as "Dubai and other offshores. We are advising our clients to leave their companies here, but we tell them to keep their money in other countries, preferably outside the EU."
She adds that her office has been in a state of panic.
"We work late, and often go without lunch breaks," she says. "Our owner is on the phone day and night, answering calls from clients who ask when they can withdraw their money from local banks. Everyone understands that the first wave of haircuts may be followed by a second one, and so on."
This view is echoed by Larisa, an accountant at an investment company.
"The possibility of quick direct transactions with Europe and the U.S. was crucial for clients. Cypriot banks are no longer trusted. People will move whatever remains in their deposits to other countries – most probably outside the eurozone, to the Middle East and Asia."
"I have no doubts about the reasons for the EU's intention to rob Cypriot depositors. There is a lot of dirty money (mostly Russian) in Cyprus, and European banks want to have this money for themselves. This is not a fight against dirty money, it's a fight for dirty money."
Yulia Latynina, Commentator, Novaya Gazeta
She worries that the Cyprus "bail-in", where depositors' savings were seized, could become the norm in other European countries.
"Who can guarantee that the next 'patients' treated at depositors' expense will not be the banks of Malta, Luxembourg or Holland?" she says.
While the Russian government has expressed outrage at the seizure of Russian depositors' money, it has not taken the matter further – merely pointing to Russia's own stable tax regime, and asking Russian banks on the island not be affected, in return for Moscow restructuring a $2.5 billion loan to Cyprus.
"We will [restructure the loan] taking into account our interests, and our interests are that [Russian Commercial Bank, a subsidiary of Russian state-controlled bank VTB] should operate in normal conditions," Anton Siluanov, Russia's Finance Minister, said on the sidelines of a G20 meeting of finance officials in Washington.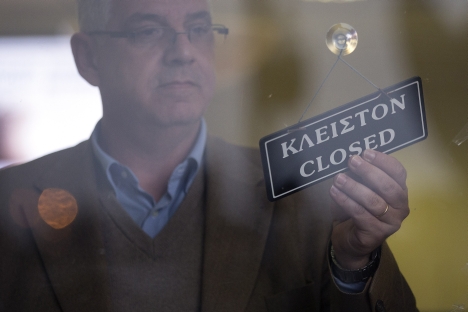 Experts predict that the Cypriot financial crisis will have long-term consequences on the European Union's economy. Source: Getty Images / Photobank
"It does not require any bailout or financial support. Money of our companies has been frozen there. We would like this money to reach its recipients," he added.
Not all Russian businesspeople on the island have been affected, as they hold accounts in different locations, but just live in Cyprus.
Vladislav, 47, owner of a pharmaceutical company, says his business is based in Russia.
"I moved my family here because it's safe and warm, and they are happy here. I kept only a few thousand euros in the Bank of Cyprus."
But he sees the "heavy blow" the crisis is dealing Cyprus. "The shops and cafés are shutting down one after another," he says.
Some Russians are on the point of giving up doing business on the island. "I would hate to leave Cyprus, but perhaps there will be no option," says Alexander.
As for Georgy, he's thinking of closing. "If the situation doesn't improve in the next couple of months, we'll have to abandon the business," he says. "I'll have to take any job, just to feed my family."
All rights reserved by Rossiyskaya Gazeta.