European-style wholesale food markets expected in Moscow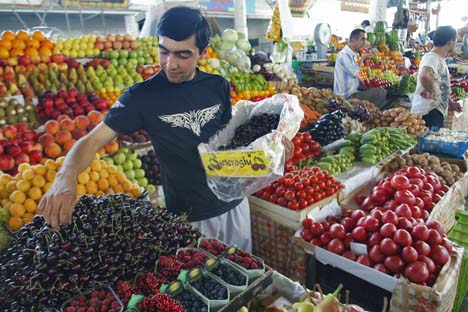 Moscow needs to change markets format from small outfits to a couple of large terminals. Source: ITAR-TASS
Two sites are under review for wholesale food markets in Moscow. Taking after Paris's Rungis or Madrid's Mercamadrid, they would serve as centers for wholesale trade of imported and Russian products.
The Mayor of Moscow has until the end of April to review two proposed sites near the Moscow Ring Road (MKAD) for a one-million-square-metre wholesale food market modelled after Paris's Rungis or Madrid's Mercamadrid.
The establishment of a system of wholesale terminals in the Moscow Region is part of a state-sponsored sub-programme approved last October. According to Deputy Mayor, Andrei Sharonov, "the idea is not to create a 'gateway' for food imports; it is to create a 'vacuum cleaner' that would skilfully pull in Russian-made products."
An active search for 50–100-hectare vacant lots (Rungis sits on 230 hectares) that would accommodate one million square metres of real estate began last autumn. Sharonov said the site needed to be close to a railway, an airport and a number of highways. "The number of trucks will run in the thousands every night."
"Several sites are under consideration to the north and south of the MKAD," Sharonov told RBC Daily. Nemeryuk believes that the lots at the Leningradskoye Highway near Molzhaninovo and at the Don Highway take priority.
According to Valentin Gavrilov, Head of the Research Department at CBRE, the Don Highway site better suits the purpose of establishing an agricultural product trading centre. "But as a warehouse complex, the facility will be in demand no matter where it is located," he said.
The Molzhaninovo market is expected to specialise in goods imported through the ports of St. Petersburg and Finland, while the southern terminal will be geared towards food sourced from southern Russia and Ukraine.
The city is planning to carry out the ambitious project based on a public-private partnership. Moscow could contribute land (of which it has enough vacant hectares at Molzhaninovo) or limit its participation to building approach roads and the engineering infrastructure if a different site is selected for development.
According to Nemeryuk, preliminary agreements with landowners, investors, and developers have already been reached.
Valentin Gavrilov, estimates that investment in the development could run at $0.9 billion. He promised Moscow "will set trading and pricing rules, and will also ensure the free access of producers to those markets."
The Rungis or Mercamadrid format, where numerous end companies act as sellers and small businesses act as buyers, at least in the West, requires government participation – and not only because of the costs associated with creating a transport infrastructure, according to Andrei Vasyutkin, Head of Research and Consulting at Magazinov.
"Somebody must test and ensure the quality of the products," he added. In other countries this role is assumed by the government, which normally is a shareholder or a founder of the wholesale centre's management company. In Russia, food safety also falls under the jurisdiction of municipal authorities.
Vasyutkin recalled that Moscow has a number of large wholesale food bases. But the city needs to change its format from quite small outfits located inside the MKAD to a couple of large terminals.
Valentin Gavrilov said that filling the terminal with agricultural products is the key post-construction task.
"Logistic supply chains for products from remote areas have already been established and fine-tuned. At the same time, filling those channels with domestic products from nearby regions, similar to Rungis, could turn out to be a challenging task," he said.
According to Gavrilov, if the problem of product deliveries is resolved efficiently, the project's payback period – currently estimated at seven years – could be reduced.
First published in Russian in RBC Daily.
All rights reserved by Rossiyskaya Gazeta.