Microsoft teaches computer literacy in Russia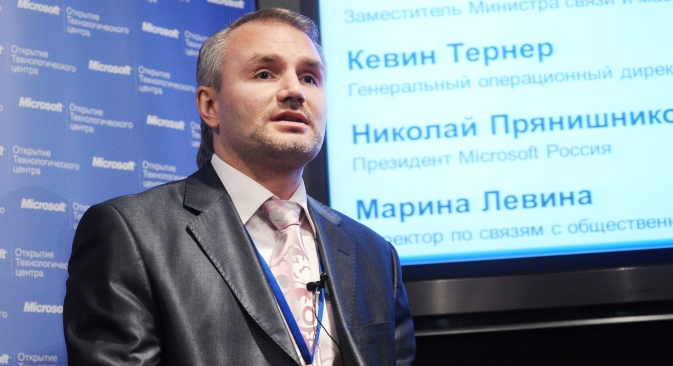 in 2011, Microsoft Russia President Nikolay Pryanishnikov reached an agreement with Russian Deputy Prime Minister Dmitry Kozak making Microsoft the official software supplier to the Sochi Olympics. Source: ITAR-TASS
For the last three years, Microsoft has trained thousands of Russians in computer literacy for free thanks to a deal reached at the St. Petersburg International Economic Forum. The company is now engaged in financing seed startups in Russia's northern capital and has become the official software supplier for next year's Sochi Olympics.
The St. Petersburg International Economic Forum (SPIEF), Russia's biggest annual investment venue, usually draws attention to large industrial or baking projects and the total value of deals reached, which the figure ranging from $6 to $14 billion. But during the last three years innovation and software have come to the event's center stage, with U.S. tech giant Microsoft leading the way.
At the 2010 SPIEF, Microsoft undertook the problem of low computer literacy among Russians (which is increasingly significant as the country's internet usage rate skyrocketed past 50 percent last year) head-on by opening Your Course, a center offering free training at the St. Petersburg University of IT, Mechanics and Optics. "Since then, we've increased the number of centers to over 100 and have trained over 300 thousand Russians," a Microsoft representative said.
The following year, Microsoft Russia President Nikolay Pryanishnikov signed a deal with Russian Deputy Prime Minister Dmitry Kozak making Microsoft the official software supplier to the Sochi 2014 Winter Games.
The company also added the St. Petersburg Ingria Technopark to its BizSpark program, offering free startup software and development instruments to the park's hi-tech residents. "St. Petersburg gave BizSpark more than 400 startups", says Diana Tokmashova, startup audience marketing manager in Russia. "Ingria accounted for about 50 of the total."
At last year's SPIEF, Microsoft announced a bilateral agreement with the St. Petersburg Pre-Seed Investment Fund, which envisaged a simplified selection procedure for recipients of Microsoft Seed Fund grants. The Microsoft Seed Fund in Russia has so far invested about $1 million into 17 projects (two of them in Ingria).
"Microsoft supported us at the right time, when we were developing the prototype. The money we got from the Seed Fund helped us put together a professional team and focus on the work for six months, to achieve a ready-for-sale product", says Dmitry Shuvaev at Pirate Pay, a Skolkovo Foundation resident.
The Microsoft Seed Fund offered a $100,000 grant to the developer of a solution to suppress illegal digital content.
"It is very important that the money was provided for free, with no division of shares, so we were not confined by any investment agreements," Shuvaev says.
Microsoft also signed an agreement with the Government of St. Petersburg to hold the Microsoft Imagine Cup finals in the city in July 2013 after the 2013 SPIEF. One hundred student teams from 109 countries are expected to compete for $50,000, $10,000 and $5,000 awards.
All rights reserved by Rossiyskaya Gazeta.