Samsung Galaxy S4 enjoys record sales in Russia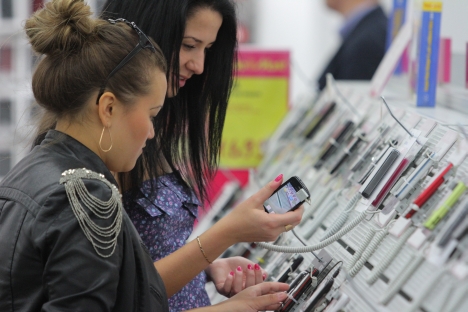 Russia is a key market for mobile phone manufacturers. Samsung's Galaxy S4 new smartphone has been been well-received in Russia since the first day of its sales. Source: RIA Novosti / Anton Tushin
Samsung's new flagship smartphone, Galaxy S4, was released in Russia three days ahead of the U.S. release. In the first several days of sales, over 15,000 Galaxy S4 handsets have been sold.
Since its official release on April 26, Samsung's new smartphone, Galaxy S4, has been enjoying record-breaking sales in Russia. According to Mobile Research Group, in the first three days, over 15,000 handsets have been sold.
Last year, the list of the world's leading smartphone manufacturers expanded to include China's Huawei and ZTE. Their Android smartphones, together with Сoolpad and Lenovo models, managed to attract new users in the relevant target group, says Ramon Llamas, a research manager with IDC. In the first quarter of 2013, they joined the top five smartphone vendors, jointly accounting for 8.8 percent of the market. The top seller, Samsung, makes up 32.7 percent, and Apple takes 17.3 percent.
Chinese manufacturers are interested in the Russian market too, but it would be wrong to compare their success to that of Samsung. "The well-known Taiwanese company HTC, which belongs in the same segment of the market as Samsung, during the release of its latest model, sold only 1,500–2,000 handsets," said Mobile Research Group's Eldar Murtazin.
"This is a record for a device in this price range. The iPhone 5 did considerably worse in the first days of its launch. Yet, we shall wait till the end of the first week to come to any conclusions," a senior analyst with Mobile Research Group, Eldar Murtazin, said.
In Russia, Galaxy S4 prices range from 30,000 rubles ($970) for a 16GB model to 37,000 rubles ($1,195) for a 64GB model.
Samsung's previous model, Galaxy S3, became the first South Korean smartphone to outperform iPhone in worldwide sales. In the first week after Galaxy S4 became available for pre-order, advance orders for it were four times that for its predecessor, Samsung announced. Last year, there were 9 million pre-orders for Galaxy S3 worldwide.
Galaxy S4's record-breaking sales in Russia come as a result of the inspired preparatory work Samsung has done with its partners, mobile phone operators and retailers, which have direct access to consumers.
For instance, Samsung made a deal with a leading Russian operator, MTS, whereby buyers of the new smartphone will not have to pay for their calls for a year. This is not a typical offer for Russia, where phones are rarely sold with a contract.
However, MTS does not stand to lose anything, as the company's spokesperson, Irina Agarkova, is convinced: Owners of modern smartphones spend four times as much on their mobile phone bills than owners of ordinary phones, and it pays off to win them over and retain them.
Russia is a key market for mobile phone manufacturers, Samsung representatives in the country say.
"The number of handsets sold here in three days is the same that it would take a week to sell in the U.S.," an informed source said, explaining why the new Galaxy smartphone was released in Russia first.
The Russian smartphone market is growing all the time. According to major mobile phone retailer Euroset, in the first quarter of 2013, smartphones made up 40.6 percent of the whole of the Russian phone market in terms of number of handsets sold, and 78.2 percent in terms of sales. Compared with the same period in 2012, the number of handsets sold rose by 34.1 percent.
This article is a combined report based on materials from from Vedomosti newspaper.
All rights reserved by Rossiyskaya Gazeta.