Russian-made smartphones prepare to enter global market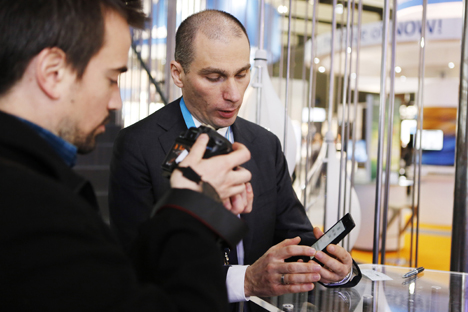 Yota Devices CEO, Vladislav Martynov, presented the first Russian smartphone. Source: PressPhoto
Yota Devices CEO Vladislav Martynov talks about the first Russian smartphone and the company's plans to replicate Apple's success.
Yota Devices CEO, Vladislav Martynov, discusses the first Russian smartphone, the company's priority markets and consumers' attitude towards a Russian-made product.
Russia Beyond The Headlines: How did the idea of making a dual-screen smartphone come into being?
Vladislav Martynov: We understood that if we wanted to be successful in a market dominated by Korean and American developers, our phone had to offer unique advantages. We started researching problems that smartphone users complained about. High power consumption turned out to be their biggest problem.
RBTH Exclusive: Interview with Yota Devices CEO Vlad Martynov. Source: YouTube.
The LCD screen is the most power-intensive element. At first we thought about what we could replace it with, but then we realised that it didn't make sense to reinvent the wheel.
All we had to do was to add a low-power e-ink screen used in e-readers. Provided the e-ink display is actively used as the main screen, the phone will work three to four times longer.
RBTH: What are your priority markets?
V.M.: I hope our phones will be in demand everywhere. Of course there are markets where smartphones, especially premium models, are very popular. These include North America, the developed countries of Europe and South America (Brazil).
But there is also the Asia-Pacific region where sales are weak. We are focusing on Russia as our home market and top priority. We are only interested in a few countries from our second-priority group, including Australia and Singapore. We've just recently opened a representative office in Singapore.
RBTH: Rumour has it that sales in America will begin before Russia…
V.M.: This is not true. We will launch our phone in Russia before the end of this year. International expansion will depend on the progress of negotiations with global telecom operators. We are already in talks with 20 major global operators working in at least five to ten countries each. They know best where there's a better potential for our product.
RBTH: What's your partners' attitude towards the fact that your smartphone is made in Russia? Do they question its quality?
V.M.: We can't really say that the phone is made in Russia. As far as I know, there are no mobile devices left in the world that are not assembled in Asia. We position ourselves as a Russian company that came up with the idea and developed the design and software.
As far as hardware is concerned, our Finland office employs hardware and antenna engineers with some 20 years of experience working for Nokia. There are specialists in our Singapore office that used to work for Blackberry.
Former Motorola employees are in charge of our sales in Europe. So we have an international team. I am confident that at the current level of globalisation, this is the best recipe for success.
RBTH: How many people are involved in the project?
V.M.: Not a lot; we have 55 people working full time and around ten contractors.
RBTH: Have you determined the size of the first batch of your smartphones?
V.M.: That will depend on arrangements with the operators. I think we'll manufacture an initial run of 20–30 thousand units.
RBTH: Back in the day, Apple revolutionised the mobile phone market with the iPhone. Are you counting on replicating their success?
V.M.: Of course we are (laughs). We believe it is possible, because it was the ease of use that ensured Apple's tremendous success; it turned out that using your fingers to control a touch screen is much more convenient than using a stylus! But nothing new has emerged in the world over the past six years.
So we stand every chance of becoming the next big thing.
All rights reserved by Rossiyskaya Gazeta.