Red Wings awaits clearance for take off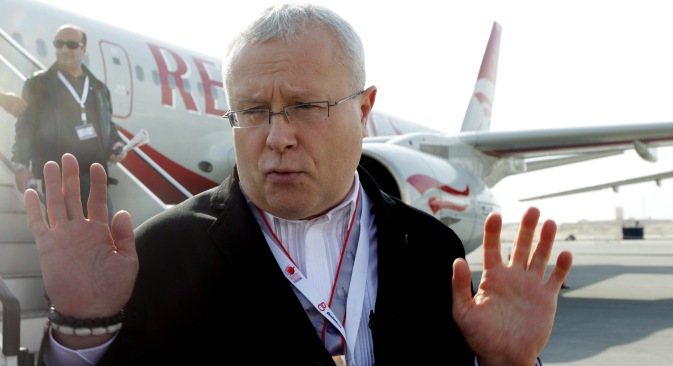 In early April, the former owner of the airline Alexander Lebedev said he had sold 100 percent of the shares to a group of investors for 1 ruble. Source: ITAR-TASS
Red wings is currently awaiting a reinstatement of its operator's license and is expected to resume flights on June 1st. The airline is planning to focus on low-cost flights.
The suspension of Red Wings' license has resulted in a shortage of aircraft and increased ticket prices. To prevent further price hikes, Rosaviatsiya (the Federal Air Transport Agency) will allow Red Wings, the biggest operator of Russian-made aircraft, to resume flights.
On December 29, 2012, a Tu-204 operated by Red Wings overshot a runway at Vnukovo airport, killing five crew members (there were no passengers on board).
Rosaviatsiya conducted an investigation from January 10th to the 16th. Afterwards, the agency announced Red Wings had "numerous substantial violations in the organization of flight procedures, aircraft maintenance, pilot training and other systemic deficiencies."
The airline received a three-month suspension of its license due to end on May 5th. On April 1st, Rosaviatsiya denied Red Wings' request to reinstate their license. The agency stated that "steps taken fail to confirm that the violations have been remedied in full."
Still, Red Wings is expected to resume flights on June 1st. The airline claims to have eliminated all violations and improved safety measures.
However, a spokesman for Rosaviatsiya is yet to confirm the date. "The management of Red Wings is working on rectifying the deficiencies identified by the inspection of the airline.
As soon as all deficiencies are eliminated, the Federal Air Transport Agency will make a decision on the resumption of the airline's operations," he said.
Experts believe the government is interested in speeding up the process of reinstating Red Wings' license. The company's withdrawal from the market has caused a shortage of tickets to certain tourist destinations and indirectly contributed to a general increase in ticket prices.
Head of the Transport Committee of the Association of Tour Operators of Russia, Dmitry Gorin, acknowledged that charter flight ticket prices had risen 7 percent since the beginning of the year.
He added, however, that the price hike was driven not only by a shortage of planes, but also by inflation.
Red Wings used to fly charters all year round to popular tourist destinations including Agadir, Antalya, Barcelona, Burgas, Hurghada, Istanbul, Rimini and Sharm el-Sheikh, as well as scheduled flights to seven domestic destinations (Chelyabinsk, Krasnoyarsk, Makhachkala, Novosibirsk, Omsk, Ufa and Yekaterinburg).
Red Wings was ranked 17th in terms of passenger volume among Russian airlines and carried 817,000 passengers in 2012.
Red Wings is expected to specialize in low-cost flights when it comes back.
"Russia's low-cost air travel market is undeveloped. Major Russian airlines Aeroflot and Transaero announced plans to establish low-cost divisions late last year, and Hungary's Wizz Air came to the Russian market with a similar proposal. But it is Red Wings that has come closest to setting up a low-cost carrier," a source at the Russian Ministry of Transport said.
The expert added that Sergei Belov (formerly the head of an Aeroflot subsidiary) joined Red Wings as its new CEO on May 13. He is looking into the possibility of implementing the low-cost model.
According to another source, Belov's arrival at the airline may have something to do with the operator's license being reinstated.
Editor-in-Chief of Aviatransportnoe Obozrenie (Airplane Review) magazine, Alexei Sinitsky, recalled that in the summer of 2012, Red Wings managed to offer low prices for its regular domestic flights.
All rights reserved by Rossiyskaya Gazeta.