Russian cosmonaut becomes first human to file taxes from outer space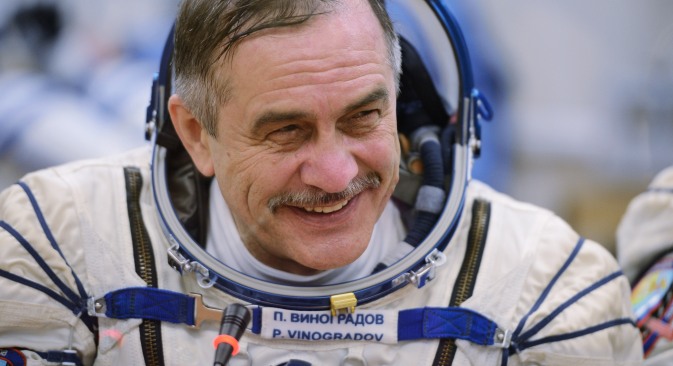 Pavel Vinogradov is the current commander of the International Space Station. Source: Ramil Sitdikov / RIA Novosti
Cosmonaut Pavel Vinogradov recently became the first human to file taxes from the International Space Station.
Fifty-nine-year-old Pavel Vinogradov became the first human being to take advantage of the Russian Federal Tax Service's website to file his taxes from the International Space Station last month.
The veteran cosmonaut, who has been on a mission aboard the ISS for the last three months, used the Service's online portal to access his personal account and pay real estate tax for property he owns outside Moscow.
Federal Tax Service head Mikhail Mishustin boasted this information to journalists on the sidelines of an OSCE forum on tax administration in Moscow last week.
"There's nothing surprising in the fact that the principle of extraterrestrial support, which the Federal Tax Service takes seriously, has allowed us to take such a big step forward. Thanks to the modern services we offer, one can practically never visit our offices and remain a law-abiding tax payer," he said.
The website allows all Russian citizens to create an online account to view what kinds of taxes they owe and pay them via credit card. Unlike in the United States, Russian citizens need not file personal income tax every year as the country maintains a flat 13 percent rate (one of the lowest in the world), which is automatically withheld by the employer.
Vinogradov, a native of Magadan in Russia's Far East, has been in space three times and completed a total of seven space walks.
He is the current commander of the International Space Station and is among the top twenty humans who have spent the most time in space. His current mission is set to be complete in September of this year.
Russia shot up eight spots in the World Bank's 2012 Ease of Doing Business report to 112th place partly thanks to a rapid improvement in the Paying Taxes category (it shot up 30 spots from the previous year), where the country ranks 64th globally (the U.S. is 69th).
Based on materials by RBC and Rossiyskaya Gazeta.
All rights reserved by Rossiyskaya Gazeta.